Cristiano Ronaldo booing does not make sense - Carlo Ancelotti
Last updated on .From the section European Football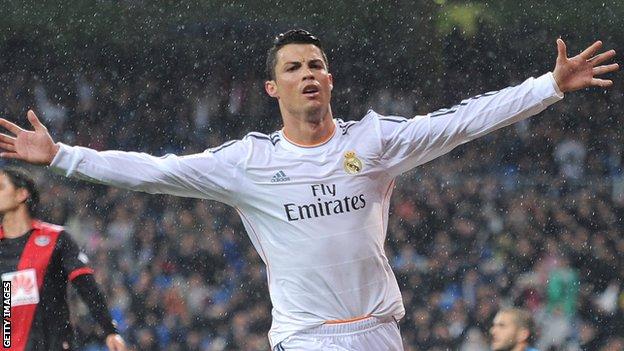 Coach Carlo Ancelotti cannot understand why some Real Madrid fans boo Portuguese forward Cristiano Ronaldo.
Ronaldo opened the scoring in a 5-0 win over Rayo Vallecano on Saturday with his 28th goal in La Liga this season, and 44th in all competitions.
But at one stage, whistles could be heard from the Bernabeu crowd when the 29-year-old was in possession.
"We need the help of everyone. Whistling Cristiano isn't comprehensible," said Ancelotti.
"I have always said that sometimes I understand whistles because they can be deserved. Right now? No, the players are putting in a lot of effort."
Real's victory on Saturday came after successive league defeats by Barcelona and Sevilla, which saw them drop to third in the table.
Leaders Atletico Madrid and second-placed Barcelona beat Athletic Bilbao and Espanyol respectively on Saturday to maintain their advantage over Real.
Atletico are top with 76 points, with Barcelona a point behind and Real a further two back.
Winning all of their remaining games may not be enough for Ancelotti's men to win the title, but they are still in the Champions League and Copa del Rey.
"Naturally this win is important," added Ancelotti. "We could be better given we lost twice, but physically we're good.
"If we win all the games that we have left, at least we win the Champions League and the Copa del Rey.
"We just have to believe in ourselves and be positive."
German side Borussia Dortmund are Real's opponents in the Champions League quarter-finals, with the first leg at the Bernabeu on Wednesday, two weeks before they meet Barcelona in the Copa del Rey final.