Premier League: Liverpool ready to climb back on their perch

By Phil McNulty
Chief football writer
Last updated on .From the section Football2131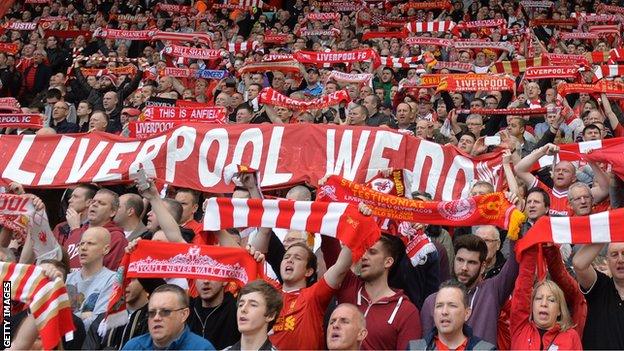 Brendan Rodgers walked into Liverpool's media lounge and jokingly acclaimed their place at the top of the Premier League table after their 1-0 opening-day win over Stoke City.
It was a light-hearted moment after that early kick-off in August - Stoke's Jon Walters even missed a late penalty and the opportunity to claim a point - and the remark drew laughter from those in attendance, as well as Rodgers himself.
No-one is laughing any more.
Apart from Liverpool fans, who are moving from dreaming about winning their first title in 24 years to believing it is a serious possibility after a convincing 4-0 win against Tottenham hoisted them to the top of the table.
It was Liverpool's eighth straight league win and saw Luis Suarez score his 29th Premier League goal of the season - the most by a Reds player, surpassing the previous best of 28 by Robbie Fowler in 1996.
It is certainly no laughing matter for Chelsea after their surprise loss at Crystal Palace, and Manchester City, who had to settle for a 1-1 draw at Arsenal.
Those in the red corner are watching a Liverpool side with the confidence and momentum to achieve a feat they may even have thought was beyond them at the start of the season.
Manchester City would overtake Liverpool if they win their two games in hand, but Liverpool's destiny is in their own hands with six games left as Manuel Pellegrini's side still have to visit Anfield.
Chelsea also have to go to Liverpool and, taking into account the marvellous unpredictability that has been draped over this season, it is safe to assume those two games will shape the destination of the Premier League.
Pellegrini declared himself happy with a return of four points from visits to Manchester United and Arsenal this week, while Mourinho was announcing the end of Chelsea's title challenge after their loss at Selhurst Park.
Pellegrini may have been masking some disappointment that City allowed Arsenal back in after early domination, while no-one - probably not even Mourinho himself - will seriously believe he has given up on winning the league.
Chelsea's loss was greeted with cheers by both sets of supporters inside Emirates Stadium on Saturday, but a draw opened up the possibility of Liverpool (and indeed their neighbours Everton, who continue to chase a top-four place so impressively under manager Roberto Martinez) being the weekend's big winners.
And so it proved as Liverpool swept aside a desperately poor Spurs, making a mockery of manager Tim Sherwood's pre-match claim the game might become a test of the Reds' nerve.
Liverpool's emergence as such serious title contenders is one of the stories of the season. The banner proclaiming "Make Us Dream" is a familiar sight among the club's supporters - and after a such a golden sequence of form, they can do more than dream.
The manner in which Spurs were swept aside was the latest evidence that Liverpool are on the sort of roll that can end with them being crowned champions, and manager Rodgers achieving hero status at Anfield.
Fuelled by the goals of Suarez and Daniel Sturridge, kept ticking over by the mastery of captain Steven Gerrard in his new deeper midfield role, Liverpool have been demonstrating they must be taken seriously since losing unluckily at both City and Chelsea over Christmas.
With the league leadership comes pressure and anticipation, but there have been precious few signs from Rodgers and his players that they cannot cope.
Rodgers, inside two seasons and from a starting point where he still had to convince many, has produced a Liverpool team playing dazzling football and with an insatiable appetite for goals.
Even if they do not end up as champions, Rodgers deserves the highest praise for his work.
Liverpool's most optimistic supporters would have gratefully grabbed at a top-four guarantee before the start of the season. Now the title is in sight.
City, meanwhile, carry such menace and intent that they will still feel confident of being the team to go to Anfield and plug the deluge of goals that have rained down on opponents this season.

Mourinho, for all his recent disappointments at Aston Villa and Palace, will also be relishing devising the sort of tactical masterclass that earned a win at Manchester City earlier this season - so there is still plenty of life left in this particular race.
The Special One can deny it all he likes, but most observers will regard him as indulging in very obvious bluffing to dismiss Chelsea's hope. Mourinho never enters a race he does not think he can win.
But Liverpool, particularly at Anfield, have looked unstoppable and if either City or Chelsea go there and get a point or three, they will consider it a major step on the route to the title.
Away from the battle for the title, Martinez's seamless transition at Everton post-David Moyes continued with a fifth successive win, this time against Fulham at Craven Cottage.
On the day he was appointed, Everton chairman Bill Kenwright revealed Martinez told him he would get the club into the Champions League.
As with Rodgers's comment, it was greeted in some quarters with amusement. And as with Rodgers's comment, no-one is laughing at the possibility any more.
Liverpool are not just making their fans dream. They are making them believe their team is in the sort of shape to regain the glory they last enjoyed in 1990.