Zlatan Ibrahimovic's PSG ready for Chelsea challenge
Last updated on .From the section European Football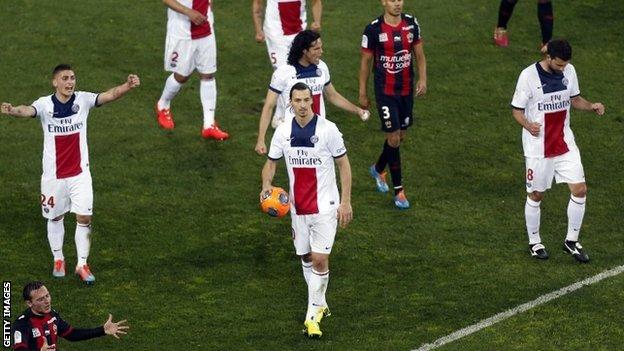 "Zlatan's our number one striker," said Paris St-Germain coach Laurent Blanc last week. "You only need to look at the stats. This is his best season."
At 32, Zlatan Ibrahimovic may have slowed down a little, yet the striker still has magic wands for feet, his mind is sharper than ever and his determination to make an indelible mark at PSG remains considerable.
Indeed, if Blanc's team are easing towards another French Ligue 1 title, and shattering records in the process, the form of their 40-goal attacker is one of the principal reasons.
Make no mistake: the Swede will provide the biggest threat to Chelsea on Wednesday.
Yet Blues fans thinking their side need merely stifle Ibrahimovic to suppress the French champions should reconsider.
Last season, under Carlo Ancelotti, PSG edged to their first title in 19 years thanks largely to their individual talents. They played cagey, counter-attacking football, scoring just 69 goals in total.
Under Blanc, the Qatari-backed club have morphed into a genuine team striving to monopolise possession and attack in relentless waves.
They pass domestic opponents to death in similar fashion to Barcelona or Bayern Munich. With seven matches remaining, PSG lead Monaco by 13 points having scored 71 times. In all competitions, they have netted 110 goals, with Ibrahimovic and Edinson Cavani contributing 55% of that total.
Their collective strength is greater than their individual parts. And when you consider those individual parts, it is little wonder that many in France are calling this PSG side the best team ever to have graced Ligue 1.
"PSG's only opponent is PSG," said former France and Birmingham forward Christophe Dugarry. "If they play to their full potential, they can win the Champions League."
Last summer, Blanc's appointment raised eyebrows. Reportedly the club's eighth choice to replace Ancelotti - behind, among others, Jose Mourinho, Andre Villas-Boas and Arsene Wenger - some believed the Frenchman lacked the authority required to control a dressing room of highly-paid stars.
However, he has cleverly caressed the egos, notably offering Ibrahimovic, captain Thiago Silva and midfield linchpin Thiago Motta wide-ranging responsibilities.
The manager's willingness to welcome input from his senior men was evident against Olympiakos in November. PSG were down to 10 men and struggling when Silva demanded Blanc change tactics to give the defence more protection. Blanc took heed and seconds later Marquinhos came on to play in midfield as Ibrahimovic was sacrificed.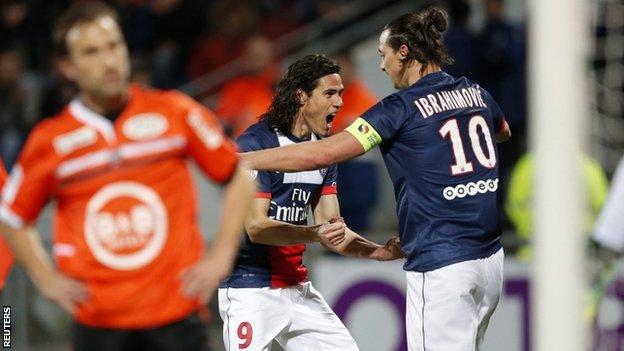 Not only do the key players feels fully involved, then, but PSG possess a tremendous spine, too. Salvatore Sirigu is considered the leading goalkeeper in Ligue 1, while Silva, Motta and Ibrahimovic have been as good in their respective roles this season as anything Europe has to offer.
Brazil's captain, Silva has a strong claim for being the world's premier centre-back. His preference for partnering former Chelsea stopper Alex - who is enjoying another steady season - forced Mamadou Sakho to leave and has reduced the highly-regarded Marquinhos to a bit-part role.
Motta's presence in front of the defence is just as vital. When evoking PSG's dramatic improvement under Blanc, it is important to note that Motta was only fit to make 12 league appearances for Ancelotti last season.
The Italy international - who, like Ibrahimovic, played under Mourinho at Inter Milan - anchors the midfield with class, elegance and supreme tactical intelligence. PSG have only been beaten once in 54 league games with him in the team.
"Motta doesn't get the credit he deserves," said Sirigu this week. "He makes a true difference. He makes the guys next to him even better."
The principal beneficiaries are Blaise Matuidi and Marco Verratti, who complete a superbly balanced midfield. Yohan Cabaye knew he would have his work cut out trying to break the trio up, and so it has proved, with the former Newcastle man starting just four of 12 games since joining in January.
The tireless Matuidi is the team's engine, rapidly covering ground, snapping at heels and surging forward. Verratti, at 21, already has the finesse, skill and audacity of his mentor Andrea Pirlo, and combines effortlessly with Motta.
"When you have a Verratti in your team, it gives everyone confidence," Ibrahimovic said. "The way he plays with Motta is amazing. I've never seen a connection like this between two players."
So, as well as stopping Ibrahimovic, Chelsea will need to unsettle PSG's exceptional midfield. Heavily influenced by Barcelona's methods, Blanc urges his team to confiscate the ball, and will be relying on Motta, Verratti and Matuidi to do just that on Wednesday.
The West Londoners should also hope Cavani's indifferent form continues. Exiled to the right flank to accommodate Ibrahimovic, the £55m recruit from Napoli adapted well initially, impressing with his work rate, movement and deadly finishing.
The Uruguayan striker amassed 20 goals by the end of January, but he has not looked as sharp since returning from a hamstring injury and has scored just once in his last seven outings.
Ezequiel Lavezzi, another former Napoli forward, should start on the left side of attack, ahead of Javier Pastore and Lucas Moura, despite frequently flattering to deceive.
Mourinho will have noted another potential Parisian weakness: the full-backs are dangerous going forward yet both leave space in behind. Maxwell is playing the best football of his career but the Brazilian has never been the quickest.
Gregory van der Wiel, meanwhile, much prefers attacking to defending. Should the Dutchman fail to recover from a knee injury, Christophe Jallet will play for only the fifth time in four months.
Either way, Eden Hazard's pace and trickery on Chelsea's left could seriously hamper PSG's chances of reaching their first semi-final since 1995. Hazard, though, will discover that this PSG are a very different proposition to the one he faced with Lille two seasons ago.