Rangers v Dundee Utd: Stewart Regan defends venue decision
Last updated on .From the section Football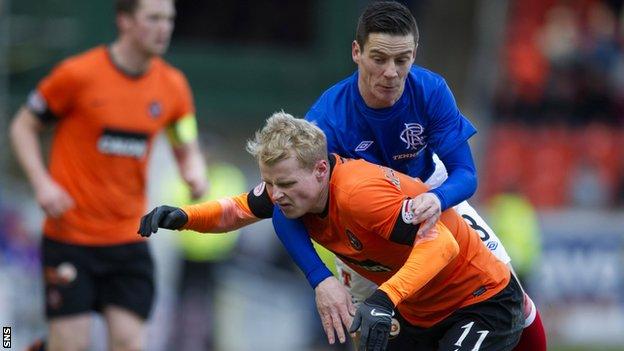 Chief executive Stewart Regan has defended the Scottish FA's decision to announce venues for the Scottish Cup semi-finals early in the season.
Rangers have reached the semi and will play Dundee United, whose request to have the game switched to a different venue was turned down by the SFA.
"It was a planning decision," Regan told BBC Radio Scotland's Sportsound.
"When you're putting a major cup competition together, you tend to spend a lot of time discussing it with your sponsors. We did that with William Hill.
"It was decided that in terms of planning we recognised that Hampden wasn't going to be available so we needed two stadiums, ideally, in order to be able to take the semi-finals and final to venues that would cope with the demand for tickets.
"Celtic Park [which will host the final] and Ibrox were identified very early on and in order for the planning to commence with our sponsors, particularly hosting two semi-finals back-to-back, we needed to make sure that we could deliver that on a weekend and nail down the commercials that go with organising stadiums and putting contracts in place.
"So, very much like the Champions League model where the venue for the final is selected at the outset, we went down the same route.
"That's a decision that was endorsed by the board, it was communicated early on and we're now in the position of trying to deliver that."
United had asked the SFA to move the match to an alternative venue to remove any advantage Rangers may have from playing the semi at their home ground.
But Regan insists such a change of plan is not realistic and that the financial aspects of the venue choice were only "part of the reasoning".
"There's always going to be plusses and minuses," he explained.
"There were some comments passed at the time but clearly the majority view was the fact that the Scottish FA have communicated the rules and this is the plan that we're looking to put in place and that's the way that we're going to be taking it forward.
"We want to work closely with our sponsors, we want to be able to plan to deliver the best possible event for fans to see a showcase event and it needs to be right.
"To change it very quickly at the last minute would mean an awful lot of last-minute planning and perhaps not being able to deliver the spectacle that we want, in the way that we want to do it.
"It's not as if we haven't communicated those issues, they have been out there for some time."
Rangers v Dundee United takes place on 12 April, with the other semi-final between St Johnstone and Aberdeen the following day.