Hearts 2-0 Hibs: Edinburgh derby brings out best in hosts

By Tom English
BBC Scotland
Last updated on .From the section Football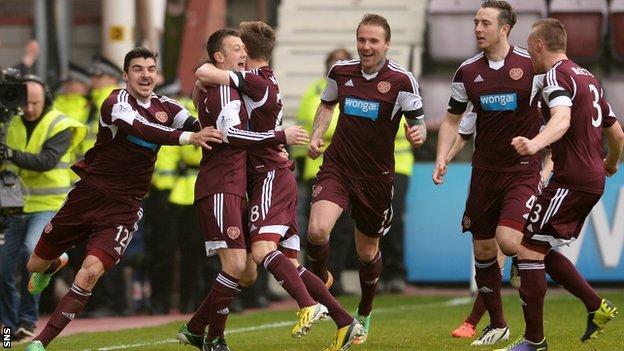 This was an Edinburgh derby like few others, the footballing equivalent of Yul Brynner and Telly Savalas fighting over a comb. No matter who won, the bald truth of their respective plight was still going to be awaiting them in the morning.
Hearts' joy was palpable and deserved, but it was also relative. This thumping victory was a respite not a reprieve. They're going down, but to their credit they're going down with a fight. They scored the goals, created the chances, played with intensity and bite and relished the scrap in a way that Hibs simply did not.
In a team of boys, some men emerged. Jason Holt was wonderfully defiant in the middle of the park. Alongside him he had Jamie Hamill as minder, but Holt didn't need any minding. When he was withdrawn late on he got a hug from Billy Brown, the Hearts assistant manager, that said a lot about his effort. When Brown is hugging you then you know you've put in a shift.
Others stood up to the pressure. Dale Carrick took his goal well and caused trouble for Hibs all day. Sam Nicholson ran with energy and purpose. Danny Wilson was a rock at the back. A veteran at 22.
Down the other end, there was Sam Stanton and Danny Handling and not a lot else. They tried to play. They tried to get it down on the floor and make things happen but the force of Hearts physicality repelled them every time.
The visitors took 71 minutes to get a shot on target. Even then it was tame.
Later, they were the victim of a shocking call from a linesman that saw a Jordon Forster goal disallowed, a goal that would have levelled it at 1-1.
Terry Butcher made much of it in the aftermath. It might have made a huge difference, he said. It could have sparked something. It could have been the catalyst for a second and a victory that would have made them safe from the play-off spot while relegating Hearts into the bargain.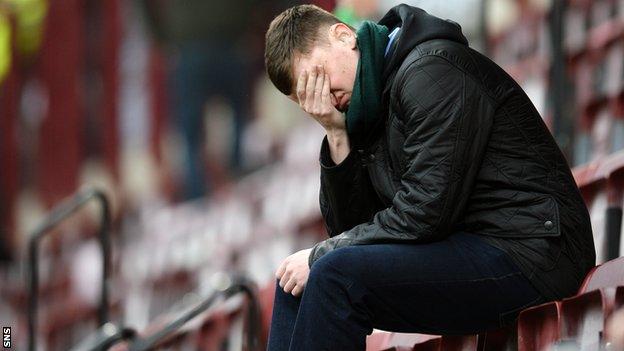 It could have. But Hibs have been playing this game of could-have and should-have for far too long. On the day, they were outgunned by a team of youngsters who showed a greater appetite for work and a greater desire to win. Butcher spoke about that, too. His players need to work harder, he stressed. That's something he'd want to instil in his team pretty quickly.
The Forster goal was a catastrophic moment for the officials, but only the most one-eyed Hibee would view it as the difference on the day. It wasn't. They had an unjust decision given against them but, overall, they got what they deserved. They're continuing to waste possession and continuing to be a soft touch in defence with a powder-puff attack.
Their principal goalscorer, James Collins, has scored just six times this season. The last of them was in the middle of January. When they fell behind in six minutes you looked to the record books to find out when was the last time they came from behind to win a match in the league. Mid-September.
They have a six-point cushion on St Mirren, who currently reside in that play-off spot. Surely it's enough, but there is no question that they're in freefall.
One win in 12 in the Premiership and one in 13 if you include the Scottish Cup loss to Raith Rovers. They are not just shipping too many goals but too many soft goals. Their defence looks like it would be spooked by a cat running across their penalty area, not to mind a striker.
Hibs' own saga could be summed up by their arrival here in vast numbers, their supporters whooping and hollering at the prospect of being the ones who finally put their city rivals out of their misery.
For the Easter Road fans, that has been the measure of their dreams this season. No progress on the field. No Cup run. No top-six finish. The only upside is a chance to relegate Hearts. Yul Brynner fighting for that comb.
There was elation at Tynecastle. Part of it - maybe most of it - was relief borne out of fear of the gloating that would have come their way had they lost.
If some of it was down to some optimism for the future then you could understand that, too. They will be in the Championship next season but they have players who can, perhaps, challenge the wisdom that Rangers are certainties to win that title. They have fighters. Too many for Hibs, that's for sure.
Butcher proved his worth at Inverness and, you fancy, can do so again at Hibs given proper support from on high. The first step to fixing a problem is to admit that you have a problem to fix. Chairman Rod Petrie needs to step up to the plate with some money because, clearly, a major rebuild is required at Easter Road.
Hibs fans were relieved when Pat Fenlon left, but results since have been worse. Fenlon won four, lost four and drew three of the 11 league games he was in charge for before exiting Edinburgh. He won 36% of his Premiership matches. Butcher has won 22%. In 19 league games he, too, has won just four times.
The manager is drowning but his past record shows that he's worth saving. Salvation is beyond Hearts but this was an illustration that the spirit is alive and well at Tynecastle, even though their fate is sealed.
Butcher wouldn't want to trade places with Gary Locke, but on the evidence of this tumultuous derby, he'd surely be happy to trade players.