Southampton: New board says financial situation 'difficult'
Last updated on .From the section Football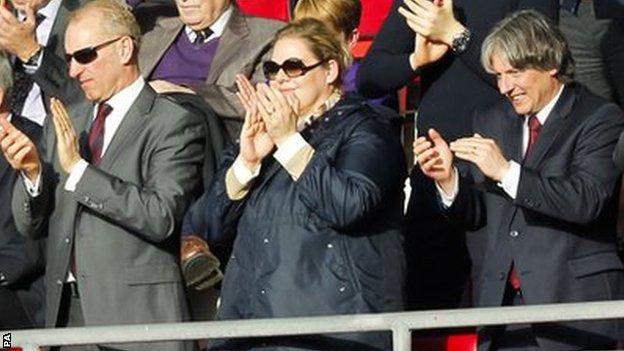 New Southampton director Hans Hofstetter says the club's board has inherited a "difficult financial situation".
Hofstetter spoke as Southampton published their annual results for the year ending 30 June 2013 - their first back in the Premier League.
The club posted a net loss of £7.1m and will enter the summer window owing £27m in outstanding transfer fees.
A bill in excess of £30m is also pending for their new training ground.
Previous chairman Nicola Cortese resigned in January, with Ralph Krueger replacing him. Hofstetter joined the board at the same time.
"Whilst I perceive that we have inherited a difficult situation financially, there are now clear and structured plans in place to progress the club and avoid a similar situation from occurring again," Hofstetter said in a statement.
Cortese was at Southampton from 2009 and was widely credited with helping to bring stability off the pitch after years of financial turmoil.
However, Hofstetter says the new board must act now to eradicate some of the "burdens" of that regime.
Speaking to BBC Radio Solent, he added: "Of course it's a burden, but it's a burden that has to be covered and will be covered.
"When I came in from the outside I had different information, I was surprised but not disappointed. It is what it is and my culture is to look to the future and accept the past."
That past means Southampton will begin next season with a transfer debt of £27m - despite already repaying £21m of fees this season alone - but Hofstetter says that will not lead to the sale of star players such as Luke Shaw, Jay Rodriguez and Adam Lallana.
"The most important point is that we are in a position where we do not need to sell any player Mauricio [Pochettino] wants to keep," Hofstetter added.
"We have a very strong squad and we are still in a situation where we are free enough to act quickly if quick action is asked from us."
The over-spend on the club's new training ground at Staplewood is also significant, with the expected total cost now more than £30m - up from an original estimate of £15m.
However, the wage-to-turnover ratio has fallen sharply - from 102% to a healthier 65% - after the removal of exceptional bonuses associated with promotion.
Operating profit is up to £8.7m, although that becomes a net loss of £7.1m once transfer expenditure is taken into account.
Commercial income rose from £4.8m to £6.7m after Southampton's ascension to the top flight.
The Liebherr family, represented by non-executive chairman Katharina, injected a further £12.5m during the financial year, with another £2.2m in September 2013 bringing the total investment to £52.7m.
However, £37.9m of that has been converted into equity shares, bringing the club's net liabilities down to £1.6m from £32.4m in 2012.