World Cup 2014: More to Colombia than Radamel Falcao
By Tim Vickery
South American football writer
Last updated on .From the section 2014 Fifa World Cup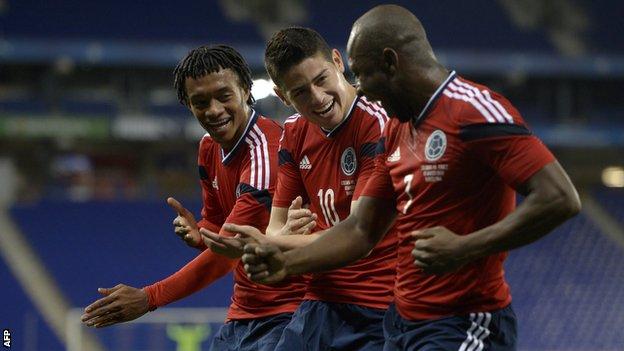 When those great Buenos Aires rivals Boca Juniors and River Plate met in Sunday's 'super-clasico', Colombia coach Jose Pekerman will have been paying attention to proceedings - and not just because he is from Argentina.
Three Colombian internationals are part of the River Plate first team. They combined to set up the opening goal in their side's 2-1 win. And there might be some food for thought there as Pekerman muses on how to combine the resources at his disposal in Colombia's World Cup challenge.
The column inches have gone to the injury suffered by star striker Radamel Falcao Garcia, and his battle to be fit in time for the trip to Brazil. It is an important issue - he was the team's top-scorer in qualification and his presence on the field is likely to worry the opposing centre-backs.
But the ramifications of Falcao's possible absence can be overblown for a number of reasons.
One is that Colombia have plenty of attacking options. Carlos Bacca of Sevilla made the point in midweek with his two goals against Real Madrid. Jackson Martinez, the closest like-for-like Falcao replacement, has been in the goals with Porto.
Then there is Teofilo Gutierrez, one of that River Plate trio. In qualification he scored as many times from open play as Falcao - and he showed his ability to receive the ball in wide spaces on Sunday with the pass he gave for the first goal.
Luis Fernando Muriel of Udinese is a strong candidate. Some will point to Adrian Ramos, enjoying a good season in Germany with Hertha Berlin. Colombia fans are more likely to argue for the virtues of Dayro Moreno of Millonarios, or Carlos Darwin Quintero of Santos Laguna in Mexico. In short, should Falcao not be able to recover in time there is a queue of eager aspirants.
The second point is that Falcao on his own has never been the solution. He needs a supply line. It took Colombia a long time to begin to get the best out of their star centre-forward.
In the 2011 Copa America, for example, there was little quality in their build-up play. They were knocked out in the quarter-finals by a Peru side who saw them coming.
Then Peru coach Sergio Markarian identified the Colombians as good physically, technically and tactically. But, he said, they were a side with little fantasy - that piece of magic in the last 30m that can unlock the opposing defence.
Markarian's team waited out the Colombians - Falcao and all - and then broke away to win the match in extra time.
The equation now is different because of the emergence of James Rodriguez as an attacking midfielder of genuine talent. An in-form Rodriguez bestrides the pitch like a prince, and a case could be made for proclaiming him as the most important member of the side.
Colombia played their best football in qualification when he was firing together with Macnelly Torres, a playmaker Pekerman recalled to the team soon after being appointed just over two years ago. Torres is a master of the defence-splitting pass. With his vision opening up the pitch from deep, and the more dynamic skills of Rodriguez taking defenders out of the game higher up the field, suddenly Colombia's strikers found plenty of chances coming their way.
Last year, though, Torres opted to join Al-Shabab in Saudi Arabia. The fear that this may take the edge off his game may not grab as many headlines as a Falcao injury; nevertheless it is a legitimate and relevant concern.
But maybe the most important objection to all of the hullabaloo about Falcao is that it obscures a more important question: it would seem that Colombia's problems are at the other end of the field.
This might not be immediately apparent from a glance at the South American qualification table. With 13 goals conceded in 16 games, Colombia had the best defensive record in the field. But this is a dynamic process. The cracks have started to appear, and they looked wider than ever a few weeks ago in a friendly against Tunisia.
Colombia's first-choice defensive pairing have a combined age of 73. Both Luis Amaranto Perea, 35, and Mario Yepes, 38, have been fine players. Few deserve a World Cup as much as Yepes, who emerged just after Colombia last qualified in 1998 and has been a stalwart in the side ever since.
But time and tide wait for no centre-back. The pair are slowing up, which has two consequences. Firstly, they are candidates to pick up cards - Perea was sent off in the 1-1 draw against Tunisia. Secondly, when they drop to compensate for their lack of pace, a gaping hole can open up in front of them.
It is strange indeed that Pekerman chose both of them for the Tunisia game. A chance was missed to have a look at fresher options. Yepes was replaced at half-time, but rather than bring on a young centre-back, holding midfielder Edwin Valencia slotted deeper.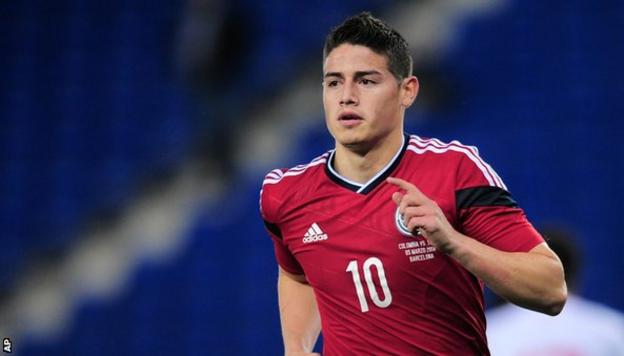 The obvious candidate for an experiment in Yepes's position was one of the River Plate trio: 21-year-old Eder Alvarez Balanta - a quick, tough, classy, left-footed defender who has made a big impression over the last year.
After just a few games club coach Ramon Diaz compared him to Argentina's 1978 World Cup-winning captain Daniel Passarella - and there can be no higher praise for a River Plate centre-back.
He did come off the bench to make his debut against Tunisia - but at left back. This has its advantages - Colombia need a back up to Pablo Armero, getting little game time at West Ham. But it leaves the central question unanswered: how are Colombia going to defend?
Balanta's virtues were on show in that opening River strike against Boca Juniors. With pace and anticipation he won the ball, gave the pass and kept on running, drawing the defence and creating the space for the goal. He oozes promise. But he has the impetuosity of his years. He can dive in and be caught on the wrong side.
Pick him and coach Pekerman is running the risks of youth. Stay with Yepes and the risks are those of excess experience. Maybe watching the 'super-clasico' helped him decide.
Send your questions on South American football to vickerycolumn@hotmail.com, and I'll pick out a couple for next week.
From last week's postbag:
With Federico Fazio enjoying some good game time and form at Sevilla recently, do you see him adding stability to Argentina's defence at the World Cup should he be selected?
Mzamo Moloi
A case could certainly be made for his inclusion in the squad, not least because he came up the youth ranks with Argentina and was part of the side that won the 2007 World Under-20 Cup. Coach Alejandro Sabella has cast his net far and wide for defenders - the first choice centre back duo is Fernandez and Garay, he likes Basanta and has recalled Otamendi. Campagnaro gives him defensive versatility, and in the last squad he called up Lisandro Lopez of Getafe.
With such little time to go, it is not easy to see how Fazio can push his way in front of that lot, but he's certainly entitled to listen out for the naming of the initial squad of 30.
Brazil coach 'Big Phil' Scolari has admitted he is more wary of facing a South American side rather than a European side in the knockout stages of the World Cup. If this were to happen in the second round (vs Chile) do you think Chile's dynamism and compact XI would have too much for an expectation burdened Brazil side?
Ruairi Grego
Part of Scolari's statement is a respect for the fighting qualities of their continental rivals - remember how Uruguay pushed them all the way in the semi finals of the Confederations Cup. It is also likely that he is trying to play mind games with Spain - after the Confeds he made a point of saying that he had been more concerned by Mexico than the Spaniards.
Brazil are genuinely concerned by the Chileans, and how coach Jorge Sampaoli has convinced them they can take the initiative against any opponents, in any venue. But when it comes down to it I think Brazil will back their own ability on the counter-attack to be too much for Chile, and I'd be inclined to agree.