Liquidation threat for Hearts if shares deal not agreed soon

By Brian McLauchlin
BBC Scotland
Last updated on .From the section Hearts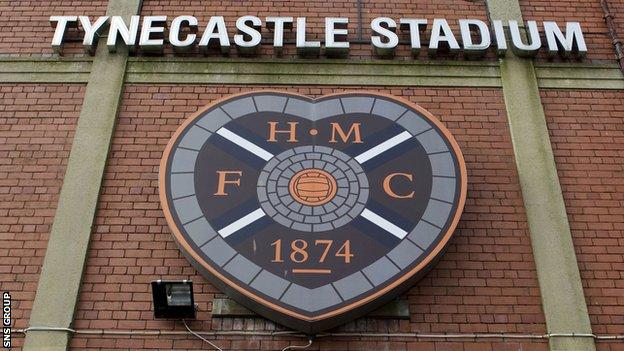 Lawyers for Hearts' failed parent company have been told the club will face liquidation if a deal to take them out of administration is not agreed in the next few weeks.
Administrators BDO are waiting for UBIG's 50% shareholding to be transferred to fans and their backers.
However, creditors of the Lithuania-based company have yet to ratify the proposal.
BDO only have enough money to keep Hearts running until the end of April.
Businesswoman Ann Budge is offering to buy the shares from UBIG and Ukio Bankas for around £2.5m on behalf of fans' group Foundation of Hearts, with the long-term aim of handing over control at Tynecastle to supporters.
But one of UBIG's main creditors, Sualiu Bank, is unhappy with the terms.
The next creditors' meeting is due to take place on 7 April and, even if agreement is reached, a 20-day period has to subside before a deal can be concluded.
Ahead of that gathering, BDO's Bryan Jackson will travel to Vilnius to meet lawyers handling UBIG's liquidation and also hold talks with David Hunt, the UK ambassador to Lithuania, who has offered his assistance.
The majority of the £2.5m would go to Ukio Bankas, which has a 28.79% stake in the club and holds a charge on Tynecastle Stadium.
For the purpose of negotiations, Ukio's holding has been collated with UBIG's, and Ukio representatives have previously served notice to BDO, that they agree with a draft proposal to transfer the combined stake. However, their creditors are yet to sign off on any deal.
"If the 7 April meeting either doesn't place or isn't very positive, then I think everyone has know for some time that liquidation is a possibility," FoH chairman Ian Murray MP told BBC Scotland.
"The pressure is on them (UBIG's administrators) to get this deal done. A liquidation event gives them nothing. The deal from FoH has been on the table for nearly eight months.
"We are all worried. We want to get this over the line. It's been going on too long now and the information coming out of Lithuania is inconsistent or incomplete.
"We just have to wait out this process. There is nothing we can do about it."
Hearts staved off relegation with Sunday's 2-0 win against city rivals Hibernian but face the drop to the Championship after starting the season with a 15-point deduction.
The club entered administration on 19 June with debts close to £30m and will need to have resolved their situation before 9 August if they are to avoid a similar points penalty for the next campaign.
With all of the uncertainty at Tynecastle, BDO are not selling season tickets but, with around £100,000 a month required to keep the club going, revenue would need to be raised over the summer months.
UBIG, which was controlled by former Hearts owner Vladimir Romanov, had its assets frozen in April 2013 after declaring insolvency, while Ukio collapsed more than a year ago.