Striking it rich in Libya
By Ian Hughes & Farayi Mungazi
BBC Sport
Last updated on .From the section Football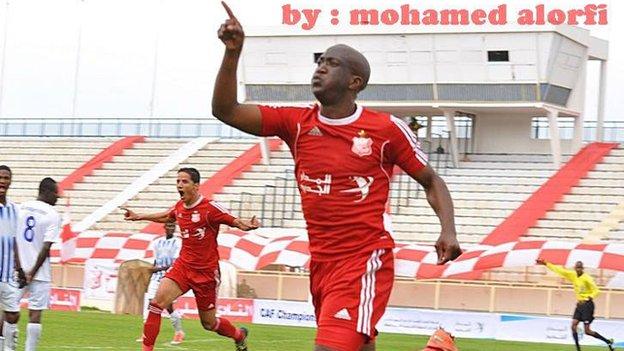 Do footballers play for money or for the love of the game?
Zimbabwe international forward Edward Sadomba seems to be clear about his motivation, revealing that he moved from Sudan club Al Hilal to Libya's Al Ahli Benghazi for the financial rewards.
"I have to think about my future, football is a business and it's all about the money," the 30-year told BBC Sport.
Yet Sadomba does not fit the template of a football mercenary picking up a substantial wage packet for minimal effort on the pitch.
He is, in fact, the most prolific striker in the country and he has just inspired Benghazi to a stunning Champions League victory over Egyptian giants Al Ahly.
Benghazi knocked the eight-time champions and current holders of the trophy out of the competition in the last 16.
Sadomba scored the only goal in his side's 1-0 win at home in the first leg and made two assists in the return leg to help his side to a 3-2 victory for a 4-2 aggregate win overall.
"It was very tough for us against Ahly," he said. "When you play against champions you have to put in extra effort. We played according to our game plan - closing the wings, which are Ahly's strength, and attacking though the middle.
"Our coach is Egyptian so he knows Ahly very well and his tactics worked very well for us.
"We are strong enough to go all the way to the final but our target was to reach the quarter-finals and now that we have done that anything else is a bonus."
Even if Sadomba's main driver is money, he is certainly proving good value to his employers.
"I am doing well: I am currently the top scorer in the Libyan league, with seven goals in eight matches, and I am the second highest scorer in the Champions League, with four goals in six matches," he said.
"I am enjoying my football here since I arrived three months ago. The fans welcomed me very well, they like football so much, and the same goes for my team-mates and the management."
Sadomba also appears to be very happy in Libya, despite the ongoing problems in the country since the uprising against Col Muammar Gaddafi in 2011.
"Life in Libya is good, I can't complain," he said.
"Not everywhere is Libya is safe, but I feel very safe where I am," he said. "After training I go to the shops with my team-mates - life is normal."
And he believes there is a buzz building in the country following the national team's success in winning the African Nations Championship - its first African title - in February and the fact they will host the Africa Cup of Nation in three years' time.
"Libya are excited about hosting the Nations Cup. They have just won their first title and football is improving - they have all the facilities to host the tournament," he said.
But while Sadomba is thriving in Libya, it remains to be seen how long he will stay in the country. He has played for nine clubs in his career and his longest stay at any of them was three years.
He is also reaching the twilight of his career and few could blame him if he opts for another move and a big payday before he hangs up his boots.
But one thing is for sure, he gives a lot of bang for his buck.