Peter Odemwingie - Stoke City to be treated with caution
Last updated on .From the section Football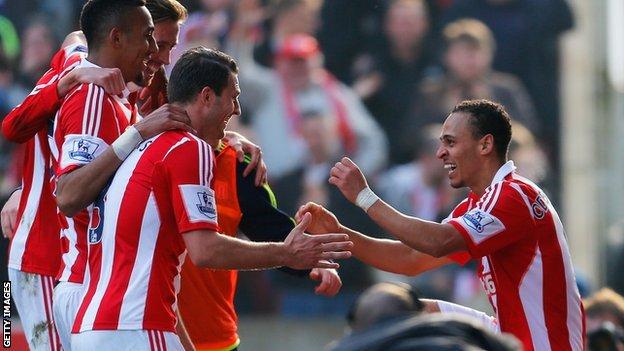 Striker Peter Odemwingie believes Stoke City's hopes of first Premier League top-half finish have been made more difficult by their recent good form.
Stoke have lost just once in their past nine games to move onto 40 points.
"Teams will be careful with us now - all our next games will be harder for us," Odemwingie told BBC Radio Stoke.
"They know we can play football, we can hurt teams."
Ex-Cardiff City and West Bromwich Albion forward Odemwingie scored his third goal in as many wins for Stoke, intercepting Ahmed Elmohamady's cross-field pass before surging forward to drive home a low finish against Hull.
"Sometimes you gamble - I saw by his body was going that it would be a bad pass," said Odemwingie.
"Fortunately for for me I picked it up and found myself in front of the box with no-one to block the shot.
"Maybe I've been a tiny bit lucky as well but I think my team-mates have been great since I've arrived - they have created a lot of opportunities for me to score.
"I'm working hard and I feel that it is paying off."
Stoke manager Mark Hughes regards safety a certainty after their latest triumph, and said the pressure is off his side as they try to ensure their best points tally since winning promotion to the Premier League in 2007-08.
"I'm delighted with how the season is panning out," said Hughes.
"We can kick on in the last six games now and maybe relax somewhat because of the points total we already have and see where it takes us."
For Odemwingie, securing their top-flight status has not been a concern in recent months following home wins against Manchester United, Arsenal and West Ham.
However, it was not until the Potters earned their first Premier League away win since August after beating Aston Villa earlier this month that the Nigeria international felt the threat of relegation ease.
"The performances, for me, were really reassuring that we would be fine and that we really would b look to finish in top 10," he said.
"What was missing since I arrived was the three points away [from home] and it gave us a lot of space not to look back, and we could breathe with ease."