Salisbury City achieve crowd target against Kidderminster
Last updated on .From the section Football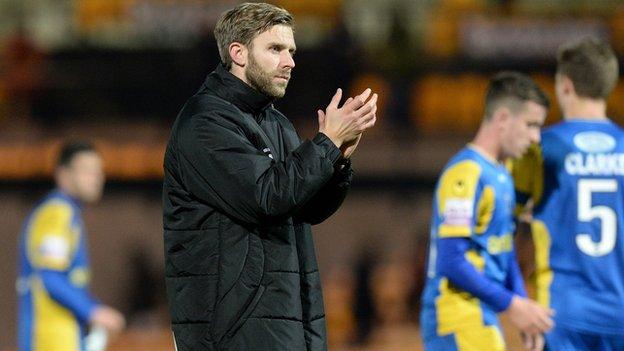 Salisbury City achieved their aim of getting over 2,000 fans at Saturday's game against Kidderminster.
In February, the Whites started the campaign to surpass their previous season-record attendance at the Raymond McEnhill stadium.
After issuing 10,000 free tickets to local schools, and offering £1 entry to military personnel, the club attracted 2,217 to the 1-1 draw.
"It's been a positive day all round," boss Mikey Harris told BBC Wiltshire.
"We've hit the target of 2,000 fans plus 10% more and I'd like to thank the people that made that happen.
"I'm sure the people that came to the game would have been entertained."
Charlie Sheringham scored an injury-time penalty for Salisbury to secure a point against Harriers, as both sides finished with 10 men.
Harris's side, who won the Conference South play-offs last term, are 12th in the Conference Premier table and six points off the play-off places.
Despite their good form in non-league's top flight, their average attendance has dwindled to around 900, below their 1,300 target.
In the last month, Harris and his players have held question-and-answer sessions at all the schools in the Salisbury area, as well as visiting other local football teams and military personnel residing in the region.
"It is a community club and we are trying to raise the profile to make people aware we have a strong team competing here in a very good division," added Harris.
"Hopefully that will be a catalyst for our crowds increasing over this season and next season."