Manchester United: Pep Guardiola jokes about Ferguson 'offer'
Last updated on .From the section European Football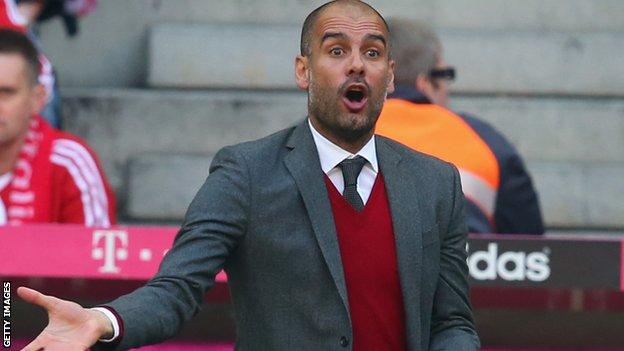 Bayern Munich manager Pep Guardiola has joked he might have been offered the Manchester United job but missed out because of his limited English.
Guardiola was linked with a host of clubs after leaving Barcelona.
The Spaniard eventually took charge of Bayern but suggested Sir Alex Ferguson might have offered him the Old Trafford position during dinner in New York.
"Maybe I didn't understand if I received an offer or not," said the 43-year-old Guardiola.
"My English is not so good and when Sir Alex spoke quickly I didn't understand him."
Guardiola's Bundesliga champions are in Manchester for the first leg of their Champions League quarter-final tie against United on Tuesday.
The former Spain midfielder met Ferguson in New York while on a 12-month sabbatical after leaving Barcelona at the end of the 2011-12 season.
"He invited me to a super restaurant," Guardiola said. "It was a friendly dinner, like always. He was so gentle and we spent a very good time together."
David Moyes succeeded Ferguson when his fellow Scot retired in the summer, but the Red Devils have struggled this season and are seventh in the Premier League.
Bayern, meanwhile, took one step towards another historic Treble by securing the Bundesliga title last week with seven games to spare.
"Last season, Bayern won everything and this season we are over 20 points ahead of our opponents," Guardiola said.
"Maybe United haven't had a good season in the league but I see very good players . Over one game or two games, they can beat us."
Bayern winger Arjen Robben echoed his manager's comments.
"You only need to get distracted for a second and you lose against Manchester United," the 30-year-old former Chelsea player told Bayern's official website.
"It's going to be a tough duel and we've got to watch out. The media and public opinion is that Manchester are not in good shape and that we're going through to the semis, but I don't like that at all."