Falkirk: 'Damaging split' threat between club and fans
By Clive Lindsay
BBC Scotland Sport
Last updated on .From the section Football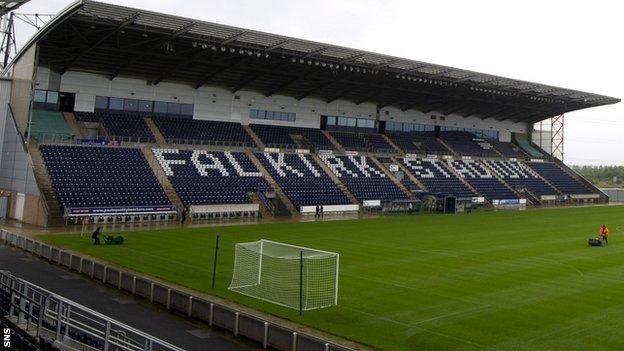 Supporters Direct Scotland will meet with Falkirk on Tuesday in an attempt to prevent a potentially damaging split between the club and its own fans.
It follows a disagreement about how to elect a fans representative to the Scottish Championship outfit's board.
Falkirk Supporters Society has chosen the fans representative since 2002.
But society chairman Gordon Profit believes some within the club want to take that privilege away because of its criticism of the board's direction.
Both the club and the society say they want to make the election of the fans representative more democratic and representative.
However, the society wants it done through an expansion of its own membership while the club prefers a different model.
Falkirk will now meet the nationwide fans umbrella body and the club general manager, David White, told BBC Scotland: "Up until now, it has been chosen from a very narrow band of people.
"It has been the sole preserve of the Falkirk Supporters Society.
"Now we want to give the opportunity to all season ticket holders and eight to nine fans associations, who will be able to put themselves up for nomination.
"It will go to a democratic vote and the election will be conducted by an independent body. We are meeting with Supporters Direct Scotland tomorrow and hopefully they will agree to be that body.
"We hope to have it in play for the new season."
White rejected the society's suggestion that what the club's board is proposing is more undemocratic.
However, society chairman Profit claims that the majority of groups with Falkirk Fans, the union of Falkirk supporters group, have told him they want no part in an election organised by the club itself.
"Our proposal was that season ticket holders should get automatic membership of the society and be able to nominate and vote as part of that," he said.
"We have been in dialogue with the club for some considerable time to satisfy their, and our, desire to enhance fan engagement.
"We believed our proposal to the board - a more democratic structure with 'one fan, one vote' - clearly demonstrated a pathway to allow all Falkirk supporters who hold season tickets to become members of a new fans' society.
"Not only are we shocked and extremely disappointed that this was rejected but were astonished that the club now plans to establish their own undemocratic fans' group."
Profit thought the proposal was designed to dilute the society's influence shortly after a survey of nearly 1000 Falkirk fans showed that 70% of supporters had a lack of confidence in the club's leadership.
He pointed out that the fans groups, which had helped raise more than £400,000 for the club in the last 12 years, were becoming concerned that Falkirk were stagnating in the Championship.
"The chairman, Martin Ritchie, has done a lot for the club and got us through difficult times, but not everything the board does is right," said Profit.
The society chairman hoped to avoid the kind split between fans groups and board that has created a difficult atmosphere at Kilmarnock this season.
"We have called on the club to engage with, as a matter of urgency, Supporters Direct Scotland to try to come to a compromise in what has the danger of becoming a hugely damaging situation at the club," added Profit.