World Cup 2014: England shirts' £90 price tag 'takes the mickey'
Last updated on .From the section Football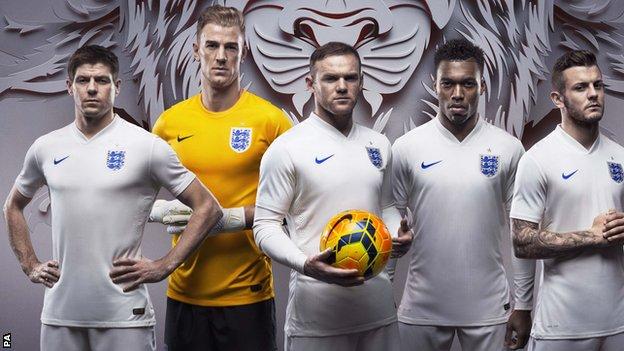 The Football Association has been criticised after new England replica shirts were put on sale for up to £90.
Shadow Sports Minister Clive Efford said the pricing strategy was "disappointing" while Queens Park Rangers midfielder Joey Barton called it "appalling" and "taking the mickey".
The most expensive Nike "match shirts" will be identical to the ones worn at this summer's World Cup finals.
The FA said it avoids discussions about pricing with kit manufacturers.
Alternative "stadium" shirts are priced at £60, while versions for children aged between eight and 15 cost £42.
The £90 shirts have enhanced "cooling technology" compared to the £60 shirts, according to Nike's website.
Efford said: "I'm disappointed that fans are being asked to pay up to £90 for a new England shirt.
"The game of football seems to be increasingly about profit and commercialism rather than the community and the fans, who have sustained football for many generations."
The previous Nike home kit has only been around since last May - seven England matches - after the manufacturer took over from Umbro, and Efford said that also hit parents hard.
He added: "The frequency with which these kits are changed adds to the expense. When it comes to buying for more than one child it gets extremely expensive and people on moderate or low incomes are excluded from that privilege."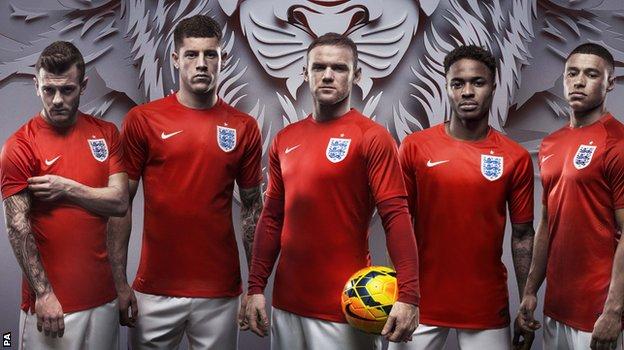 Barton said on Twitter: "£90 for the new England shirt is taking the mickey out of the fans. When will it stop? Appalling. In my opinion. Football again allows commercialism to eat away at its soul. Something has got to give."
In a statement, English football's governing body said: "The FA is a not-for-profit organisation that puts £100m back into the game every year.
"It is through relationships with partners such as Nike that we are able to maintain that level of investment in football.
"The FA's policy is to avoid any involvement with how its partners/licensees set their prices, so as to avoid any risk of or implications of price fixing."
A Football Supporters' Federation spokesman said: "Fans with kids often argue that strips are changed too often. The FSF would advocate manufacturers incorporating a 'best before' date into the strip's label. Supporters buying a strip would then know exactly what they're paying for and be able to make a decision based on that."
England fans' spokesman Mark Perryman said sales of the shirts would be based more on the team's performance at the World Cup than the price.
Perryman said: "I think the prices are ridiculous compared to what they cost to produce.
"Commercially, if you go back through history, the most successful England shirts in terms of sales have been the ones from periods when England are doing well.
"To that end, I think Nike have got a bum deal because expectations ahead of the World Cup are at an all-time low. People are just not that excited about the England team.
"Who in their right mind thinks we are going to do well in Brazil?"