Hearts: Club at lowest point amid liquidation fears - administrator
Last updated on .From the section Hearts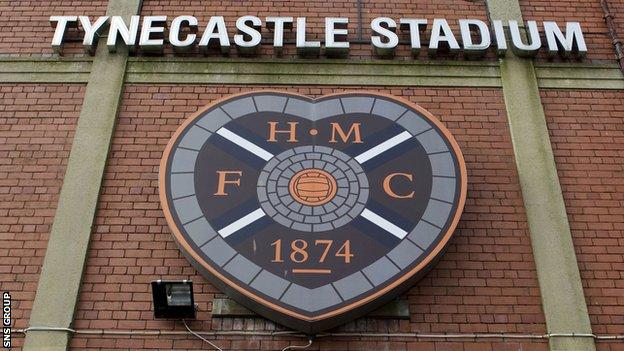 Hearts are at their "lowest ebb" amid the threat of liquidation, according to the club's administrator.
Bryan Jackson told BBC Scotland that from majority shareholder UBIG had increased uncertainty.
Administrators BDO are waiting for UBIG's 50% shareholding to be transferred to fans and their backers.
BDO only have enough money to keep the Scottish Premiership club running until the end of April.
"This is probably the lowest ebb we've got to. This deal should've been over the line by now," said Jackson.
"We have to accept now that there is a threat of liquidation and we are doing everything we can to avoid it.
"It is in absolutely nobody's interest - whether it's a creditor or a shareholder or a supporter - it can't be in anybody's interest, it just doesn't make any sense, and this is what we are struggling with.
"We just have to make sure it doesn't come to that."
Manager Gary Locke is preparing the team for Wednesday's home game with Aberdeen and knows that defeat will consign the club to relegation.
However, his main concern is the long-term future at Tynecastle.
"Our biggest battle is making sure the club is still alive and kicking," said Locke.
"I've always tried to be positive and I think the players have handled the situation magnificently well, especially considering so many of them are so young.
"I can't influence the stuff going on off the pitch. There's not a great deal myself or the players can do other than hope that the deal gets over the line on Monday."
Creditors for UBIG and Ukio Bankas are due to meet again on 7 April, with Hearts hoping they will finally ratify a proposal to transfer the shares of the failed Lithuania-based companies.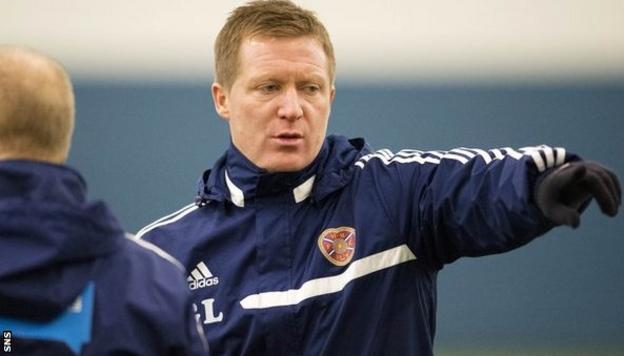 Businesswoman Ann Budge is offering to buy the shares for around £2.5m on behalf of fans' group Foundation of Hearts, with the long-term aim of handing over control at Tynecastle to supporters.
The majority of the money would go to Ukio Bankas, which has a 28.79% stake in the club and holds a charge on Tynecastle Stadium.
"We are doing everything we can to make sure these meetings do go ahead and that the consents are given," added Jackson.
"It's difficult for us to know why there has been a hold up. It does seem there are one or two creditors who want more information or are not happy with the deal and think the property is worth more money and so on.
"But that is not the reality. We have supplied all the information and we really don't believe there could be a better deal. I don't believe that trying to sell off the ground in any other way would benefit the creditors.
"But it's a different country, with a different way of doing things that we perhaps don't totally understand.
"If there is a time delay that we could perhaps fill in with some funding; we have various options on how we could obtain that.
"None of the options are good, if the deal doesn't go through in the end and if it doesn't go through quite quickly, so it's very hard to focus on plan B when, quite frankly, there isn't really a good plan B."