Northampton Town: Darren Carter urges fans to keep the faith
Last updated on .From the section Football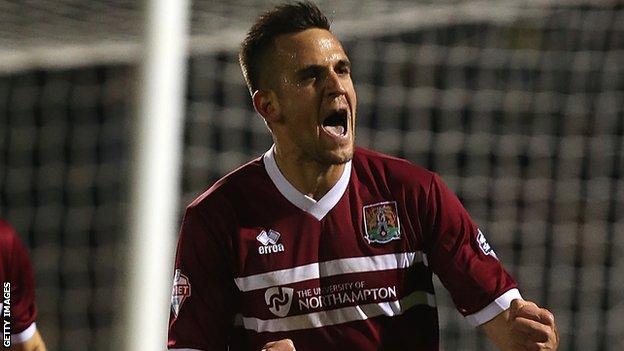 Northampton Town's Darren Carter has urged fans to 'stick together' with them in the fight against relegation.
"People think you don't care, but I wish they could've seen me Saturday night and Sunday, how it hurts and how I've been hurting all season.
"Hopefully in six games time we can breathe a sigh of relief and move on," Carter told BBC Radio Northampton.
This season has been a marked contrast to the 2012-13 campaign, which saw the Cobblers reach the play-off final at Wembley, but the 30-year-old midfielder believes their supporters have, in the main, stuck behind them.
"Barring one or two, I've never felt people are against us," he said.
"If there's negative vibes around, you have to block that out. I know supporters are here before you and are going to be here after you as well - you have to respect that.
"Results aren't going our way, but that's the main time everyone has to stick together.
"Relegation is the worst case scenario. You're playing with that fear and there's the added pressure of that. But everybody at the club should be fighting to avoid it. Everybody needs to be on-side."
Having scored three goals in March, Carter has been nominated for League Two's Player of the Month, but he insisted his focus was solely on the team.
"Obviously, it's nice to get a nomination but to win it would be bittersweet given the position we're in," he added.
"I don't like looking at the league table and I haven't all season but it only matters at the end. I'll be happy if we stay up, then you may get a smile out of me."