Les Ferdinand & Jason Roberts qualify as boardroom directors
By Alistair Magowan
BBC Sport
Last updated on .From the section Football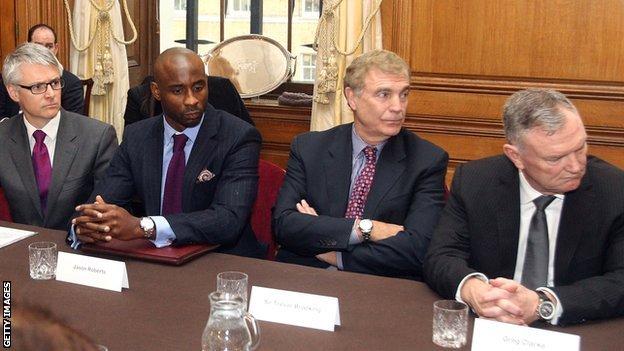 Tottenham coach Les Ferdinand and former Reading striker Jason Roberts are among 14 ex-footballers to have qualified as boardroom directors.
The group graduated from an accredited course called On Board - an initiative aimed at getting more ethnic minorities in key positions at football clubs.
"The more diverse the game is, the better it will become," said Roberts.
Former Wales forward Nathan Blake and ex-Villa midfielder Ian Taylor have also taken the On Board course.
"This is about recognising the lack of diversity within boardrooms in football," added Roberts, who retired from playing last month. "Everybody knows that a diverse board is a better performing board.
"We are empowering people to up-skill themselves and to try to find solutions to some of the issues around the lack of representation or even the lack of players who are involved in the governance of football."
Several British football clubs have foreign owners but Manchester United are the only Premier League outfit with a board member from an ethnic minority, who is not directly associated with those owners.
The On Board scheme has drawn the support of the Football Association (FA) and the Professional Footballers' Association (PFA).
Accredited by the Association Of Corporate Governance Practitioners, the course was developed by professor Karl George, a professional speaker, author and consultant.
Heather Rabbatts became the first female to join the FA board in 2011.
The On Board initiative, which is funded by the PFA, comes at a time when Norwich City's Chris Hughton is the only black manager working in either the Premier League or Football League.