Sagbo and Assou-Ekotto face FA bans for 'quenelle' sign comments
Last updated on .From the section Football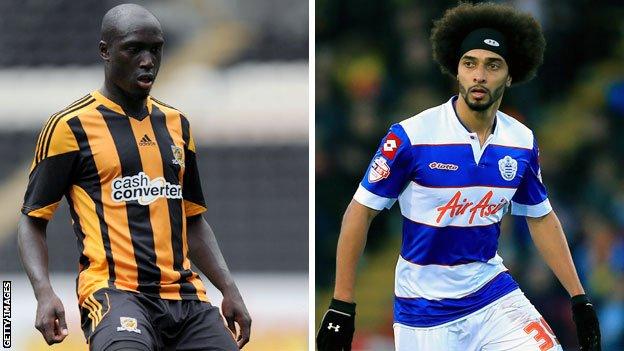 Hull's Yannick Sagbo and QPR loanee Benoit Assou-Ekotto are facing possible bans after they were charged with improper conduct for social media posts relating to the 'quenelle' gesture.
The quenelle sign is described as an inverted Nazi salute.
The pair have until 8 April to respond to the Football Association charge.
The FA said in a statement on its website: "It is alleged that in each case the comment was abusive and/or indecent and/or insulting and/or improper.....and was an 'Aggravated Breach' as the comment included a reference to ethnic origin and/or race and/or religion or belief."
Striker Sagbo, 25, plays for Ivory Coast, while French-born Cameroon international Assou-Ekotto, 30, is on loan at QPR from Tottenham.
Manchester City's Samir Nasri was handed a formal warning for comments he made on social media relating to the gesture and Liverpool's Mamadou Sakho was reminded of his responsibilities
Anelka denied his use of the sign was intended to be anti-Semitic, and the commission reported it did not find he was "an anti-Semite".
The striker claimed he made the gesture in support of his friend Dieudonne M'bala M'bala, a French comedian who has been convicted seven times of anti-Semitic crimes.
The FA had initially wanted a tougher punishment for the player but opted not to appeal against the independent regulatory commission's decision.
He was sacked for gross misconduct after announcing he was quitting the club in March.