Chris Coleman: No Wales return for Ryan Giggs and Craig Bellamy
Last updated on .From the section Welsh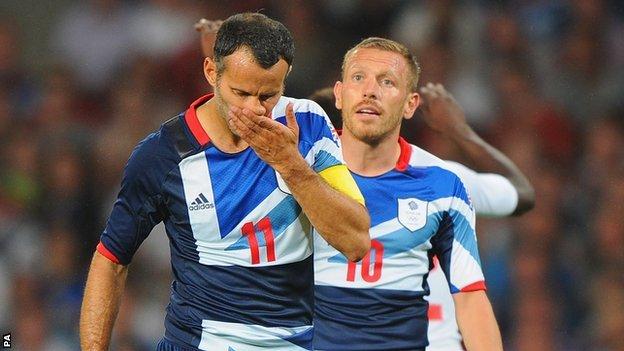 Wales manager Chris Coleman says he has had no discussions with Ryan Giggs or Craig Bellamy about a potential return from international retirement.
Giggs, 40, and 34-year-old Bellamy have retired from international football but continue to play for Premier League clubs.
But Coleman says Wales must look to the future ahead of the Euro 2016 qualifiers.
"We'll concentrate on what we've got and that's how we look at it," he said.
Manchester United's Giggs bowed out of international football after winning the last of his 64 caps against the Czech Republic in June 2007.
Cardiff City forward Bellamy's final game for Wales was last October's World Cup qualifier against Belgium.
Giggs came out of international retirement to play alongside Bellamy for Great Britain at the 2012 Olympic Games but has resisted calls to return for Wales.
Bellamy, who won 78 caps in a 15-year international career, has previously hinted he could retire from football at the end of the current season.
Coleman acknowledged the contribution of both players but said it was time to put faith in a squad which includes the likes of Gareth Bale, Aaron Ramsey and Joe Allen.
"I think the problem we've got is we've got a habit of saying what was," Coleman added.
"We need to forget what was. We need to concentrate on what is and what's going to be and that's what we'll do.
"Ryan Giggs is one of the finest players the Premier League's ever seen and one of the finest players Wales has ever produced.
"But that's four or five years ago so we don't look back, we look forward."
Although Giggs and Bellamy do not feature in his plans, Coleman believes there is no reason why Darcy Blake cannot resurrect his international career.
The 25-year-old won the last of his 14 caps in Wales' 2-0 defeat to Croatia in a World Cup qualifier in October 2012.
Blake was released by Crystal Palace in January but has joined League Two Newport County on a non-contract basis until the end of the season.
"Darcy's certainly got the ability, it's how much he wants [it]," Coleman said.
"He's got the ability to play higher, no disrespect to Newport.
"He's proved that, he's played for Wales at a high level and played for Cardiff in the Championship.
"He's certainly got the ability as a defender, he's got to show that he wants to do it consistently.
"If he does that then he'll certainly be a good player for Newport at that level.
"If he keeps doing the business then he'll play higher with Newport or with somebody else."