Leigh Griffiths to answer SFA charge over Hearts song
Last updated on .From the section Football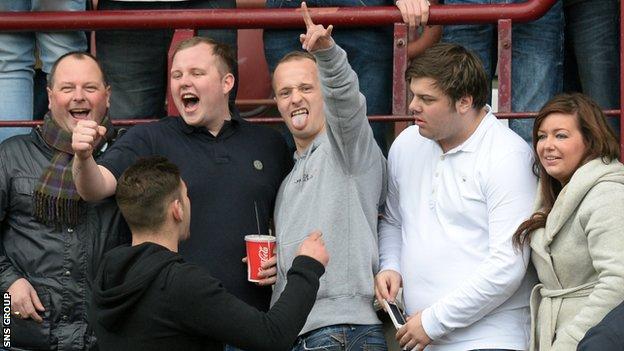 Celtic striker Leigh Griffiths has been issued with a notice of complaint by the Scottish FA for "singing in public about Hearts in administration".
His pre-match singing in a pub made newspaper headlines after it was filmed and posted on a video-sharing website.
The SFA is citing rule 86, which relates to "not acting in the best interests of Association Football".
A principal hearing date of 24 April has been set for the case.
Celtic released a statement saying: "Following the incident, the player publicly apologised for his actions. Celtic have fined the player and the club has also apologised to Hearts, an apology which they have accepted.
"Therefore, the club feels there is no need for any further action, and this is something which we will defend."
Griffiths, who moved to Celtic from Wolves in January, spent the previous two seasons on loan with Hibs.
Hearts boss Gary Locke was questioned about the video during his Tuesday media conference and said: "I haven't seen it. Obviously you read about it and according to reports I've heard he is not a very good singer."
In September, then Dundee manager John Brown was given a suspended three-match touchline ban for breaching disciplinary rule 86 for comments made in a newspaper interview.
Disciplinary Rule 86: A recognised football body, club, official, Team Official, other member of Team Staff, player, match official or other person under the jurisdiction of the Scottish FA shall, at all times, act in the best interests of Association Football . Furthermore such person or body shall not act in any manner which is improper or use any one, or a combination of, violent conduct, serious foul play, threatening, abusive, indecent or insulting words or behaviour.