Manchester United: Bayern Munich display restores pride

By Phil McNulty
Chief football writer
Last updated on .From the section Football974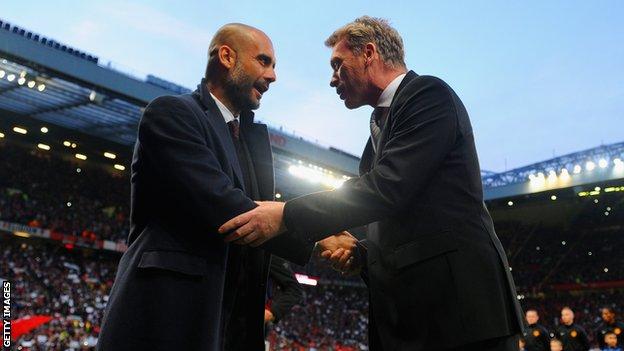 Manchester United's reduced status at home and abroad was reflected in the portrayal of a battling draw with Champions League holders Bayern Munich as almost a moral victory.
No matter that Bastian Schweinsteiger's away goal in this quarter-final first leg at Old Trafford means Bayern hold the advantage when they meet United again in the Allianz Arena next Wednesday.
No matter that in most other Champions League years United and their supporters would have greeted this result with a tinge of disappointment as opposed to the approval granted when referee Carlos Vellasco Carballo sounded his final whistle.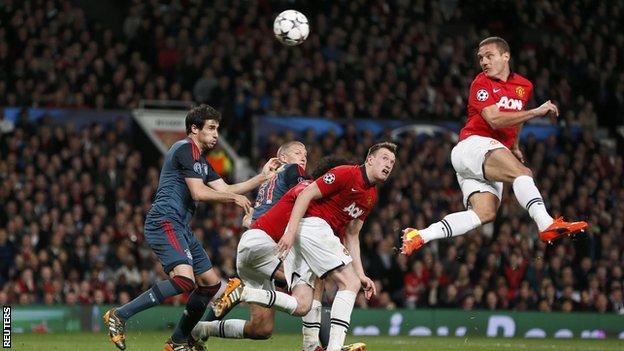 This was because United offered something here that was conspicuously absent in humiliating 3-0 home defeats by Liverpool and Manchester City in the Premier League - hope, fight and some of the old qualities that had been their trademark.
And it was a result that was well received because it meant United's Champions League hopes are still very much alive, albeit as underdogs once more, when you suspect many within the ranks of their own followers feared they might have been making their way away from Old Trafford expecting the next home game of consequence in this tournament to be in September 2015 at the earliest.
United may be on the wrong side of the odds but they gave a display that means they are still right in this tie. And that is more than good enough given the mood of pessimism that pervaded so many corners of Old Trafford prior to kick-off.
It was hardly a classic performance from United but it was of rare vintage compared to the surrender offered up in the face of Liverpool and Manchester City. The reigning champions were given a full-on fight and for a few brief minutes Old Trafford held its breath in the hope that United might even take a lead to Germany when Nemanja Vidic headed them in front just before the hour.
Schweinsteiger's delight at equalising was offset by his obvious fury at receiving a second yellow card for a foul on Wayne Rooney that rules him out of the second leg.
And the sight of coach Pep Guardiola, usually cool elegance personified, stalking his technical area in frustration was a tribute to United's doggedness and organisation as well as Bayern's own failure, at times bordering on a point-blank refusal, to produce an end product.
Guardiola is a devoted guardian of passing football but his agitation here was the result of Bayern's apparent belief that if something was worth doing, it was worth overdoing. Too often the extra pass was required, leaving poor Pep fuming on the sidelines.
Bayern enjoyed a 74% share of possession, completing 738 passes to United's 193, but the home side's fierce discipline and sheer bloody-mindedness meant that, even in the face of that statistic, manager David Moyes could fairly reflect that they created the better opportunities and this was a job well done.
While Bayern weaved pretty passing patterns all around Old Trafford, United went down the middle with some success. Danny Welbeck was unfortunate to see an emphatic early strike ruled out for a raised foot on Javi Martinez, while he and United may live to regret his decision to indulge himself with a flicked finish rather than a more basic "stick your boot through it" affair when facing only keeper Manuel Neuer from Rooney's pass just before half-time.
As well as giving United's supporters hope after so many joyless games at Old Trafford this season, it should also have infused Moyes and his players with some belief that they really can pull off a shock and dispose of the Champions League favourites.
Bayern looked the more accomplished passing side but United had pluses they will need to see again next week. Vidic and Rio Ferdinand, who have carried more than the whiff of a spent force in recent weeks, showed some of their former authority in central defence - although they can expect to come under greater pressure next Wednesday.

Moyes went for pragmatism in midfield and it was a qualified success, although Marouane Fellaini's form and his current questionable popularity with Old Trafford's regulars has the capacity to become a serious problem.
Fellaini has struggled to look any sort of fit at United since his £27.5m move from Everton and once again his limitations were brutally exposed here. In a game where possession was such a precious commodity, the Belgian's inability to keep it stood out in the first half - as did his inexplicable failures in the air, an area it would be safe to assume would be a strength for such a giant figure.
When a simple clearing defensive header was greeted with loud, ironic cheers it was a painful reflection of just how far out of his depth Fellaini looks, a feeling strengthened by his failure to track Schweinsteiger for Bayern's crucial equaliser. Fellaini may yet emerge as the hero in Munich next week but as of now he resembles a major failure of Moyes's transfer strategy.
If Fellaini was a negative, there still plenty of positives, even though Bayern hold sway.
And the biggest of all is that a Champions League quarter-final many thought would a formality for the holders still has plenty of life left. United restored some of the pride they have lost against a Bayern side widely regarded as the best in Europe - and that is a decent platform after experiencing so much pain at Old Trafford this season.