Brian McDermott is refusing to quit following Charlton defeat
Last updated on .From the section Football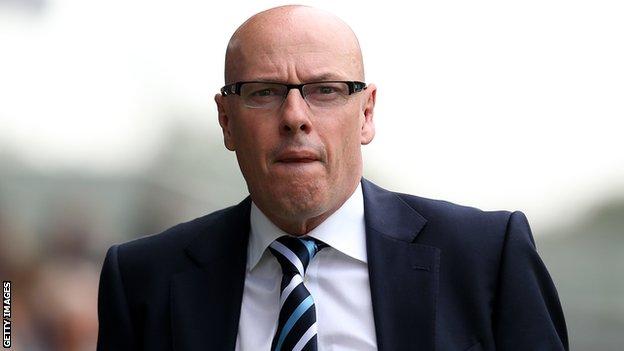 Leeds boss Brian McDermott is refusing to quit after his side lost 1-0 at home to struggling Charlton - and called the club's current situation a "joke".
"I've been in football 30-odd years and I've never experienced anything like this," said McDermott.
"Both on and off the pitch, it's just a joke when I think about it."
He added: "Someone's just said to me that people are saying I should resign.
"Well actually, if people know what's gone on here and what I've had to go through, then to make that suggestion ... They won't see me resigning, no way, absolutely no way."
McDermott, who replaced Neil Warnock as Leeds boss in April 2013, was sacked on transfer deadline day.
His departure came as Cellino closed in on an agreement to take over the Championship club.
A day later McDermott was back in charge at Elland Road after the club issued a statement saying "he has not been dismissed from his post as has been suggested. We look forward to him continuing in his role with us in taking Leeds forward."
The Football League blocked Cellino's proposed takeover last Monday, but he has since lodged an appeal.
"If I'd have come here and everything was stable and we had money available for players and everything was going right, then I could understand the sentiment behind that [calls for him to resign]," added McDermott.
"Probably I wouldn't be here. They'd have made a decision and when the new ownership comes in that decision will be made, who ever it might be.
"At this moment in time we haven't got that decision, so we need to get that quick."