Sheffield United: Nigel Clough and FA Cup run save 'worst season'
Last updated on .From the section Football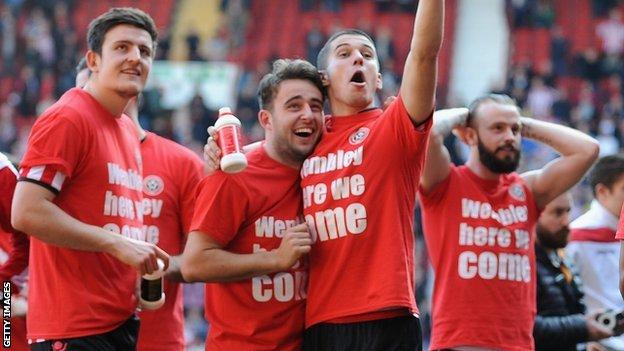 When Aston Villa boss Paul Lambert claimed that most Premier League teams could "do without" the FA Cup earlier this season the reaction through football was one of sadness.
The oldest, and some would argue greatest, cup competition of them all had been reduced to an unwanted distraction.
Less than a year on from Wigan's shock win over Manchester City in the 2013 final it seemed that the magic of the cup might have been spirited away for good.
If the competition really did need saving then perhaps it is apt that it should be done so by the team who granted Lambert his wish.
Sheffield United and their manager Nigel Clough have approached the 133-year-old competition with a refreshing attitude and their reward for it is Sunday's semi-final date with Hull City.
A run that started at Colchester in November and has taken in victories over Lambert's Villa, Fulham and Nottingham Forest has put the Blades 90 minutes away from becoming the first side from outside the top two divisions to make the final since Southampton in 1902.
Some achievement for a club and a man who endured a start to the season that left one looking at relegation to League Two and the other without a job.
On 23 October the Blades were 21st in League One after a disastrous start to the season under rookie boss David Weir while their newly appointed manager was looking to re-build his reputation after his sacking by Derby County in September.
"Supporters are generally really enthusiastic when a new manager comes in but I was a bit wary about David's appointment. He'd served a good apprenticeship at Everton but he had never managed before," former Sheffield United and Hull City striker Keith Edwards told BBC Sport.
"Unfortunately his brand of football just didn't suit our players and you don't get time in today's game.
"I don't want to be negative about him but there was just too much passing. It was like the players had been told they could never send it forward and they looked nervy.
"You can't forget that before Nigel came in this was bordering on being one of the club's worst seasons ever."
If Clough's immediate goal when he walked through the door at Bramall Lane was simply to keep the club in the third tier then it's safe to say he has achieved his objective.
The Blades went on a 10-match winning run in February and March, conceding just one goal in the process, and are now 13 points clear of the relegation zone with five games remaining. In fact they are much closer, eight points, to the play-offs.
Edwards, who scored 143 goals for the Blades across two spells with the club, believes the appointment of Clough could prove to be a masterstroke.
"The big difference under Nigel is that they still play football but there isn't that fear of clearing the ball if they need to.
"He has given them a huge amount of confidence in their ability and that has shown in the results that they have got.
"Nigel is everything Sheffield United need at this moment in time and he has brought all the players together.
"He was a success with Burton and if you look at the success Derby are having now that is on the foundations he set. I think he's brilliant."
The words 'Clough' and 'brilliant' have sat together before.
Brian Clough led Nottingham Forest to back-to-back European Cup successes, as well as winning the First Division with both the Reds and Derby and earned himself the title 'the greatest manager England never had'.
But, in spite of all his success, victory in the FA Cup eluded him as it has evaded his son.
Perhaps unlike Clough Sr, also known as 'old big head', the Blades boss is very realistic about his team's hopes against a team that currently sit 43 places above them in the league pyramid.
"I rate our chances as slim because we are playing a team that is two leagues above us," Clough told BBC Radio Sheffield.
"They are a Premier League side with the quality that comes with that so we are massive underdogs. I don't think anyone can argue with that.
"It's just because of what we have done previously in the competition that people are giving us more of a chance than maybe we realistically have."
Over at Hull the concept of being favourites for a match is not one they are overly familiar with.
Steve Bruce's side have spent the majority of the season attempting to upset the odds as they look to secure survival in the top flight after promotion last season.
Edwards believes the role reversal could play in Sheffield United's favour.
"Of course it is a huge ask and to be honest they've achieved what they've wanted just by getting to Wembley," he concluded.
"There's no pressure on Sheffield United and a lot of it on Hull City. If the Blades get the first goal then it could be really interesting."
There was no pressure at Villa Park or Craven Cottage either and fans of Villa and Fulham need no reminder of how those games turned out.
Whether it is realistic to the manager or not, the fact of the matter is that should Arsenal beat Wigan in Saturday's semi-final then whoever wins Sunday's tie could find themselves playing in the Europa League next season. Clough says the paperwork has been done "as a precaution".
Managers of clubs around the continent should probably make sure they do not suggest their team could do without the Europa League just to be safe.