Arjen Robben compares Man Utd's approach to a handball team
Last updated on .From the section European Football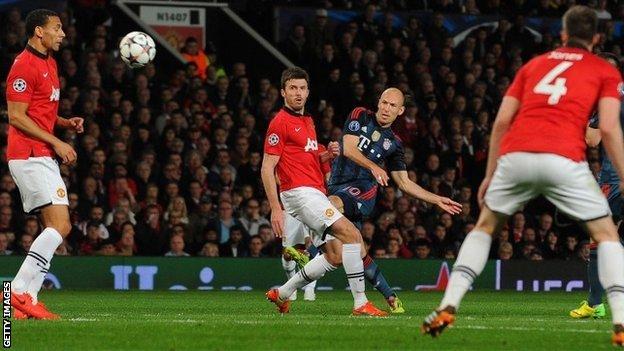 Bayern Munich's Arjen Robben has compared Manchester United's deep-lying defence in their home Champions League last-eight tie to a handball team.
"We wanted to play football but they tried to stop us, just playing on the counter-attack, it was almost like handball," said winger Robben.
Handball teams often use all seven players in a tightly-packed defence.
The tactic forms a barrier in front of goal, aiming to limit the attack's scoring opportunities rather than regaining possession.
"It was not easy, as Manchester United played very defensively and didn't leave any gaps," added the 30-year-old, who played for Chelsea between 2004 and 2007.
Robben's manager Pep Guardiola made a similar observation after the match.
"When you see the second half and you see nine players in the box, it is not easy," the Spaniard said. "It's important that we controlled so well in this situation and we played with patience and found the goal."
Bayern Munich midfielder Toni Kroos, who played 74 minutes of the game before being replaced by Mario Gotze, told Munich newspaper TZ that although he was impressed by Old Trafford, he will not push for a move to United.
"It is a beautiful stadium, but I belong to Bayern Munich," the 24-year-old said.
Kroos, who is yet to agree an extension to a contract that expires in the summer of 2015, has been linked with a move to Manchester United.
Bayern chairman Karl-Heinz Rummenigge has said the German champions will hold Kroos to the final year of his current deal, ruling out any move at the end of this season.