Leigh Griffiths' singing out of tune with Hibs' reality

By Tom English
BBC Scotland
Last updated on .From the section Hibernian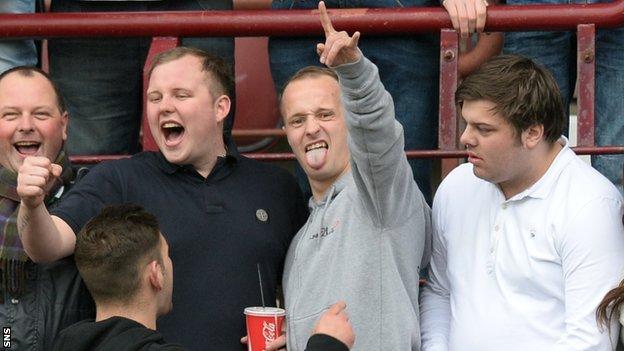 It's difficult to look at the footage of Leigh Griffiths rejoicing in the demise of Hearts without thinking of that line about a turkey voting for Christmas.
The Celtic and Scotland striker not only embarrassed his current club in that Edinburgh pub in the hours before kick-off on Sunday, he was also completely lacking in awareness of what Hearts' relegation - or, perish the thought, liquidation - is going to mean for the club he used to play for.
Hibernian's schadenfreude is understandable given the unmerciful baiting that's been doled out to them in the post-5-1 age.
But, if they look beyond the gloating following the 2012 Scottish Cup final, and take a glimpse of the big picture, Hearts' pitiful plight is not good news for them. It might just prove to be a moment of pleasure ahead of some considerable pain.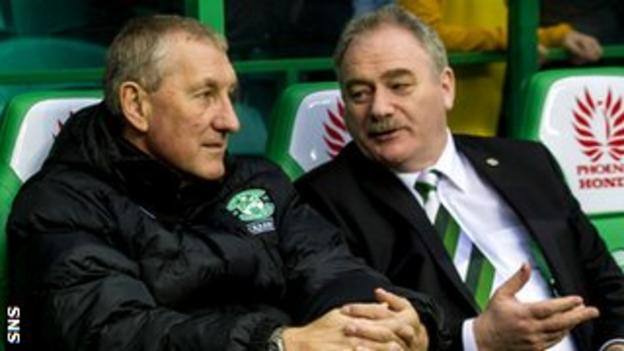 Manager Terry Butcher needs to perform some serious surgery to his squad in the summer. Hibs cannot carry on applying a plaster to a gaping wound in terms of the deficiencies of their dressing-room.
They need proper investment in their squad and it's going to take money, not the kind of ducking and diving they've been doing in the transfer market for too long.
The man charged with freeing up the cash is, of course, chairman Rod Petrie. The absence of Hearts from the Premiership next season is one that must surely fill him with dread given what the fixture means to the Hibs' coffers - and their sales of season tickets.
The top two attendances at Easter Road this season have both been for the visit of Hearts - 20,106 and 16,797. Even the lower number is still 1,500 more than they got when Celtic played there. This is the way of it at Hibs.
If you go back five seasons and pick their 10 best-attended matches, the Edinburgh derby ranks first (2013-14), second (2010-11), third (2010-11), fifth (2012-13), sixth (2009-10) and ninth (2013-14). Fixtures against Rangers from 2010-11 and 2009-10 rank fourth and seventh. A visit from Celtic in 2012-13 is eighth and a relegation duel with Dunfermline from 2011-12 is 10th with a crowd of 15,281.
For Hibs, there's going to be no Hearts next season, as well as no Rangers. Quite what impact this is going to have on the finances of the club is a question only Petrie can answer, but you'd have to think it has the potential to be grim.
Hibs fans turn out in big numbers for the Edinburgh derby and then quickly evaporate. In October, there was a crowd of nearly 17,000 for the visit of Hearts, a number that plummeted to 8,750 for their next home game against Inverness.
It was the same story in January in the wake of that 20,000-plus derby. Hibs got only 9,610 in the home game that followed, against St Mirren, and only 12,542 in the one after that, against Celtic.
In their two games at Easter Road against Gary Locke's team, the average crowd was 18,451. In their two against Celtic, it was 13,381. What incentive is there for a Hibs fan to renew their season ticket if there is no Edinburgh derby to look forward to?
Many will, of course. But if even a small percentage decide not to then Petrie has a problem on his hands. He has to find extra money to bring in better players or he condemns the club to another season of joyless toil - and the continuing drop in their attendances that would come with it.
Griffiths and his backing band can sing about the glory of Hearts going down, but the likely collateral damage to Hibs is something they should think about, especially with so many new players to find if Butcher is to build a team worthy of playing in a marvellous stadium and training in one of the best complexes in the country.
When Celtic lost Rangers, they immediately secured Champions League football as compensation. Once Hearts disappear from the top tier, Hibs have no such option to plug the financial hole and maintain the interest of their fans.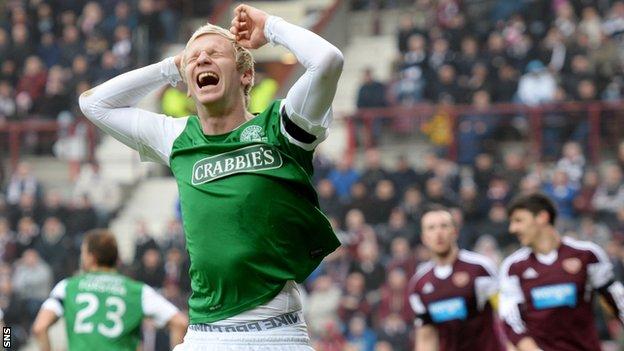 They're going to have to pull a different rabbit from the hat. Petrie had better start practising his magic tricks.
There is comfort in the fact that some Hibs players are coming to the end of their contracts and can be moved on without much fuss. The challenge comes in trying to replace them with the kind of quality that will make a difference, as Aberdeen chairman Stewart Milne has allowed Derek McInnes to do at Pittodrie.
Petrie has been reluctant to push the boat out even when he had the finances associated with the Edinburgh derby at his disposal. It's understood that, back in Pat Fenlon's day, the club was in for Adam Rooney, Willo Flood among others and baulked at the wages. You reap what you sow. At Pittodrie right now, they will tell you the truth of that maxim.
At Easter Road, they will say that Hearts have been masters of their own downfall and deserve little sympathy. What is also true is that their failure threatens to be a bitter-sweet affair for Hibs.
Griffiths, already disciplined by his club and staring the down the barrel of a Scottish FA charge to boot, won't be singing any songs for a while. But, given what life might look like for Hibs without Hearts, there's really not a whole lot to sing about.
Unless, that is, Petrie twitches his moustache and magics up some money to create a team that will give the supporters more to crow about than the misery of others.