Joey Barton on coaching, control, studies and World Cup chances
By James Peacock
BBC Sport
Last updated on .From the section Football
Joey Barton has been called lots of things - many of them unprintable - but footballer, philosopher, thug, narcissist and jailbird are among them.
He is divisive, certainly, and confrontational - but who he really is, is open to debate.
The 31-year-old QPR midfielder, who sees himself as a pacifist, is on his own voyage of self-discovery, leaving behind a troubled past and setting his sights on a productive future.
Barton will finish his Uefa 'A' coaching licence in the summer before starting a philosophy degree at Roehampton University in September. Soon 'coach' and 'academic' can be added to the confusing list of labels.
The idea of Barton as a coach is of interest to the man sitting opposite him, Sir Clive Woodward, for whom he is the latest subject in a series of interviews for 5 live Sport on Thursday.
The conversation flows from what makes Barton tick to what lights his fuse. He says his fuse is harder to ignite these days because he has learned to control the destructive anger that has caused so many problems in his life.
Philosophy and psychology are helping him to make sense of his complex character and his deep commitment to coaching offers a narrow path to redemption.
"I'd love to work with a young Joey Barton"
It may be a while before Barton's temper and tactics are tested in the professional game because "having never had any pace to lose" he sees his playing career lasting for at least another five years.
Barton admits to not being the most naturally blessed of players. Apart from a lack of pace, he was told a number of times in his youth that he was too small to make it as a footballer.
The criticism made him stronger, and he thought hard about how he could develop his game to get the better of more gifted opponents.
As an "obsessive, analytical extrovert" the process came naturally and he thinks those skills will be beneficial in the world of coaching.
"I'd love to work with a young Joey Barton," he says. "I'd give my right arm to do that. I've been doing a psychological analysis of myself, trying to work out why I was so messed up. It's taken me a long time to get there and I'm still on that journey.
"Maybe [my background] will be held against me, but most people who've led the perfect life can't communicate with troubled individuals. I can."
Barton has recently started working with Steve Black, a respected motivational speaker and conditioning coach who worked closely with Jonny Wilkinson during his time with England. Danny Cipriani is now seeking some Black magic himself as he tries to recapture the form that made him the one of most exciting young talents in European rugby.
"If I'd have met Steve when I was 21, I'd have been England captain," Barton says. "That's my belief. He has helped me to embrace what I'm about, the good and bad."
Unlike others in his profession, Barton sees the value in learning his trade, and through his studious nature and deep knowledge of football he also recognises that the standard of coaching in England needs improving.
"In my 10 years as a professional, working with the best coaches at the elite level, I learned for four of them," he says. "For six years I was on auto-pilot because the coaching was lazy and results orientated.
"Everyone wants to get to the top but nobody wants to do the hard yards. I have no sense of entitlement because I've been a top player."
"If you challenge me, my first instinct is to fight"
Huyton in Liverpool is one of the most deprived areas in the UK and Barton admits to being a "product of his environment". It was an environment which offered him three choices in life: drug dealer, roofer or footballer.
He said: "I saw my dad get up at six in the morning and come back in at six in the evening, hands like sandpaper, just to put food on the table.
"I'd seen close relatives go to jail, and I thought: 'I don't want that'. Football was the only way out for me.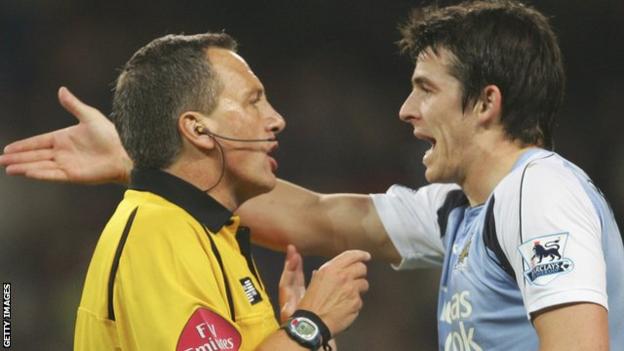 "I came from a council estate. I had holes in my shoes until I was 13 and, where I come from, if someone attacks you, you attack back. The worst thing you can do to me is challenge me.
"When I'm told at 14 that I'm too small and I'm not going to make it as a footballer, I think, 'you're all wrong'. Then I'm told the same thing at school, and then again at 17 and 18.
"I had to take a 'me-against-the-world' stance. Then, all of a sudden, I'm in the [Manchester City] first team at 19, on a contract earning 50 times what my parents earned.
"How do I turn that off - the fact that you're all wrong and I'm right? I didn't have the skill-set to turn it off. That instinct is still in me. If you challenge me now, my first instinct is to fight you."
"Deal with everything at source"
Barton has received eight red cards in his professional career and a number of well-documented and nasty events off the pitch have added to his reputation as one of football's bad boys. Perhaps the most famous of the on-field incidents came on the final day of the 2011/2012 season at Etihad Stadium.
Queens Park Rangers were fighting relegation and Manchester City were chasing the title. In the 55th minute, Barton elbowed Carlos Tevez, earning a red card and the longest ban [12 games] since Eric Cantona received six months from the FA for his infamous kung-fu kick in 1995.
Barton, who says Tevez punched him off the ball, said: "I could feel the frustration coming. I'd been at war with the manager [Mark Hughes] for two months and it came to a head with Tevez.
"If he'd have been sent off, I'd have probably walked off the pitch and that would've been the end of it. But when Tevez gets away with it and I don't, I took the law into my own hands."
On his way off the pitch, with the score at 1-1, Barton tried to provoke an opponent into getting sent off as well. He kneed Man City striker Sergio Aguero because the Argentine had "grassed" him up to the referee and Barton then tried to head-butt the City captain Vincent Kompany.
Barton added: "People think my head had gone. But that was a cold, calculated decision to try and get one of them to go with me."
The series of events leading up to that red card at the Etihad have not been unusual in Barton's career. "Whenever I've got into trouble, there's been about a three-month period of small incidents that, if they were taken care of, would never lead to a big one.
"What I've learned on this psychological journey is that if I deal with everything at source, I can take care of the little things."
"England have no chance at the World Cup"
"Will it be a regret that I never got more England caps? Of course it will. But I have overachieved, just by playing the game. I know I did, given the tools I had and how hard I had to work."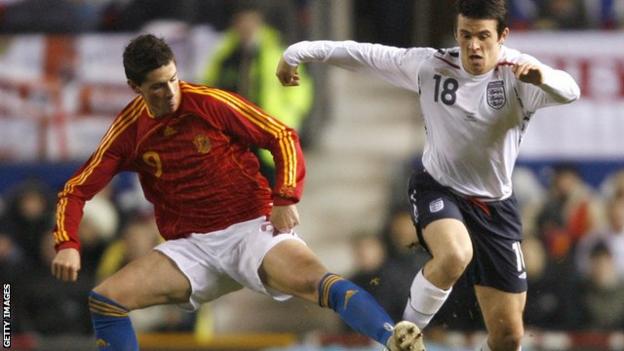 In February 2007 at Wembley, Steve McClaren gave Barton his first and only international cap. He came on as a second-half substitute for Frank Lampard in a 1-0 defeat by Spain. For 12 minutes, he played in a midfield alongside Steven Gerrard and Michael Carrick who, with Lampard, are all likely to feature in Roy Hodgson's squad for Brazil in the summer.
"We have no chance at the World Cup," Barton says. "No-one believes we can win it - the manager, the media, the players - and I would have sacked Greg Dyke on the spot [for the gesture he made at the draw]. What sort of message does that send?"
What becomes clear throughout Barton's interview is a frustration at what he thinks is a lack of strategic, coherent planning in football.
He adds: "Is taking a side with Gerrard and Lampard in it the right thing for English football in the long-term? If we select all our best players we are still going to come up short, so I would take a team for the future.
"What I have started to see with Olympians and in other sports is that they create a culture of winning. We don't have that in football."
"We are losers...Our players are not world class"
When Carl Froch beat George Groves to retain his super-middleweight world titles last year, Barton was struck by the crowd's reaction to the fight's controversial conclusion.
He said: "We love unlucky losers in this country. It's our mindset. In football terms we are losers; we love the side that gets heroically beaten and hate sides that are successful.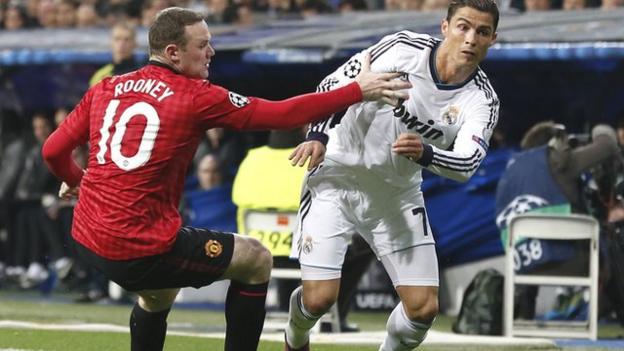 "We get sucked into the hype of Premier League. Our players are not world class. How many English players are getting to latter stages of the Champions League and dominating that competition on a consistent basis? There's not many.
"Rooney is world class - potentially. I love Wayne Rooney, I love what he stands for - he is the epitome of a class Englishman - but look at his approach and mentality compared to Cristiano Ronaldo's. Polar opposites.
"Why is Ronaldo a Ballon d'Or winner and Rooney isn't? When you see Rooney smoking cigarettes, is he doing everything he can to be the best player in the world?
"From players I have spoken to who have worked with both they say the level of discipline Ronaldo has for his profession is the reason he is where is.
"The gulf each year between him and Rooney is getting wider but if it was on talent alone, Rooney is a better player than him."
"I have always been intellectually curious"
"You have your way. I have my way. As for the right way, the correct way, and the only way, it does not exist." (Friedrich Nietschze)
A combination of social media and philosophy have played a cathartic role in Barton's self-styled reinvention.
His millions of followers on Twitter will be as familiar with the musings of philosophers such as Nietschze or Plato as they are with Barton's provocative use of 140 characters to shock, opine and "get things out in the open".
"There is a lot of stigma attached to footballers," he says. "People think they should be stupid and just be able to kick a ball.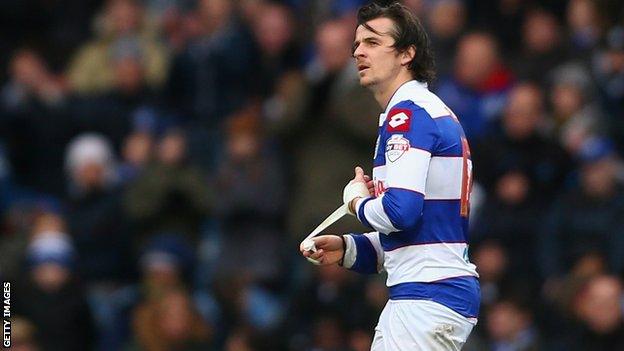 "As a young player, you are quite happy to fit that box and not stand out. I remember dumbing down and acting daft so the older pros didn't think I was a weirdo. But it got to the stage where I had to push myself. Being a footballer was not going to define me as a person.
"I had a lot of energy that I could only use on a football field, so when I wasn't playing I didn't know what to do with it.
"That led me to drink. I was an alcoholic, I had all this energy and then I was drunk with this energy so I had to find stuff to put in my life to keep me occupied.
"I have always been intellectually curious so I started on the psychological thing because I didn't understand myself or like myself. It's given me a structure for life and a level of preparation that I never had before."
Up for debate - "a self-made man"
A few days after the interview with Sir Clive Woodward, Barton gave a talk to the Oxford Union, arguably the greatest and most prestigious debating house in the country.
"There's no point in me going there and trying to act smart," he said. "I am looking at it as a great opportunity for a boy from a sinkhole council estate in Liverpool to speak to the establishment.
"The main thing for me is that I go there as a self-made man. Some of the brightest young people in the country will be there - but they might not know where they are going. By the time I was their age I had achieved my goal."
"So what are you going to talk to them about?" asks Woodward.
"Something I know a lot about - me."