England should take Swansea stars to World Cup - Garry Monk
Last updated on .From the section Football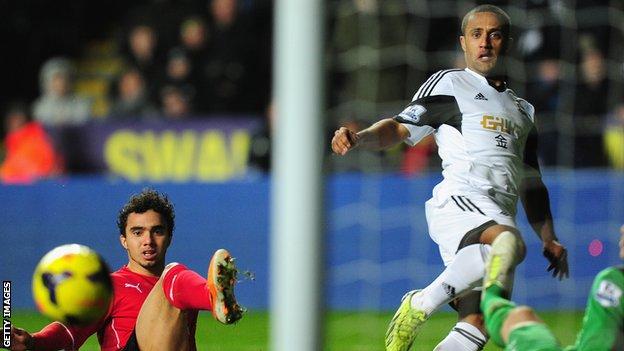 Swansea City boss Garry Monk says England manager Roy Hodgson should consider taking Wayne Routledge to the World Cup.
The winger scored in Saturday's 3-0 win against Norwich, helping the Swans move seven points clear of the relegation zone.
Monk became head coach in February and says Routledge has been in great form since.
"He's probably been the most consistent out of all of them," said Monk.
"He's got himself a few goals. For me it's probably one of his best periods in professional football.
"He's performing at a level that I know he's got in him and I think he'll say himself that he could probably get even better."
Monk also feels others within his squad deserve to be considered by Hodgson for a potential place in the tournament in Brazil that begins in June.
They have another chance to press their cases in Saturday's top-flight trip to Hull.
The 35-year-old Monk says some Swansea players have been overlooked by international managers in the past, partly because of the club's location in south west Wales.
"I've been a bit disappointed in the past where certain players hit a period like Wayne's hitting now and they don't even get considered," said Monk.
"They don't even get a mention which is pretty poor when you think of some of the other players that are getting linked.
"I don't think that affects them. That's the way it is. It's not their fault that that's happening.
"They just have to keep doing what they're doing. If you want to get into an international team you have to perform well. That's all you can do as a player.
"I don't think Wayne has a problem in that sense.
"Maybe the scouts or whoever it is don't come that far down.
"Or the managers of the national teams don't come to Swansea because it's a bit out of the way.
"I'd imagine if we were in London or a major city you could easily fly in and just watch a game.
"I guess that could be part of it. But you'd have to ask those managers, coaches and scouts of the national teams."