Ji Dong-Won: Sunderland punishment unusual, say Marine
Last updated on .From the section Football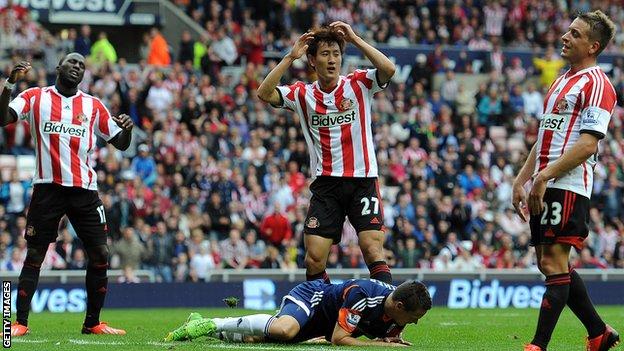 A non-league chairman whose club were docked points for picking an ineligible player, has said it's "difficult to see" why Sunderland have not been.
Striker Ji Dong-Won, 22, played in five games without the required clearance, a transgression for which Sunderland have been fined by the Premier League.
Marine committed a similar offence in the Northern Premier League and were fined and deducted three points.
"It's a most unusual decision," said Marine chairman Paul Leary.
"In our case, the club, Marine, and the player were fined by the FA and it was left to the league to dock points."
Sunderland obtained international clearance for Ji when he signed in 2011 but did not realise they needed to reapply after he returned from a loan spell at German outfit Augsburg last season.
The Wearside club informed the Premier League of the error in October and were subsequently fined.
Marine, meanwhile, had not obtained the clearance from the FA of Wales for Sean Doherty, who left Colwyn Bay in 2011 but then played for two English clubs, AFC Liverpool and Droylsden, before joining the non-league side.
International clearance issues in other competitions have resulted in clubs being ejected, such as Portchester in the FA Vase, or made to replay matches, such as AFC Ludlow.
However, Sunderland's case was dealt with under Premier League rules B14 and U11 - rather than FA rule 6.9, which was applied in the aforementioned instances - and the club now consider the issue dealt with.
"The issue of Ji Dong-Won was explained in detail at today's Premier League shareholders meeting and no issues were raised by any club," read a Sunderland statement.
"The club has never accepted any wrongdoing, but did acknowledge that a technical fault occurred and as such were fined by the Premier League accordingly in December. The matter is now closed."
The FA rule under which Marine were punished does exist as a "back stop" for the issue had the Premier League not acted under its own laws.
However, there is a possibility that a relegation rival could appeal against the decision not to impose a points penalty, which could potentially strip Sunderland of the solitary point - taken against Southampton - that they won during Ji's four league matches.
The South Korean also played in the 4-2 victory over MK Dons in the Capital One Cup second round, but both clubs consider that matter closed.
Ji, who re-joined Augsburg in January on loan until the end of the season, has since agreed a four-year deal to join fellow Bundesliga side Borussia Dortmund on a free transfer in July.