Premier League: Garth Crooks's Team of the Week

By Garth Crooks
Football Analyst
Last updated on .From the section Football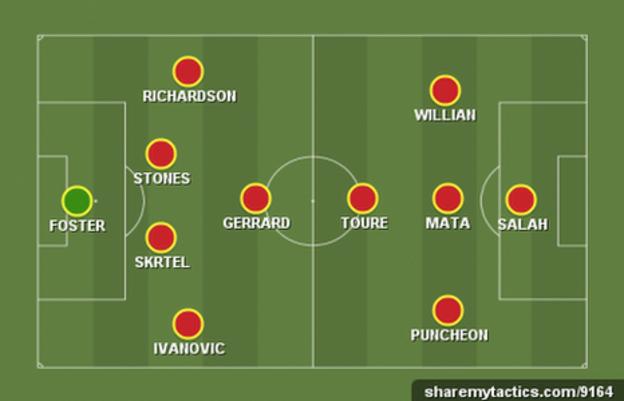 The Premier League's top three were all spot-on this weekend as the tension in the Premier League title race was raised a notch.
Everton boosted their Champions League hopes with a dominant display in beating Arsenal - who are nervously clinging on to fourth spot, having been top at the start of February.
At the bottom, Fulham gave themselves new hope of beating the drop by winning at Aston Villa, but Norwich's loss at home to West Brom brought the sack for manager Chris Hughton.
But who stood out in the Premier League this weekend? Here's who made my Team of the Week.
GOALKEEPER - Ben Foster (West Brom)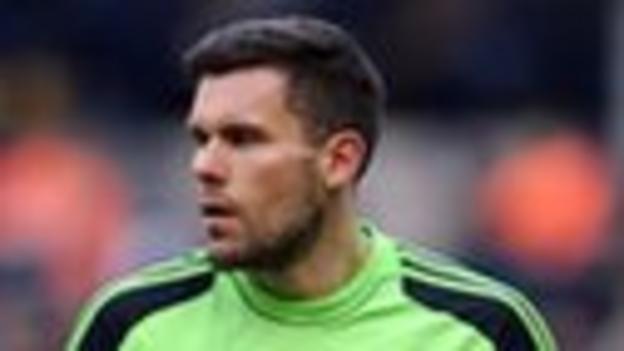 Ben Foster made two saves that were key to West Brom's 1-0 win at Norwich. First he made a fabulous one-handed save from Johan Elmander's header, and then he pushed a Robert Snodgrass free-kick on to the crossbar.
It's true that goals win matches, but so do goalkeepers. And as the season draws to a close, the keepers could make all the difference as to who stays up and who goes down.
Did you know? Foster's performance at Norwich helped West Brom keep their first clean sheet in the Premier League since New Year's Day.
DEFENDER - Branislav Ivanovic (Chelsea)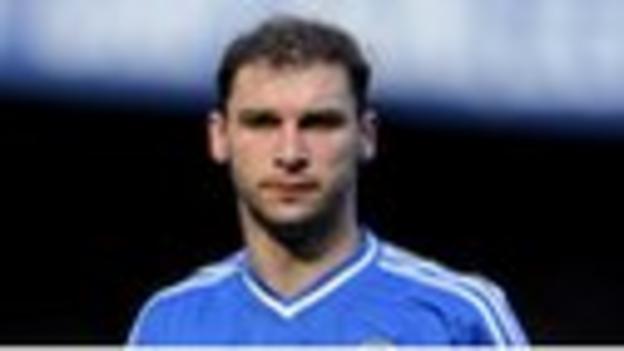 As Chelsea got their title push back on track by beating Stoke 3-0, Branislav Ivanovic turned in an excellent display.
He was desperately unlucky to see a headed goal ruled out for offside - but he was in fine form against a Stoke side who looked as if they had already booked their holidays.
Ivanovic was kept on his toes during an otherwise routine victory by Stoke midfielder Charlie Adam's 'old school' style of play - which he is unlikely to forget in a hurry.
Did you know? Ivanovic made 10 passes to Mohamed Salah on Saturday - at least twice as many as he made to any other team-mate.
DEFENDER - John Stones (Everton)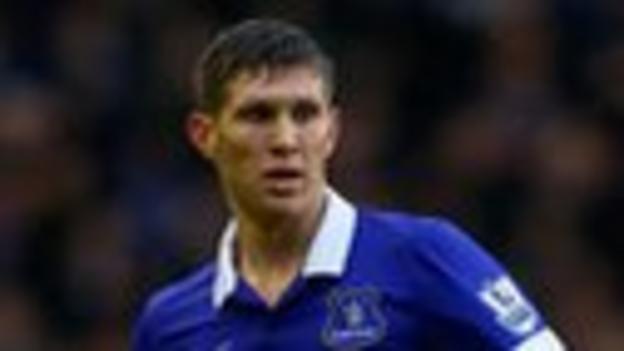 For the second week in succession, John Stones makes my Team of the Week. Impressive in last weekend's 3-1 win at Fulham, the England Under-21 international was at it again in Sunday's 3-0 victory over Arsenal.
The 19-year-old, playing at centre-back, showed great maturity and composure to see off the challenge of Arsenal strikers Olivier Giroud and Yaya Sanogo.
With Stones in such form, there is no need for manager Roberto Martinez to rush captain Phil Jagielka back from a hamstring injury.
Did you know? Everton have a 75% win rate in the 16 games Stones has played in this season and just 38% in the 16 he has not.
DEFENDER - Martin Skrtel (Liverpool)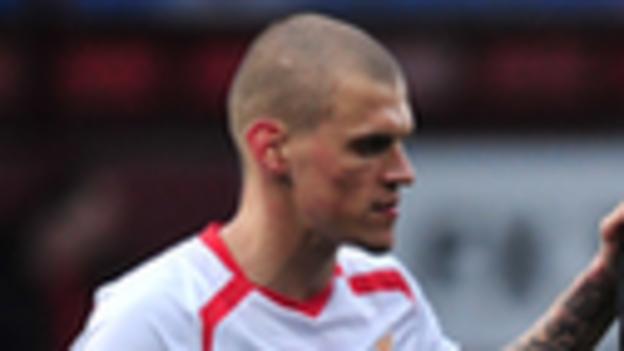 Liverpool faced a major threat to their title hopes on Sunday - as their old boy Andy Carroll lined up in the West Ham attack.
Yet Martin Skrtel coped with that threat superbly. There was a time, not so long ago, when Liverpool's central defenders stood accused of being bullied too easily. But that was not the case at Upton Park.
Slovakia international Skrtel was more than a match for the menacing Carroll, and that was key factor in Liverpool's 2-1 victory.
Did you know? Skrtel is the joint top-scoring defender in the Premier League this season - having scored six times, the same as Everton right-back Seamus Coleman.
DEFENDER - Kieran Richardson (Fulham)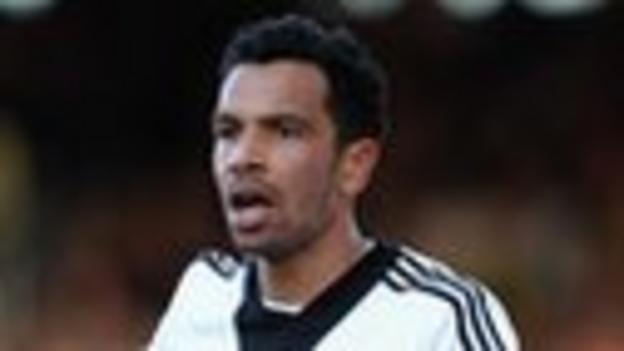 John Motson called it absolutely right. "What a screamer," said the voice of football as Kieran Richardson thundered in Fulham's opener in a 2-1 win at Aston Villa.
Richardson has always had the potential to score great goals because he has a tremendous left foot. But his overall contribution from left-back for Felix Magath's side on Saturday was terrific too - and highly significant in a vital victory.
Will that win be the turning point in Fulham's battle for Premier League survival? I'll tell you next week after they play Norwich.
Did you know? Richardson has scored three Premier League goals this season, equalling his tally for 2011-12 and 2012-13 combined.
MIDFIELDER - Steven Gerrard (Liverpool)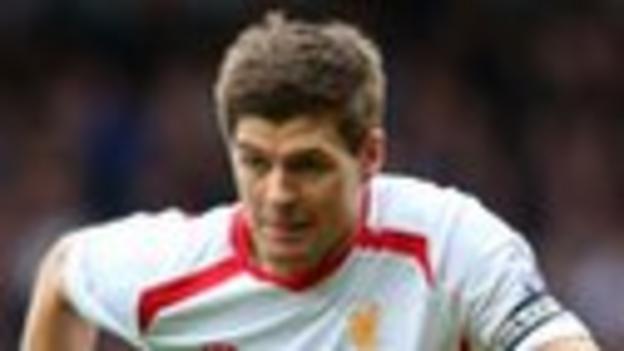 Few players remain as cool under pressure as Liverpool captain Steven Gerrard. It's just as well, because the pressure is mounting on his team as they chase their first league title since 1990.
Twice at West Ham on Sunday, Gerrard was given the task of converting a penalty. Twice, he came up with the goods.
Amid all the controversy surrounding the second spot-kick, the England captain remained ice cold in order to give Liverpool victory - and push them that little bit closer to glory.
Did you know? Gerrard has scored 10 penalties this season. Only Andrew Johnson - with 11 for Crystal Palace in 2004-05 - has hit more in a single Premier League campaign.
MIDFIELDER - Yaya Toure (Manchester City)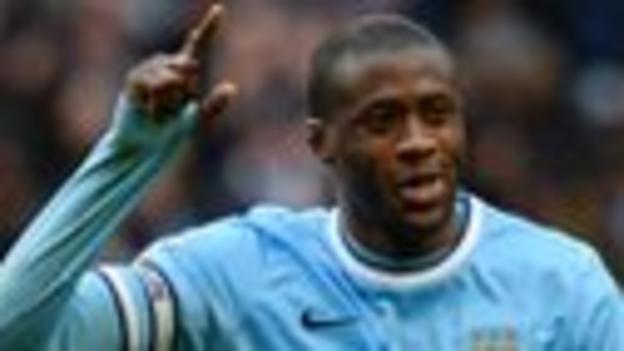 If you want someone to take a penalty in a pressure situation then you need look no further than Yaya Toure. He's cool, calm and deadly.
However he was later booked for diving, I have a problem when players of his class see the need to dive. Don't they realise that it becomes a huge turn-off for the public when class acts like Toure can't resist the occasional unassisted tumble?
Well done to Robbie Savage for highlighting the incident in front of their embarrassed captain Vincent Kompany on Match of the Day. It is the only way players of Toure's calibre get the message. He's still a class act though.
Did you know? Toure has scored with 10 of his 12 set-piece attempts this season - six out of six penalties, and four out of six free-kicks.
MIDFIELDER - Willian (Chelsea)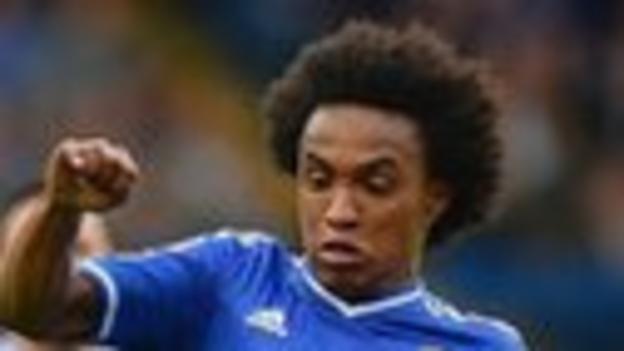 There's one word I would use to describe Willian's goal for Chelsea against Stoke - fabulous.
This lad looks better every time I see him. I first watched him when he and his fellow Brazilian Fernandinho played a central role for Shakhtar Donetsk in a deserved Champions League group-stage victory over Chelsea last season. From that moment, I resolved to keep an eye on him.
Against an unadventurous Stoke side on Saturday, Willian was magnificent. This was the player Jose Mourinho snatched from under the noses of Tottenham in August. Judging by the way the player has developed, he went to the right club.
Did you know? Chelsea have a 71% win rate in the 21 matches Willian has played this season - compared with 58% in the 12 games when he hasn't.
MIDFIELDER - Juan Mata (Manchester United)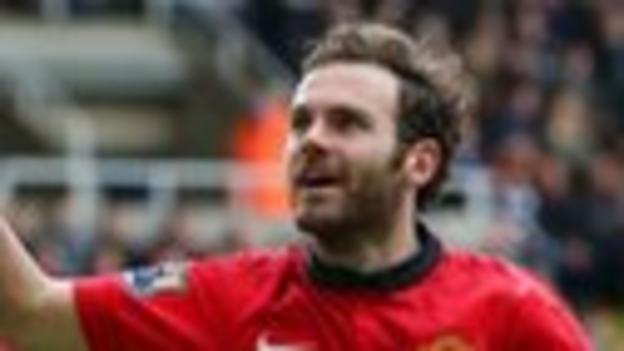 Two classy finishes by Juan Mata set up Manchester United's fourth successive away league victory as they brushed aside Newcastle 4-0. I don't think you will see better. And they were accompanied by a wonderful back-heel to set up Adnan Januzaj for the fourth goal.
Mata began United's stroll to victory with his exquisite 20-yard curling free-kick, and Newcastle had no answer to his performance.
As a side note, isn't it interesting that Newcastle have lost their composure since their manager Alan Pardew lost his on the touchline and head-butted David Meyler five weeks ago? Pardew's side have played five matches since - and lost four of them. Strange that!
Did you know? Mata's first goal was the 36th free-kick goal in the Premier League this season, the most in one top-flight campaign since 2007-08, when 41 were scored.
FORWARD - Jason Puncheon (Crystal Palace)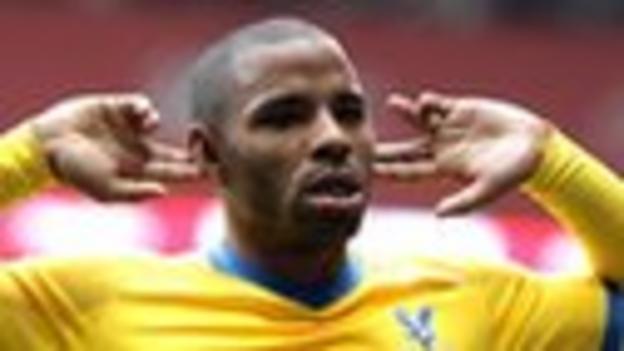 Jason Puncheon was unlucky not to make my Team of the Week last time out with his display as Crystal Palace beat Chelsea. But he was even better as Tony Pulis's side won 3-0 at Cardiff on Saturday.
The 20-yard left-footed curler he produced for his second goal of the match - Palace's third - was sensational.
Victory has left Palace seven points above the relegation zone. That is extraordinary considering that they were six points adrift of safety when Pulis was appointed in November. To my mind, Pulis is the manager of the year.
Did you know? Jason Puncheon's opening goal at Cardiff was the first that Palace had scored from open play away from home since Boxing Day - ending a run of 571 minutes without one on the road.
FORWARD - Mohamed Salah (Chelsea)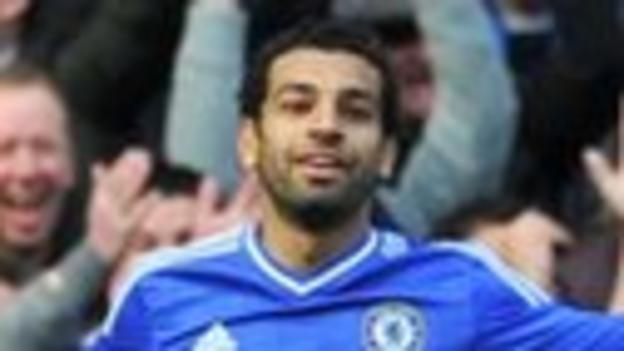 Mohamed Salah was inspiring as Chelsea beat Stoke on Saturday - and Jose Mourinho was happy to sing the Egypt international's praises afterwards.
Salah scored the opener, before winning the penalty that led to Chelsea's second goal as they won 3-0. Mourinho highlighted the 21-year-old's role in the victory, and was quick to mark him out for a bright future at Stamford Bridge.
With so much uncertainty as to which players will stay at Chelsea beyond the summer - and with Mourinho likely to reshape his squad significantly - that was high praise indeed.
Did you know? Salah has scored as many goals this season at Stamford Bridge for Chelsea (two) as he has against them - having netted in west London for Basel in the Champions League in September and also in the Europa League semi-finals in May 2013.