Everton: Champions League spot in their grasp as Arsenal falter

By Phil McNulty
Chief football writer
Last updated on .From the section Football1080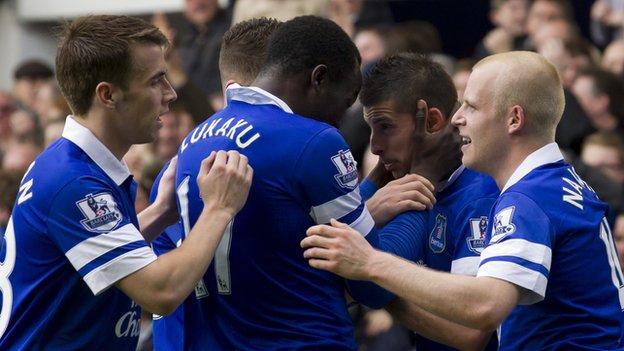 At what was meant to be the moment of greatest pressure for Everton manager Roberto Martinez, his only moment of serious discomfort came at the hands of one of his own players.
After Romelu Lukaku had blown the race for a place in next season's Champions League wide open with Everton's second goal, the giant striker chose to celebrate by launching into an over-enthusiastic embrace with the diminutive Spaniard.
Martinez's slight frame took a buffeting from the giant Belgian - dubious reward for a tactical masterstroke that outflanked Arsenal manager Arsene Wenger to such an extent that he looked close to broken at the end of Everton's outstanding 3-0 win.
Lukaku's pointing finger and bear hug was acknowledgement of the reshuffle that had him operating wide on the right to target Arsenal left-back Nacho Monreal, leaving Steven Naismith to again demonstrate his game intelligence through the centre.

Naismith opened the scoring, Lukaku got the second and Arsenal were blown away inside a thunderously expectant Goodison Park to leave a top-four place in Everton's own hands. Mikel Arteta's own goal gave the scoreline a more realistic appearance.
Everton are now just one point behind Arsenal with a game in hand. Indeed, a glance at the remaining fixtures may be the only crumb of comfort for The Gunners on an afternoon when they were tormented on a scale that came close to matching the misery of their 5-1 defeat across Stanley Park against Liverpool.
Arsenal's remaining games are at home to West Ham United, Newcastle and West Brom, alongside visits to Hull and Norwich City.
Everton have games at Goodison against Crystal Palace, Manchester United and Manchester City and travel to face Sunderland, Southampton and Hull City.
This perhaps looks kinder to Arsenal - but Wenger and his players looked utterly desolate at the final whistle on Sunday in the face of an Everton performance that was perhaps their finest at Goodison Park in years, certainly the best under Martinez.
And the unknown is what further psychological damage the loss will have inflicted on Arsenal following previous heavy defeats at Manchester City and Chelsea, as well as the one against Liverpool.
If you just spent 90 minutes in the company of Everton and Arsenal on Sunday lunchtime, your Champions League money would go on only one team.
And Wenger's sombre countenance and demeanour at the end suggested he needs to lift himself as well as his team if Everton are not going to take fourth place from them.
Goodison was a cauldron of noise even before kick-off and nothing that happened subsequently turned down the volume.
Everton have been regarded, even by many of their own fans, as a team that just comes up short at the real pressure pinch points. Here they reacted to the expectation of a game they had to win with style, power and no shortage of the arrogance Martinez likes to see in his teams.
And it was a former Everton hero who ended up symbolising the manner in which Arsenal were quite simply unable to cope with an intimidating atmosphere and a team suddenly believing an unlikely goal is within reach.

Arteta has traditionally received a warm reception on his returns to Everton but it is clear his popularity has been drastically reduced following some unsavoury moments during Arsenal's recent FA Cup win against his old club.
He was booed at every turn and did not help his own cause by taking umbrage at almost any physical contact. The final straw came after a late clash with Ross Barkley, who ran the Spaniard ragged after coming on as substitute for Leon Osman, who sustained an eye injury in the opening minutes.
Arteta responded with an almost "don't you know who I was?" stance before his petulant refusal to speak to referee Martin Atkinson earned him a yellow card, much to the amusement of the support who once idolised him.
Throughout the game, Martinez was on the edge of his technical area cajoling, adjusting, plotting. Wenger was barely seen, bar the odd discussion with the fourth official. It was a mirror image of their teams.
When Everton owner Bill Kenwright revealed that virtually the first words Martinez said to him were "I'll get you in the Champions League", plenty regarded this as the most ambitious sales pitch in football history. Not any more.
Plenty of fingers will be pointed in Arsenal's direction, but it would be an insult to Everton to downgrade the quality of their performance in any way.
Lukaku was too strong for Arsenal, Gareth Barry and James McCarthy ruled midfield, while every move was tailored to Martinez's passing demands. One lengthy spell of Everton possession, played out to "Oles" while Arsenal chased shadows, was a classic case of the biter bit.
And Goodison was on its feet in rapture in the second half when Republic of Ireland full-back Seamus Coleman sprinted down the pitch performing keep-ups for 40 yards.
Everton wanted the afternoon to go on forever, while many Arsenal players looked like they could not get down the tunnel fast enough - although it was encouraging to see Alex Oxlade-Chamberlain staying behind at the final whistle to applause the home support.
Momentum is a powerful force at this stage of the season and it is certainly being applied to the race for fourth place. Arsenal must regain it quickly or a proud record of 16 consecutive seasons in the Champions League will be in peril.