World Cup 2014: Man Utd's Valencia key to Ecuador in Brazil
By Tim Vickery
South American football writer
Last updated on .From the section 2014 Fifa World Cup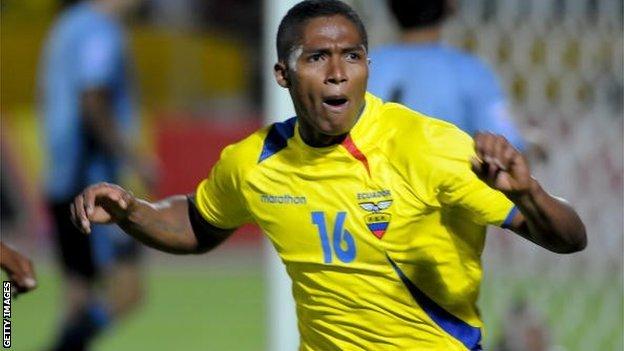 With his ability to fill in at right-back as well as his more customary position higher up the flank, Luis Antonio Valencia is an extremely useful member of the Manchester United squad.
For Ecuador, though, he is much more than that.
A year ago national team coach Reinaldo Rueda referred to him as "the main reference point for Ecuadorian football, as a result of everything he has achieved".
A British readership might be unaware how special it is for Ecuador to have one of their own playing at one of the world's major clubs, and in action in the closing stages of the Champions League. Less than 30 years ago Ecuador was a Latin American Luxembourg in footballing terms.
The game was introduced to the country by the Wright brothers - but it took a long time to take flight. Juan Alfredo Wright brought football back from England at the end of the 19th century, and together with his brother Roberto pioneered the practice of the game.
But when the Copa America began in 1916, Ecuador were not in it. In fact, they sat out the first 14 versions of the tournament before entering in 1939 - and after half a century their record made pretty grim reading: 75 games, four wins, 14 draws and 57 defeats, with 69 goals scored and 254 conceded.
In 1989, however, they showed the first flickers of promise, beating Uruguay and drawing with Argentina, Maradona and all. And such promise has since been confirmed. This year they go to their third World Cup - their third in the last four - and for the first time they will play the competition in their own continent.
They will make the short journey to Brazil with a few misgivings - their current crop of centre-backs do not inspire confidence - but they are boosted by the presence elsewhere in the team of much more international experience than there used to be.
These days there is a market abroad for Ecuadorian players, even if most of them go no further than Mexico. Making it to a big European club is more difficult - but, as Valencia has shown, not impossible.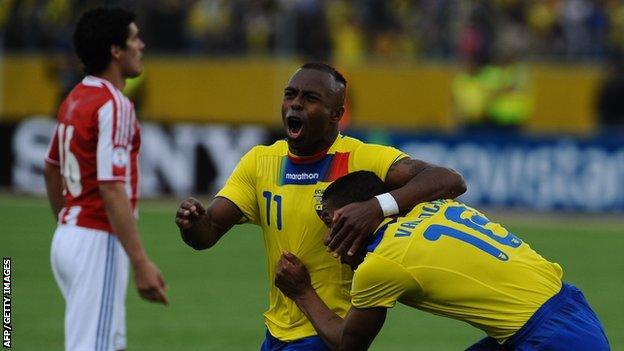 The first time an Ecuadorian player moved to a European club was as recently as 1986, when centre forward Ermen Benitez had an unhappy few months with Xerez in the Spanish second division. These days Ermen is most remembered as the father of Christian Benitez, once of Birmingham City, who died so tragically last July.
The loss of Benitez was a hammer blow to Ecuador's World Cup hopes. It deprived them of a top player, their senior goalscorer, who was also sufficiently versatile to work back in midfield and help balance the side.
And it also took away one of the most popular members of the squad. The consequence, in both senses, is that Valencia is having to take on more responsibility.
Before the death of Benitez, Rueda paid tribute to the importance of Valencia to the national team. "He is well balanced mentally," said the coach, "he's down to earth and gets on well with those around him. His team-mates hold him in very high regard because of the way he is. He's very charismatic."
All of this acquired an extra value when Benitez died. Rueda recently told me that it came as "a huge blow to the group", and that he had to think long and hard about how to respond.
The outcome of his thinking was that Ecuador had to change their captain - left-back Walter Ayovi, the only player in South America to play in all 16 rounds of the World Cup qualifiers, stepped down, and Valencia was appointed in his place.
Benitez and Valencia grew up together in the youth ranks of the El Nacional club in Quito. Having Valencia lead out the side was a way of making the point that, in some way, Benitez was still a part of the process.
"It was hard on Walter Ayovi, who is 500% excellent," said Rueda. "But Antonio Valencia was closest to Benitez - they were like twins - and so making him the captain was a way of rallying the group.
"Valencia was reluctant initially, out of respect for Ayovi, but it ended up being, from a psychological point of view, a change that gave us a boost in the final straight."
Some may question whether Valencia will feel comfortable with these extra tasks - not only captaining the side, but also carrying the Ecuador attack.
He is one of the few members of the current squad to have played in the country's last World Cup finals appearance in 2006, and so his team-mates will automatically look to him to impose himself on their games against Switzerland, Honduras and France.
United fans, though, will certainly recall the fact that he found the club's famous number seven shirt something of a burden, and was happy to switch back to wearing the 25. He had a brief spell wearing seven for Ecuador as well but, a superstitious soul, abandoned it in favour of a return to 16, his previous favourite.
But it makes no difference what number he wears on his back. Ecuador will be very disappointed if they cannot at least match their achievement of 2006 and reach the second round.
If it is to happen, then Valencia will need to use his power and that famous acceleration to undress defences. The great strength of the side is the speed, power and skill of its wingplay - Valencia on the right and Jefferson Montero on the left.
Montero is very tricky, but unreliable. "Does he want to play for Ecuador, or for Jefferson Montero?" ponders Rueda. "This question is still not easy for him."
But from Luis Antonio Valencia, Ecuador expect nothing less than a captain's innings.
Send your questions on South American football to vickerycolumn@hotmail.com, and I'll pick out a couple for next week.
From last week's postbag:
Would you say Colombia would be better off putting Juan Guillermo Cuadrado instead of Macnelly Torres as the right attacker? In past matches Cuadrado has been given the nod ahead of Torres.
Daniel Lamus
I don't see them in direct competition. Cuadrado, as you say, is a right-sided player. Torres is a central midfield playmaker. Ideally you would like to have them both. One of the problems Colombia have had, though, is fitting everything they want into the midfield. In a perfect world they would have five men there - a holder such as Carlos Sanchez, a mixed midfielder alongside him, such as Abel Aguilar, James Rodriguez roving across from the left, Cuadrado down the right and Torres central.
Part of the problem coach Jose Pekerman has had balancing out the side is that Radamel Falcao does not link the play well, making it difficult to use him up front on his own. So the inclusion of a second striker forces one of those midfielders, recently Torres, to drop out. It's a puzzle for the coach, whether or not Falcao recovers from injury in time.
Did Tottenham choose the right club in Brazil to strike up a partnership with in Internacional (apart from the obvious desire to acquire Sandro in 2010) rather than, say, Santos or Cruzeiro?
Keyan Milanian
I'm not sure it matters that much. There's often a lot of hullabaloo about these partnership deals, but they rarely lead to long-term results. The tie-in with Inter didn't help Tottenham sign Leandro Damiao when they were in the market for him.