Hibs boss Terry Butcher seeks goals to avoid play-offs
Last updated on .From the section Football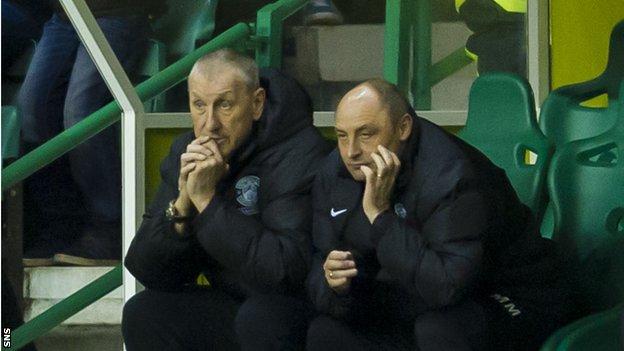 Terry Butcher concedes his misfiring Hibernian side have erected a "glass wall" in the final third of Premiership games this season.
"We need to score goals to win games and we aren't doing that," he said.
"We've done well up to the final third but seem to have erected a glass wall and we can't get through it, round it or over it."
Going into the Premiership split, the Edinburgh club have kept a clean sheet only once in 2014 and are four points ahead of 11th-placed Partick Thistle.
After watching his side lose to two stunning Niall McGinn strikes, Butcher said: "We started both halves really well and McGinn scores a goal out of the blue and he's scored two great goals tonight."
Butcher's pre-match plans were disrupted when striker Paul Heffernan injured his groin in the warm-up and was replaced in the starting line-up with James Collins.
"It seems that anything that can go wrong, is," he said.
"You can go through spells like this and you just have to ensure you get through it. When you pick a team off and get possession then you have to score and test their goalkeeper under pressure.
"We haven't got a lot of forwards and don't have a lot of pace in the team.
"There's nothing wrong with the shape of the team, we just can't score. We started the second half then bang, they've scored another great goal.
"We've done this in the past where we've done well, particularly at home, and then a team scores against us out of the blue and against the run of play.
"It rocks you back on your heels because you've started well and the crowd are with us. If we get the first goal then it'll be a huge lift to the side.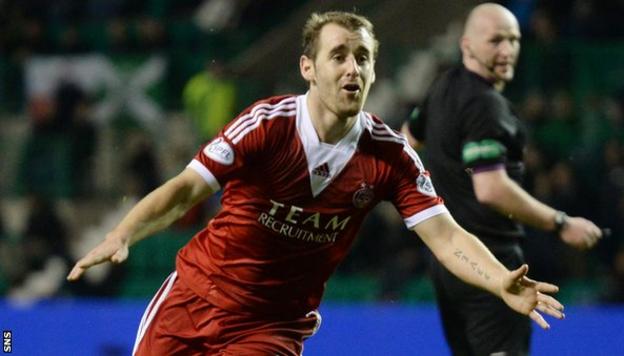 "They've got the goal and then hit the post a couple of times and you think the luck is with us. We start the second half well then bang, another great goal goes in against us.
"It's a superb finish from McGinn, we'd have probably hit the bar and the ball had come out or someone would've been offside.
"I'm not going to blame luck, but it requires a lot of hard work from the players. How do you get belief? You get that on the training ground, working hard and being together even more."
All five team about already relegated Hearts could yet face a play-off.
"We have the best goal difference and have three games at home, out of the five," Butcher pointed out.
"We need belief; how do you get that? It's on the training ground. We played a team tonight that's second top and won a cup; they're the best of the rest in the Premiership.
"They picked us off and are full of confidence, the exact opposite of us."