Jose Mourinho: Chelsea boss rolls back the years with touchline run

By Phil McNulty
Chief football writer
Last updated on .From the section Football1353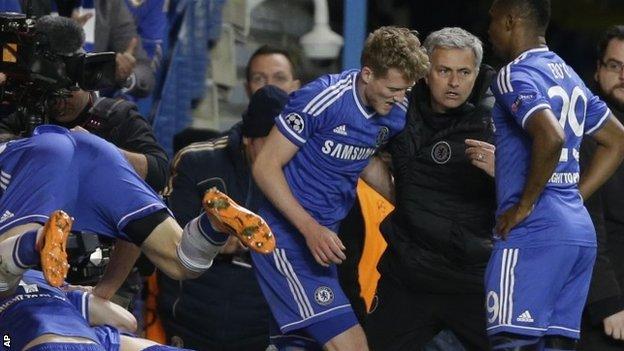 This was where Jose Mourinho came in - with the re-enactment of the moment a decade ago when he first made his mark on the consciousness of English football.
All those years ago, it was a sprint along the length of Old Trafford's touchline to celebrate the scoring of a famous late Champions League goal by Francisco Costinha as underdogs Porto put out Manchester United.
And he was at it again at Stamford Bridge on Tuesday when Demba Ba scrambled in the 87th-minute strike that gave Chelsea the 2-0 win that sent them into the semi-finals on away goals at the expense of Paris St-Germain.
The hair may be greyer, the black overcoat worn at Old Trafford swapped for training gear and the turn of speed a little slower with the passing of the years, but it was still a moment heavy with the weight of significance.
When Mourinho announced his arrival that night in March 2004 at Old Trafford, he was on his way to an unlikely Champions League triumph with Porto. Will his run to a huddle of Chelsea players burying goalscorer Ba be remembered in similar fashion next month?
Of course it was pure Mourinho. His detractors may suggest it was another "me, me, me" moment, an attempt to hog the spotlight in Chelsea's glory, a reminder of just who was the architect of the successful mission to turn around a 3-1 first-leg deficit.
The truth is more pragmatic. Yes, Mourinho did make that headline-grabbing journey along half the length of Stamford Bridge but there was no triumphalism or celebration when he reached his destination. It was with a specific purpose.
This was Mourinho demonstrating one of his great strengths. Thinking coldly and making the necessary decisions in the moments when pressure is at its height, when thoughts could be scrambled.
Remember Real Madrid's Champions League win at Manchester United last season? While Sir Alex Ferguson lost control and was raging at officialdom while fist-pumping to implore the Stretford End's support after Nani's controversial red card, Mourinho was stealthily introducing Luka Modric for full-back Alvaro Arbeloa in a game-changing switch.

On Wednesday night, he dragged Fernando Torres out of the human pyramid formed in a corner of Stamford Bridge - and the other goalscorer Andre Schurrle. They were reminded of their more defensive responsibilities now the required scoreline had been achieved. He was there to instruct not celebrate.
The theatre (some may prefer to call it a circus) that surrounds Mourinho occasionally blinds those who do not find him to their taste to what a brilliantly successful coach and manager the Portuguese is.
Love him or hate him, say what you like about him - and plenty do - he can put his track record on the table to end any argument about how good he is.
This will be Mourinho's fifth successive Champions League semi-final with Inter Milan, Real Madrid and now Chelsea. He still has the chance to become the first coach to win this tournament with three different clubs after success with Porto and Inter.
And in this quarter-final second leg Mourinho got all his big calls first in adversity and then through necessity.
When Eden Hazard, one of those Mourinho would have been counting on most, was an early casualty with a calf injury he threw on Schurrle, who responded with energy and the crucial breakthrough goal.
And then, with 24 minutes to keep Chelsea in the Champions League, he introduced Ba, who is a PSG fan having been born in a Paris suburb, ahead of Fernando Torres as replacement for Frank Lampard.
Mourinho's reasoning, maybe even over and above Torres's own recent struggles, was that the muscular, bustling and largely ignored Ba would give PSG a problem they never encountered in their domestic league.
The ploy worked as a finish that made up in effectiveness what it lacked in elegance sent Mourinho down the touchline and Chelsea into the semi-final.
One of Mourinho's other assets is that he is in charge of a Chelsea team that knows how to get the job done on nights like this. This was the sort of street-wisdom and nous that got them out of a couple of tight spots on the way to winning the Champions League in 2012 under Roberto Di Matteo.
And Mourinho also has a spot of unfinished business with Chelsea. In among the success of his first spell were two Champions League semi-final defeats by Liverpool, the first in particular a source of pain after what he called Luis Garcia's "ghost goal" in 2005.
Chelsea may be regarded as outsiders in what looks certainly to be a high-quality last four but only a fool would write Mourinho off.
PSG may have been without the talismanic Zlatan Ibrahimovic - and what a terrible disappointment £55m summer signing Edinson Cavani was - but Mourinho was without the suspended Ramires and the ineligible Nemanja Matic, both so crucial to his midfield.
Mourinho's first famous run was part of a journey to Champions League glory with Porto. He will hope his Wednesday repeat will lead to a similar glorious finale.