Liverpool v Man City: Unsung hero Fernandinho can be key for City
Last updated on .From the section Football

In his regular BBC Sport tactics column, Robbie Savage looks at Sunday's top-of-the-table match between Liverpool and Manchester City.
Both teams are attack-minded and high-scoring with exciting forward players, and both have weaknesses in defence, despite City's recent improvement at the back.
So the battle for control of the game in midfield will be vital at Anfield, particularly how each team tries to protect their back four.

For Manchester City, Fernandinho is seen as their main defensive midfielder, but there is much more to his game than that.
His energy will be vital for Manuel Pellegrini's men, not just when it comes down to winning the ball back from Liverpool, but also in turning defence into attack.
Fernandinho more than just a holding midfielder
I sometimes hear people describe Fernandinho as being an anchor man in the mould of former Chelsea star Claude Makelele, because they think Yaya Toure is the City midfielder who gets forward.
But in fact Fernandinho and Toure work in tandem as a pair of box-to-box players. They have got a great partnership because they share defensive and attacking responsibilities in City's usual 4-2-3-1 formation.
It is Toure who grabs the headlines because of his rampaging runs but Fernandinho is an unsung hero for City because of the energy he brings to their team, his mobility, and the amount of work he puts in.
Defensively, Fernandinho covers a lot of ground when City do not have possession and puts the most pressure on the ball. If you add up interceptions and tackles, he has won it back more than any other City player this season.
Man City in the Premier League 2013-14

Interceptions

Possession won

1. Fernandinho (58)

1. Yaya Toure (177)

2. Martin Demichelis (47)

2. Fernandinho (155)

3. Pablo Zabaleta (45)

3. Vincent Kompany (111)

Stats: Opta
In contrast to Steven Gerrard, who does play the holding role for Liverpool, Fernandinho does not just turn over possession by sitting in front of his defence. Instead, he goes hunting for the ball.
In the past, Gerrard would have covered the same amount of ground as the 28-year-old Brazilian - who chases teams down, often high up the pitch - but these days he stays much deeper, apart from at set-pieces.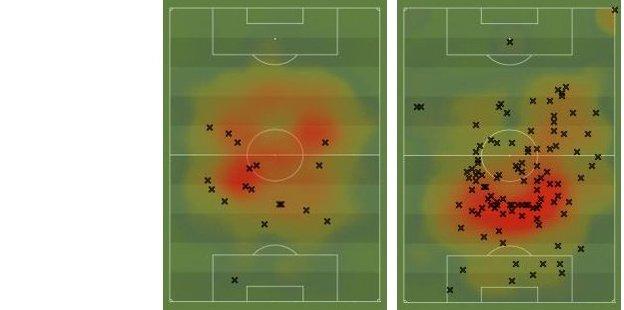 Like City, Liverpool look to get lots of players forward quickly when they win the ball but, on Sunday, Gerrard will not be one of them. He only enters the final third for set-pieces, from which he has provided seven of his nine assists and his three goals that have not come from the penalty spot.
It is different for Toure and Fernandinho. When you play with two box-to-box men in the middle like City do, they have to be disciplined. When one goes forward, the other has to stay - even if they probably both want to go.
Getting that balance right at Anfield will be vital for City and not just because of the different threats Liverpool pose.
Fernandinho and Toure will have to help their defence deal with the Reds' fast forwards when they break, watch for their overlapping full-backs and also put pressure on Gerrard and Philippe Coutinho, who will be looking to ping longer balls over and through City's back-line.
Premier League 2013-14

Fernandinho

Steven Gerrard

Games & Minutes

26 & 2,220

29 & 2,450

Goals/Shots

4/22

13/40 (10 pens)

Assists

3

9

Chances created

31

57

Passes (% completed)

1,394 (88%)

1,832 (86%)

Tackles (% won)

78 (78%)

79 (71%)

Stats: Opta
The City pairing have attacking responsibilities, too. Toure's main threat is through his trademark runs forward and shots from distance. Fernandinho is less spectacular but he is fast, good on the ball, able to pick out a pass and can burst into the box to get on the end of moves as well.
The most crucial thing about Fernandinho, though, is that the high-tempo he helps to set allows City to launch fast attacks of their own.
I have already spoken about how important Gerrard is to Liverpool's title bid but the same could be said about Fernandinho for City.
Man City and Liverpool with/without Fernandinho and Gerrard in Premier League

2013-14

With Fernandinho

Without Fernandinho

With Gerrard

Without Gerrard

Games

26

5

29

4

Wins

21

1

21

2

Defeats

3

2

3

2

Goals for

80

4

80

10

Av. goals for

3.08

0.8

2.75

2.5

Win %

81%

20%

72%

50%

Points per game

2.5

1

2.3

1.5

Stats: Opta
When City win the ball and go forward, they move it about quickly, sometimes taking only one touch to lay it into the path of a team-mate and breaking into the box at devastating speed.
Fernandinho does not try to play searching long passes forward like Gerrard does. Instead, his job when he gets the ball back is to quickly push forward himself or immediately give it to a player ahead of him - David Silva or Samir Nasri, or one of City's overlapping full-backs.
That is what they will try to do against Liverpool, and City do not always attack at the same breathtaking speed when Fernandinho is not there - notably in their home defeat by Chelsea in February. Martin Demichelis was in midfield and he took too many touches, which slowed City down.
City have failed to score in four of the five league games that Fernandinho has missed this season. They are the only times they have not found the net this season.
What will Liverpool do this time?
One of the factors behind Liverpool's success this season has been the flexibility of Brendan Rodgers' formations, and how he mixes up his midfield and attack depending on the opposition.
We got an idea of what to expect at Anfield when Liverpool went to Etihad Stadium on Boxing Day. They went 1-0 up but lost 2-1 despite having enough chances to win the game, with their worst miss coming when Raheem Sterling skied his shot when he was clean through.
Liverpool played a 4-3-3 formation that day. But they did not have Daniel Sturridge or Gerrard, who were both injured. City, who were without Sergio Aguero, lined up in a 4-2-3-1 formation with Alvaro Negredo as their lone striker.


Luis Suarez played as Liverpool's central striker, with Coutinho on the left and Sterling on the right. Lucas Leiva played in the holding midfield role, staying very deep just like Gerrard does.
This time, I think Rodgers will go 4-3-3 again, but with Suarez, Sturridge and Sterling across the front three, the same as he did in a 4-0 win over Tottenham at the end of March. That means Coutinho will be in the team but playing much deeper than he did on Boxing Day.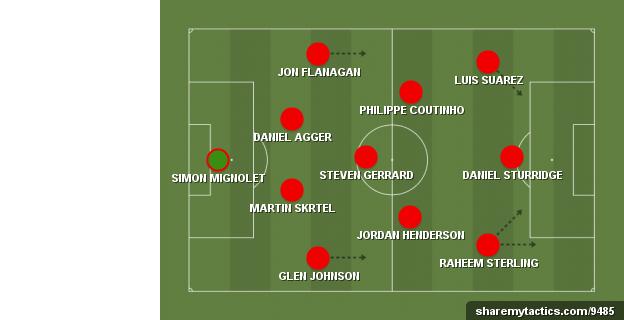 Again, just as in that Spurs game, where Sterling and Glen Johnson went at Tottenham left-back Danny Rose, I think Liverpool will target the left side of City's defence.
Whether it is Gael Clichy or Aleksandar Kolarov at left-back, and Martin Demichelis or Joleon Lescott as City's left-sided centre-back, that side is far weaker than Kompany and Pablo Zabaleta on the right.
Because of the pace of the Liverpool attack, I think City should go with their faster defenders to deal with it - Clichy and Lescott rather than Kolarov and Demichelis.
It is a big call for Pellegrini, but he has stuck with Demichelis until now, and probably will again. Whoever he goes for alongside Kompany, it is a gamble.
Man City must prepare for early onslaught
City are used to starting games on the front foot but their defence will have to be ready for a fast start by Liverpool on Sunday.
Time and time again this season, particularly at Anfield, Liverpool have over-run lots of teams early on in games.
They have scored in the first half in 31 of their 33 league games so far, and have hit a total of 54 first-half goals, by far the most of any top-flight team.
2013-14 Premier League goals scored/conceded

Most scored in the first half

Fewest conceded in the first half

1. Liverpool - 54

1. Chelsea - 9

2. Man City - 37

2. Man City - 10

3. Chelsea - 28

3. Everton - 12
Games scored in the first half

Games not conceded in the first half

1. Liverpool - 31

1. = Chelsea/Everton - 24

2. Man City - 22

3. Arsenal - 22

3. Chelsea - 18

4. = Man City/C Palace/Hull - 21

Liverpool have played two more games than City
City are also a high-scoring, attacking team. Both they and Liverpool have a chance of beating Chelsea's record from 2009-10 of 103 goals in a Premier League campaign.
2013-14 Premier League (and ranking)

Team

Shots

Shots on target

Shot conversion

Goals scored

Liverpool

455 (1)

227 (1)

19.78% (2)

90 (1)

Man City

420 (3)

195 (3)

20% (1)

84 (2)

Liverpool have played two more games than City
Their strength is going forward, but City have improved defensively in recent months, and have conceded only four goals in their last nine Premier League games, compared to 25 in their previous 22 league matches.
There are plenty of reasons they will be confident of surviving any early onslaught at Anfield. Pellegrini's side have conceded the first goal only five times in their 31 Premier League games, and only four first-half goals in 16 league games away from home. Only Chelsea have conceded fewer first-half goals in total.
Part of that comes down to the way City impose themselves on games rather than their ability to hold out under pressure, but they can defend when they have to.
2013-14 Premier League (and ranking)

Team

Shots faced

Shots on target faced

Goals conceded

Clean sheets

Liverpool

424 (11th best)

130 (6th best)

40 (7th best)

10 (=10th best)

Man City

307 (1st best)

106 (2nd best)

29 (2nd best)

13 (=2nd best)

Liverpool have played two more games than City
They will have to be solid at Anfield. The strength of Liverpool's attack means this will be City's biggest defensive test in the league this season. Any lapses will be punished.
Even without any individual errors, the Reds front three is good enough to find a way through City's back four, so the protection offered by Fernandinho and Toure in front of them will be crucial. They cannot leave their defence exposed at any time.
I would expect an open game, where both teams have spells where they are on top and both teams create lots of chances. Just like at Etihad Stadium, who wins will come down to which team can take theirs.
Robbie Savage was speaking to BBC Sport's Chris Bevan