Hillsborough: Liverpool target title for '96 in the sky'

By Phil McNulty
Chief football writer
Last updated on .From the section Football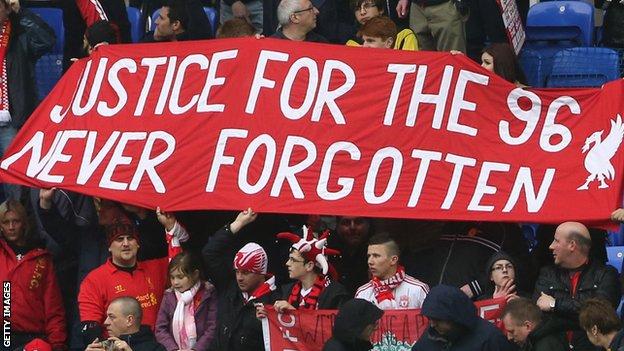 As Liverpool prepares to commemorate the 25th anniversary of Hillsborough, manager Brendan Rodgers is using "the 96 in the sky" as inspiration to deliver the honour Anfield treasures most.
Liverpool's last league title came in 1990, a year after Hillsborough - and those who died at the FA Cup semi-final against Nottingham Forest will be remembered at an emotional Anfield when the club meet Manchester City on Sunday.
The game, a possible title decider, will have the memory of Hillsborough as its backdrop with a 13:37 BST kick-off, seven minutes later than usual to recall the period when Liverpool's game with Forest was stopped because of events unfolding on the Leppings Lane terrace at the home of Sheffield Wednesday.
New inquests are being held in Warrington as the Hillsborough families hope for closure after 25 years and Liverpool will be hoping to offer further footballing comfort by finally returning to the top of the domestic game.
Former Reds captain Alan Hansen, who was part of Liverpool's side that day, tells BBC Sport: "It would be a tremendous thing for Liverpool to win the title on the 25th anniversary of Hillsborough and 24 years after they last won it, but every family will be different.
"Justice and closure is the most important thing for the families and I feel 100% compassion for them. Liverpool winning the league would come a long way second or third in that process, although of course as fans they would love to see the club enjoy such success.
"It would be great for Liverpool, Liverpool supporters and the Hillsborough families for Liverpool to win the title but that would not be the most important thing for them."
Hansen was playing his first game of the season at Hillsborough because of injury, and the memories of the day and the aftermath are still raw and recalled with emotion.
"Whenever Hillsborough is brought up at any time, whether people talk about it, it is on the news or about how the fight of the families goes on, right away you start reflecting," says Hansen.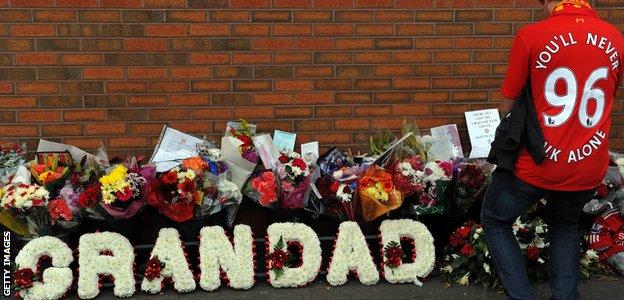 "The day itself will never leave you. Then there was the aftermath as well, going to the hospital in Sheffield on the Monday. The first person that came to us was a mother with a 14-year-old son. The life support machine was going to be cut off and she wanted us to see the boy before they cut it off.
"It was a million times worse and more for the mother but nobody prepares you for that. You're talking to a boy - and my son Adam was eight at the time and my daughter Lucy was five - that when you leave they are going to cut off the life support machine. I can hardly describe it.
"The days after Hillsborough provided the whole range of emotions, when you are just crying your eyes out. You'd go up to Anfield talking to the bereaved and no-one knew what had happened. I'll never forget it until the day I die.
"We were like counsellors. We didn't have any training and half the time families would talk to us and we were the ones who were crying."
Liverpool eventually returned to action and, despite losing out on the league title after Michael Thomas's last-minute goal for Arsenal, went on to win the FA Cup with victory over Everton.
However, Hansen adds: "If I'd lost somebody, would I have wanted Liverpool to keep going in the FA Cup? The answer was probably not, but there were a lot of families that wanted it. When you go on the pitch you are thinking about nothing other than the game - it is totally bizarre in many ways.
"It was sadness beyond belief and there were times when we were crying our eyes out and yet as soon as we got back on the pitch we were still going for the title and were 100% immersed in the football. There was almost a guilt thing at times. You are filled with sadness, then you are going out and playing."
Hansen's part in that semi-final was a reluctant one after fighting to regain full fitness following a serious knee injury.
He admits: "I didn't want to play. I injured my knee in Spain in pre-season, had only played one reserve game on the Tuesday night and had only been back in training three weeks.
"There was a virus which Barry Venison got and somebody else got and [manager] Kenny [Dalglish] told me I had to play. I told him I couldn't. I was 33 at the time and to go in straightaway might have been OK for someone who was 23 - but I was in.
"I was totally immersed in the game and blind to anything. Two guys came on the pitch and I was the first there. I thought it was an invasion and told them they'd better get off or we'd be in trouble. I was maybe a bit off with them, then one lad looked me in the eye and said, 'Al, there are people dying in there.'
"Even then I was thinking 'surely not' but then we came off and the whole reality hit us."
There was a footballing context for Liverpool as Dalglish, who emerged as the symbol of the club during the months following Hillsborough, succumbed to the strain and resigned in February 1991 with the club reigning champions.
Although Liverpool have not won a title since then, Hansen does not regard Dalglish's departure as the catalyst for those barren years.
He says: "Without a shadow of a doubt it took its toll on Kenny. He did so much - setting up things for the families, with his wife Marina taking calls from relatives.
"But it was an ageing team and the hardest thing for any manager to do is to break a team up, as Manchester United have found. I wouldn't say Hillsborough or Kenny going was the catalyst for any decline.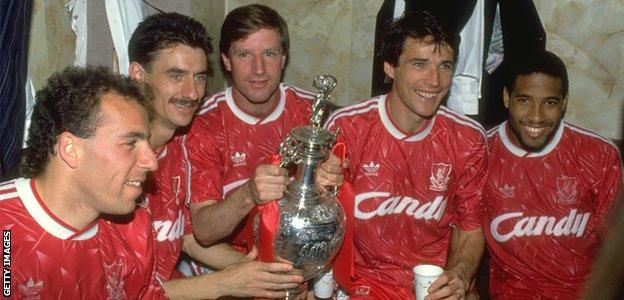 "The hardest part of any successful unit is to break it up and start again. Liverpool had done it about five times and sooner or later there is the chance you will not get it quite right."
Hansen believes Liverpool have a great opportunity to put that right this season, saying: "All the way through the golden era the league title was the most important and always will be. Out of all the four tournaments, when they used to be big, the league was always the one we wanted.
"Liverpool haven't won it for 24 years. It could be the start of a new era - and it is that important because next season Manchester United won't be as bad again and Manchester City and Chelsea will spend big.
"Will Luis Suarez ever have another season like he has just had? If Liverpool win the league the supporters will regard it as being back where they belong.

"Anfield will be very emotional on Sunday. The atmosphere will be phenomenal and Manchester City are a very good side but every time Liverpool have been asked the question they've answered."
And if manager Rodgers does emulate Dalglish, the victims of Hillsborough and their families will be in his thoughts.
"We can't say too much about Hillsborough because the inquests are under way," says Rodgers. "But as a manager coming into the football club I know there are 96 people in the sky who will always be supporting this football team.
"If we are to achieve anything this year, they will always be in our thoughts - the 96 in the sky and the families that go with them."