Blackpool players defend pride in response to fan group letter
Last updated on .From the section Football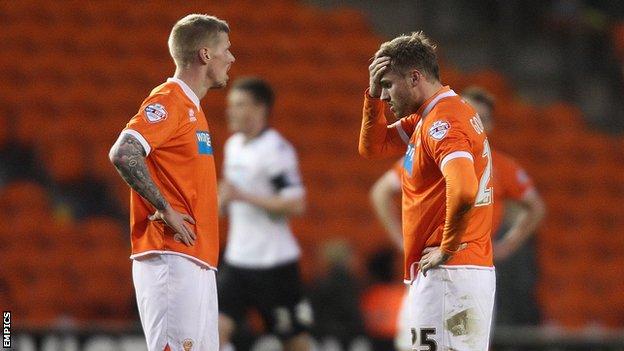 Blackpool's players have assured supporters that they have "pride in the shirt" and will do everything to ensure the Seasiders avoid relegation.
At training on Thursday, captain Gary MacKenzie read out a letter from the Blackpool Supporters' Association, which questioned their fight to stay up.
The BSA also sent a letter to chairman Karl Oyston, who has told BBC Radio Lancashire that he is to blame for the club's lowly Championship position.
Blackpool lie 20th in the table.
They are just three points above the relegation zone with five matches left to play after Tuesday's 3-1 home defeat by Derby, which was followed by more protests against Oyston, who has been accused of a lack of investment.
In their letter to the squad, the BSA made it clear that the majority of their frustration was directed at the club's owners and that they felt the players were better than recent results had suggested.
But it also said many fans were "almost resigned to relegation" and accused some players having "no pride" in representing Blackpool.
"We need to see that you care and that you are willing to fight to stay in the division," it read.
"There is a feeling amongst the fan base that a significant number of those who are pulling on the famous tangerine shirt have no pride in it.
"Many fans now feel almost resigned to relegation and believe we are going down with a whimper. Other clubs in danger appear to be prepared to show some spirit and fight that seems to be desperately lacking at Bloomfield Road."
The players issued a response, in which they said it was "not nice to hear" their professional pride had been questioned and confirmed "every player in the squad has pride in the shirt".
Speaking to BBC Radio Lancashire, defender MacKenzie added: "Everybody that plays and everybody that's here wants to win.
"As soon as they pull on the jersey, they'll give everything they can to get the win and keep this club in the division, regardless of if they're going to be here next year. You don't want to have the black mark on your name as being relegated.
"For myself and the other boys, I'd like to say that everybody gives everything they can. The results haven't been there over the last few games and people question the performances, but the will to win is still there. We've not given up."
The 28-year-old added: "We're still in a better position than the teams below us. It's in our hands.
"The fans have been good for the whole season, even though it's been up and down, and if we can just stick together over the next three weeks, it will be enough to see us over the line."