Manchester United count cost of Champions League exit

Last updated on .From the section Football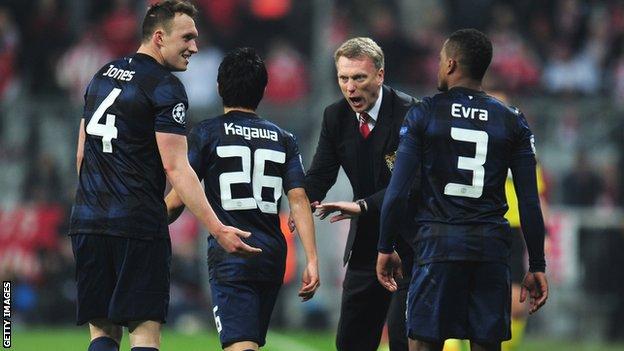 For a brief moment in Munich, Manchester United dared to dream.
They are seventh in the Premier League, seven points off the Champions League places. Realistically they will not make the top four so they must now wait until September 2015, at the earliest, before they are back in a competition that has become part of the furniture at Old Trafford.
It has been 19 years since United were last on the outside looking in. In 1995, Blackburn Rovers took the one English place.
Manchester United is a club that knows all about comebacks and about overcoming adversity, but there is much for David Moyes and his board to ponder as they prepare for a summer of rebuilding.
There is a belief within United's corridors of power that life without the Champions League will be a one-off. Liverpool thought the same when they dropped out in 2009-10, after five consecutive seasons. Four years on, they are only just on the brink of a return having finished seventh last season.
United finished 38 points ahead of Liverpool last season, but now trail their great rivals by 17 - a swing of 55 points in 11 months. United will hope it is not a sign of things to come.
Can United attract top players?
The plan of United's executive vice-chairman Edward Woodward and owners the Glazer family remains for Moyes to oversee an overhaul of the playing squad this summer. His transfer budget will be significant.
Key targets include Borussia Dortmund forward Marco Reus, and midfielders Toni Kroos from Bayern and Atletico Madrid's Koke. But will those players be prepared to sacrifice Champions League football to join United?
Many say not. Moyes and Woodward believe they will. Each of their 'superstar' targets have been sounded out and United have been given encouragement. The problem may come if clubs with Champions League qualification join the bidding and are willing to match the financial packages on offer at Old Trafford.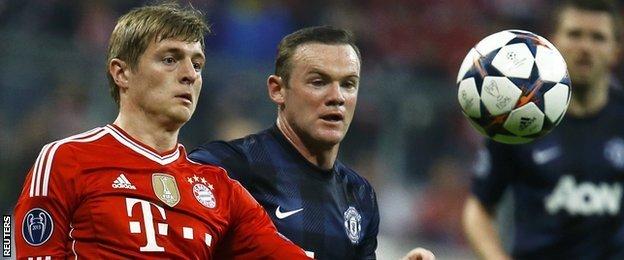 The Southampton pair of Luke Shaw and Adam Lallana are targets for Moyes. Both will be offered the chance to join the start of a new era at United. That is how United are selling themselves. But that is only half the battle.
When Manchester City were trying to break into the top four, they were forced to outbid their rivals and offer more in wages than the likes of Arsenal, Liverpool and United themselves. City blew Chelsea out of the water to sign Robinho, offering the Brazilian £160,000 a week.
They paid £90,000 per week to Wayne Bridge and, a few weeks after finishing fifth in the Premier League, offered Yaya Toure a record £250,000 per week to leave Barcelona. But then City were viewed as a club that was going places. Can United say the same?
Football agent Barry Silkman said: "Manchester United is an incredible club, but things do change in football and I believe they will struggle to attract the very highest calibre of player. The only way to do it, is to pay big money.
"It worked for Manchester City to a degree but they have paid massive salaries, and transfer fees that have been way over the top. They had no option, but United have to think of Financial Fair Play. They'll do well to finish in the top four next season."
There is also, of course, the question of keeping their very best players.
Will sponsors think twice?
United are a financial superpower in football terms. They have pushed boundaries in the commercial world and boast no fewer than 35 individual sponsors, including an official noodle partner for Asia, Oceania and the Middle East, as well as 11 telecommunications partners around the world.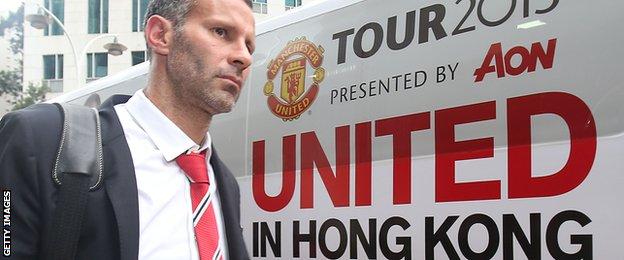 "Manchester United are unique," said Christian Purslow, the former Liverpool managing director. "They are by far the most profitable football club in the world. Their total profits this year, a difficult year, are still expected to be some £130m. Nobody is in a better position financially to withstand being out of the Champions League for a season.
"I don't think sponsors would want to see United out of the Champions League for a long time. I don't think those sponsors will want to live with it for beyond a year and I expect United have not the slightest intention of allowing that to happen. Which is why I expect them to be incredibly active in this summer's transfer market."
United have been in talks with Nike for the past 12 months about renewing their record £24m-a-year kit deal. United have not been prepared to countenance allowing Nike to get a cut-price deal, and nor do Nike expect to negotiate one.
In recent weeks, officials from Nike have been in meetings with United and have passed officials from Adidas on their way in as the Old Trafford club search out the best deal. The message is clear, that United remain in demand.
The timing of their world record £53m per season shirt deal with Chevrolet could not have been better when it was agreed 12 months ago. It will be unaffected by the club's absence from the Champions League when it begins next season.
Nor will United's eight-year contract with Aon, which is worth at least £180m to sponsor the club's training ground and training kit. The numbers are astonishing.
How much money will they miss out on?
The impact on sponsors may take time to pinch, but a more immediate concern will be the loss of Champions League prize money, TV revenue and gate receipts.
Last season, United made £31.3m from Champions League broadcasting money. Prize money came on top of that. Uefa pays around £800,000 for each Champions League win, a draw earns you £415,000. Prize money can be substantial - Chelsea took home £48m from Uefa when they won in 2012.
Dan Jones, a partner in Deloitte's sports business group, said: "There is certainly no need for United to panic. They are still signing up sponsors and I'd suggest that most of their major deals are not dependent on them being in the Champions League.
"That means the only real loss they will feel comes from Champions League TV revenue, prize money and perhaps the lost gate receipts from home matches they might have staged. Some of that may be mitigated by Europa League qualification and, possibly, built-in savings in player contracts. All that adds up to around £40-50m - only about 10% of their expected total revenue."
Senior figures at United would like to qualify for the Europa League, despite the logistical difficulties. Were United to win the Europa League in 2014-15, they would earn £10m from Uefa.
When will United get back into the Champions League?
That is a question no-one can answer with certainty. United officials will tell you one season and one season only. Those at Chelsea, Manchester City, Liverpool, Arsenal and even Everton may also go into the new season with that in mind.
And with a new bumper Champions League deal to come in within the next 12 months, the prize has never been greater. "For many years, it was a formality that the big four [United, Chelsea, Arsenal and Liverpool] would be in the Champions League," Purslow added.
"That made running these clubs, in terms of their expected income and their wage spending, relatively simple. But the emergence of Manchester City changed the Premier League forever.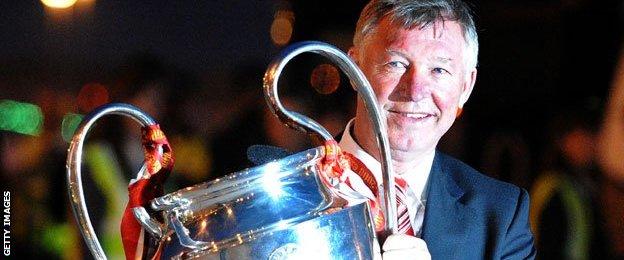 "Five massive clubs going for four Champions League places doesn't go. That is causing intense competition both on the field and off the field in the commercial marketplace, and that will only intensify.
"Missing out on the Champions League this year represents £30m in missed TV revenue for United - in 12 months' time, when the new Champions League TV deal kicks in, the cost of missing out will double. None of those five want to be on the wrong side of that."
Sir Alex Ferguson built the United empire as the game of football became a global business. That financial might will shelter Moyes for one season without Champions League football. United officials may not look so kindly on a second season without that prize.