Kidiaba to focus on DR Congo unity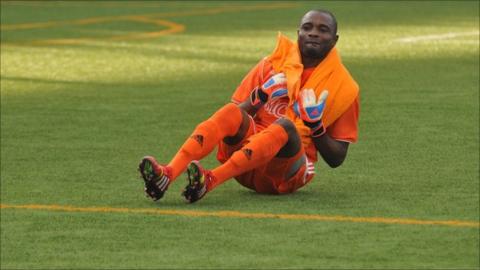 DR Congo goalkeeper Robert Kidiaba believes his new role as a peace ambassador can help unite his country.
The man famed for the 'bum shuffle' goal celebration - sitting down and bouncing around his area - has been named as an ambassador for Peace One Day.
The non-profit organisation was founded by Jeremy Gilley, an English actor and film-maker.
The 38-year-old Kidiaba believes there will be no development in Congo without peace.
For decades, the DR Congo has been plagued by conflict and a deadly scramble for its vast natural resources.
"I know that it's not easy to engage people in the peace process in Congo; the country has suffered from years of war," said Kidiaba, who is also the goalkeeper for former African champions, TP Mazembe.
He added: "The years of conflict have created huge delays in the development of our country.
"Peace will allow us to move on, to turn the page and reconstruct our country.
"Being a peace ambassador is a daily struggle but we must support peace over hostility, especially among the young people."
In his efforts to promote peace through football, Kidiaba can at least count on the support of TP Mazembe owner Moise Katumbi.
The governor of Africa's richest mineral province, Katanga - a region that often has to deal with calls for secession from the rest of the country.
Katumbi told BBC Sport that he is proud to have one of his players as a peace ambassador.
"It's something good that Kidiaba has been recognised; he's really a man of peace, even within TP Mazembe.
"I always wonder why Africa has a lot of rebellions and poverty, and yet it is the most blessed continent in the world.
"We need to come together and tackle our challenges," said Katumbi.