Swansea City boss Garry Monk doubts catching Chelsea cold
Last updated on .From the section Swansea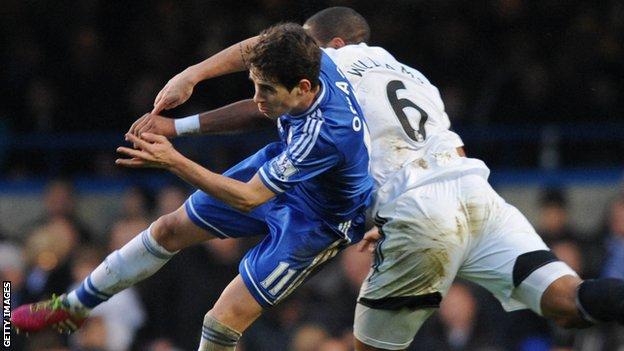 Swansea manager Garry Monk has refuted the suggestion his side can catch Premier League title contenders Chelsea napping on Sunday.
Jose Mourinho's side reached the Champions League semi-finals by beating Paris St Germain in midweek.
Monk said: "I don't buy we could catch them cold after midweek.
"The players they have through the squad are top-class players. I am sure they will make changes, but whoever comes in is top class."
While Chelsea's eyes have been on top-flight success this campaign, the Swans remain in danger of being dragged into a the relegation battle.
They lie three points above the relegation zone - albeit with a favourable goal difference - and after their game in hand at home to Chelsea, face Newcastle, Aston Villa, Southampton and Sunderland.
Monk acknowledges the differing situations and ambitions of Sunday's rivals at the Liberty Stadium, but says he and his players are relishing the game.
"They are not pushing for the title for no reason," said Monk.
"They have experience and class all over the pitch. It's an extremely tough game, but a challenge we are looking forward to and have to relish.
"The journey this club has been on and fighting for is to be on this level, to compete against these sort of teams and we have to make sure we continue that."
Swansea's rollercoaster season has included a Europa League win at Valencia and FA Cup triumph against Manchester United at Old Trafford.
But a recent draw with Arsenal and win over Norwich was followed by a 1-0 defeat at relegation-threatened Hull.
"I was very annoyed with the [Hull] performance," said Monk.
"The training was very good, the sessions very competitive.
"As a manager all you can do is get it to that level and understand fully what is expected that they do it on a Saturday.
"That's the disappointment - the work they put in and we end up with a performance like that.
"If you had to say mathematically, we need two more wins. I want it and we're aware of it.
"But we want more, we want consistency. We have been too inconsistent this season.
"It is not as if it is small inconsistencies. We have performed brilliantly, then against Hull we were very, very poor.
"It is too big a gap. The best teams stay at a level and that is what I want for the rest of the season."
Swans striker Wilfried Bony also hopes to enjoy bragging rights over former Stamford Bridge favourite and fellow Ivorian Didier Drogba, the former Chelsea striker still revered at Stamford Bridge.
"Didier is a friend of mine. We call each other, we have a good relationship," said Bony.
"He is a good guy. He has helped me a lot.
"I am looking forward to try to beat Chelsea on Sunday and then call him after the game."