Robbie Savage: Liverpool show why title is in their hands
Last updated on .From the section Football

In his regular BBC Sport tactics column, Robbie Savage looks at Liverpool's thrilling 3-2 win over Manchester City.
It was Liverpool who eventually took the three points from a fantastic match, and we saw why the title is now solely in their hands.
Yet again, Brendan Rodgers's side blew the opposition away with their start to a game and, even when City were in control after the break, the Reds had the quality to score when they were not on top.

On this occasion, it was decisive. Philippe Coutinho's goal secured them the win which means that, with four games to go, they are the favourites to be champions.
Reds make another whirlwind start
We knew all about the fast starts that Liverpool make, but I did not think they would be able to score early against City. I was wrong.
As they have done time and time again this season, they went at their opponents from the off, and Rodgers found a way to not just force back Manuel Pellegrini's side in the opening minutes, but to hurt them too.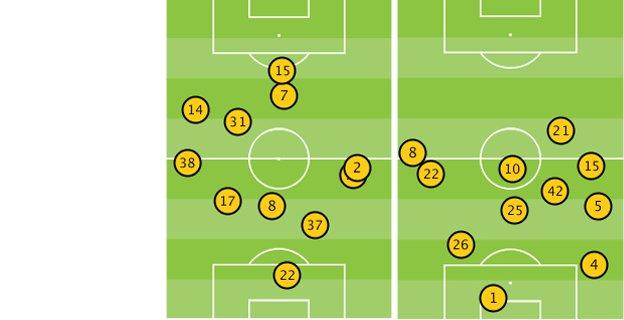 After 10 minutes, Liverpool were 1-0 up, with 70% of possession. Only one City player, David Silva, had an average position that was not in his own half, compared to four for Liverpool, and the visitors' passing accuracy was 69%, well down on their average of 85% over the season.
After 30 minutes, City had gained more of a foothold in the game in terms of possession, but their only effort on goal was Yaya Toure's shot that saw him injure himself. Liverpool, meanwhile, were creating chance after chance and now led 2-0.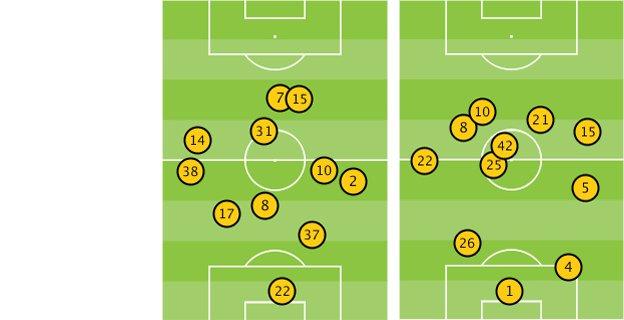 Rodgers had gone with the diamond formation in midfield that was so effective in his team's win over Manchester United in March and, again, Raheem Sterling played a key role in making it work.
Just as at Old Trafford, Sterling played at the top of that diamond, and his pace and movement made him impossible for City to pick up.
He was running in behind City's back four without one of their midfielders tracking him, and that was how Liverpool scored their first goal. It was a perfectly-timed run by Sterling to get behind the defence, and a brilliant finish.
Liverpool's other midfielders were playing with incredible energy. Their work-rate and desire helped keep City under pressure for almost the entire first half.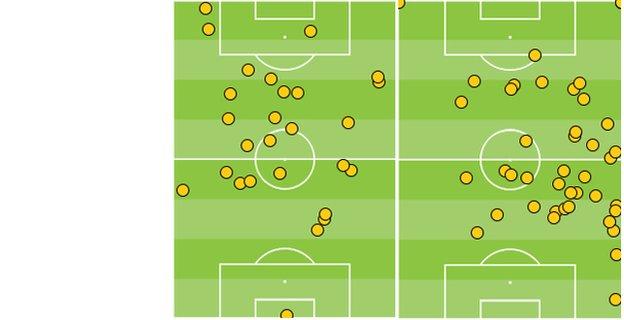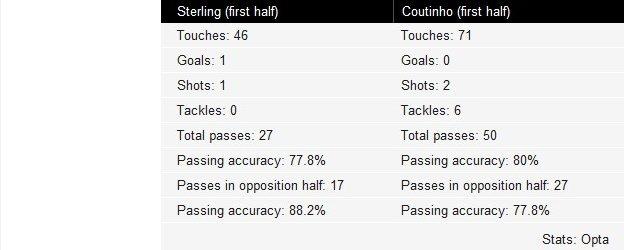 Coutinho is not known for his defensive work, but he was tracking back to win the ball and immediately launch Liverpool forward again.
Together with Jordan Henderson and Steven Gerrard, he helped Liverpool completely dominate in midfield.
City show strength with fightback
With better finishing, and but for a great save by Joe Hart to stop Gerrard's header, Liverpool would have been more than 2-0 up at half-time.
City were a shambles in the first 45 minutes, but that was partly because Liverpool were unbelievably good.
The game was a completely different story after the break, and the introduction of James Milner for City after 50 minutes was a big reason for that.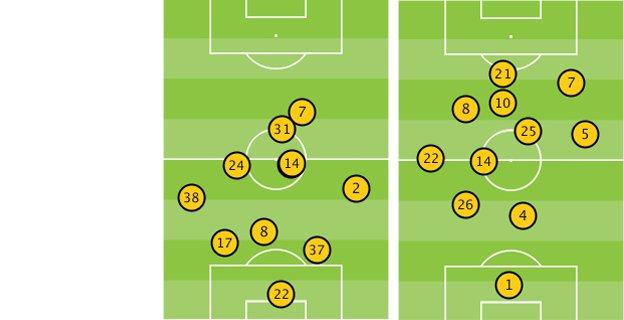 Arguably, Milner should have come on when Yaya Toure was injured in the first half because he might have matched the energy of the Liverpool players.
When he did replace Jesus Navas, Milner's work-rate helped shift the balance of power in midfield, and he was doing more than defending or just competing for the ball. He got forward too, and his cross led to City's first goal.
While Milner was working hard on the right, Silva went over to the left to join Samir Nasri - and they caused Liverpool lots of problems.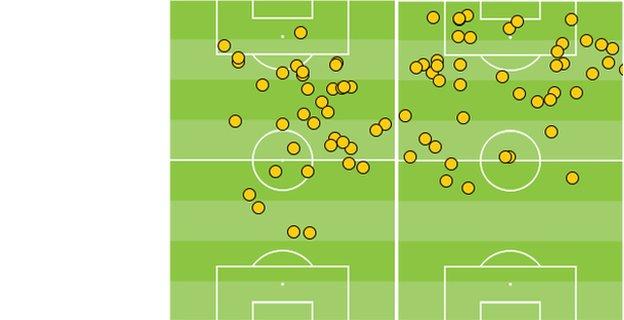 Silva had stayed more central in the first half and was nowhere near as involved in dangerous areas.
As he saw more of the ball in the final third, and also found pockets of space to run into on the left of Liverpool's box, City looked more and more dangerous and pressed the home side further and further back.
Mistake puts title in Liverpool's grasp
If Silva had managed to put away Sergio Aguero's cross when the score was 2-2, it would have been difficult to see Liverpool coming back - especially to win the game.
No matter what your tactics are, and whether you are on top, moments like that help decide a match, or swing it in your favour.
There were plenty of those moments on Sunday, and some key decisions made a difference too.
Liverpool could have had a penalty when Vincent Kompany shoved Luis Suarez, but so could City when Jon Flanagan fouled Silva. Those were debatable, but Martin Skrtel's handball in injury time was a definite spot-kick.

It was not just the points at stake, it was the title too - and that is Liverpool's to lose after Kompany's error allowed Coutinho to score the winner.
It has been an incredible season for the Reds, though I think there are still some twists to come.
Crystal Palace is a tough trip for them, and Chelsea still have to come to Anfield. But, while I have been saying all season why Liverpool will not win it, on Sunday they showed why they can. They are the favourites now.
Remaining Premier League fixtures

Liverpool

Chelsea

Man City

Wed 16 Apr:

Sunderland

(h)

Sun 20 Apr:

Norwich

(a)

Sat 19 Apr:

Sunderland

(h)

Mon 21 Apr:

West Brom

(h)

Sun 27 Apr:

Chelsea

(h)

Sun 27 Apr:

Liverpool

(a)

Sun 27 Apr:

Crystal Palace

(a)

Mon 5 May:

Crystal Palace

(a)

Sun 4 May:

Norwich

(h)

Sat 3 May:

Everton

(a)

Wed 7 May:

Aston Villa

(h)

Sun 11 May:

Newcastle

(h)

Sun 11 May:

Cardiff

(a)

Sun 11 May:

West Ham

(h)
It would be some story if Liverpool do win it, and a fantastic achievement by Rodgers, who has shown all season how strong he is tactically, as well as playing entertaining, attacking football.
On top of that, the one thing Rodgers has that City and Chelsea do not is somebody like Gerrard.
You can spend millions and millions of pounds on a player but what Gerrard has got is something different - not just his quality but his attitude, leadership and desire.
Gerrard is a one-club man who has wanted to be in this situation for his entire career. I am still not convinced Liverpool will win the title but, because of Gerrard, I will be happy if they do.
Robbie Savage was speaking to BBC Sport's Chris Bevan