FA Cup: Arsenal celebrations at beating Wigan a sign of the times

By Phil McNulty
Chief football writer
Last updated on .From the section Football1300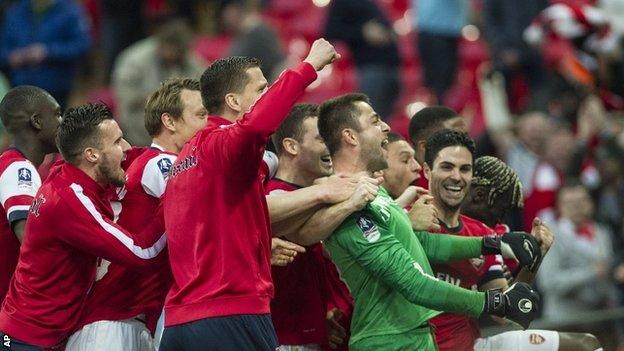 For 20 minutes, Arsene Wenger stood on Wembley's sidelines and contemplated the result that could have brought the sky falling in on Arsenal and perhaps even his managerial reign.
Without a trophy since winning the FA Cup nine years ago, Arsenal trailed holders Wigan Athletic in this semi-final with anxiety and desperation spreading among players and supporters with every passing moment.
Per Mertesacker's stooping header eight minutes from time levelled Jordi Gomez's penalty - but Arsenal and Wenger were still taken the distance before winning 4-2 on penalties. The job was done. Unconvincingly, nervously, but done nonetheless.
Wenger admitted he was a relieved man because Arsenal were under pressure and agreed the consequences of defeat would have been "quite worrying".
It is fairly certain the message from the fans would have been much stronger, more colourful, than 'quite worrying' had they not moved to within one game of ending that long drought.
If Arsenal had lost to Wigan it would have been crisis time again for Wenger, especially as the Gunners started the game outside the Premier League's Champions League places after Everton's win at Sunderland.
Wenger's ability to bring trophies back to Arsenal would have been called into question had he been unable to guide them past a very competent, but hardly remarkable, Championship team to the FA Cup final.
Those years without a trophy mean Wenger is operating on tight margins and a defeat here may have proved one step too far, even for those who still support than man who has done so much to embellish the British game in his near-18 years at Arsenal.
Happily for Wenger, a victory that at times bordered on the excruciating means that debate has been avoided for now and the end of the long wait is still in sharp focus.
This was a case of "never mind the quality, feel the win". Defeat for Arsenal was unthinkable - although whether it was the sort of performance that ensures they can return to their Premier League programme at home to West Ham on Tuesday in complete confidence remains to be seen
In Arsenal's defence, it should be said that Wenger is currently without Jack Wilshere, Mesut Ozil, Laurent Koscielny and (most crucially of all) Theo Walcott. Any team would miss them. Aaron Ramsey is also only edging his way to full fitness. These are the mitigating circumstances.
But, even in victory, there was still a laboured fragility about Arsenal and nerves were frayed throughout a game in which they had the better opportunities but never looked at ease.
Indeed, Arsenal had a stroke of good fortune when cramp forced the early departure of Wigan's hero from last season's final, Callum McManaman, who had induced a reckless challenge from Mertesacker and who was a real threat to the uncertain Nacho Monreal.
And the simmering frustration burst to the surface when Wenger's decision to remove Lukas Podolski rather than game but raw youngster Yaya Sanogo for Olivier Giroud, with 21 minutes left and Wigan leading, was greeted with resounding jeers from Arsenal's fans.
It meant that for the closing phase, Arsenal played with two tall strikers attempting to get on the end of plenty of long balls to try and win the game without resorting to penalties. Needs must - even for the purist Wenger.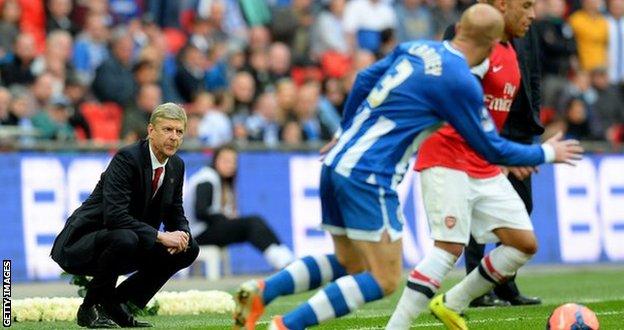 All's well that ends well but the sheer scale of the celebrations when Santi Cazorla calmly tucked the decisive penalty past the outstanding Scott Carson hinted at not just relief but almost a desperation, such is Arsenal's craving to taste success once more.
Of course Arsenal had every right to be delighted at a victory but the scenes were reminiscent of a final itself rather than the semi-final. Work remains to be done but can this Arsenal side be trusted to do it?
Arsenal will be favourites to beat either Hull City or Sheffield United in the final and Wenger insists the target of the FA Cup will add serenity to their Premier League pursuit of Everton, who now stand two points ahead.
Wenger expressed his confidence that if Arsenal win their remaining five games they will leapfrog Everton. This is self-evident based on Everton's tougher closing programme - but the Gunners will need to show a lot more imagination and drive than they did here to make that a reality.
Arsenal's fall from trophy-winning grace ensured simply reaching the FA Cup final was the signal for ecstasy among players and fans, although Wenger was restrained and gracious. Are they good enough however, to take the final steps in league and cup?