Bob Wilson: Arsenal legend to have prostate cancer treatment
Last updated on .From the section Football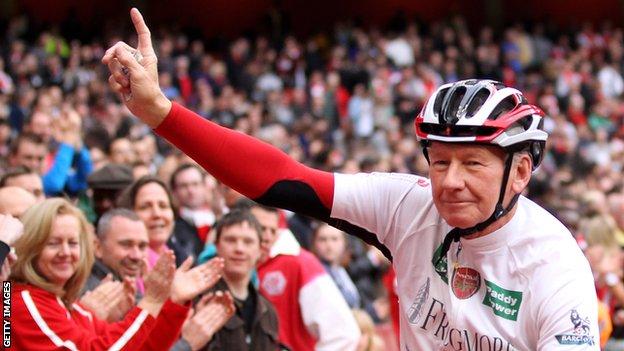 Arsenal legend and veteran broadcaster Bob Wilson has prostate cancer.
The 72-year-old former Scotland goalkeeper, who played for the Gunners from 1963 to 1974, has cancelled his work and charity commitments.
With his wife Megs, he set up the Willow Foundation - a charity which supports seriously ill young people - after their 31-year-old daughter Anna died in 1998 from a rare cancer type.
Wilson requested that his privacy be respected while he undergoes treatment.
After hanging up his boots in 1974, Wilson spent many years as a coach at Arsenal and also worked as a television presenter for the BBC and ITV.
Wilson, who was at Wembley for Arsenal's FA Cup semi-final victory against Wigan Athletic on Saturday, said: "I am very confident that the treatment I am receiving will prove successful."
His son, BBC Radio 4 presenter John Wilson, said: "Knowing how strong my dad is, I have every faith he will be back to match fitness very soon indeed."
Prostate cancer is the most common cancer diagnosed in men in the UK - every year more than 40,000 are diagnosed with it.
Treatment can include keyhole surgery and radiotherapy.