Lionel Messi's Argentina better for Carlos Tevez absence
By Tim Vickery
South American football writer
Last updated on .From the section 2014 Fifa World Cup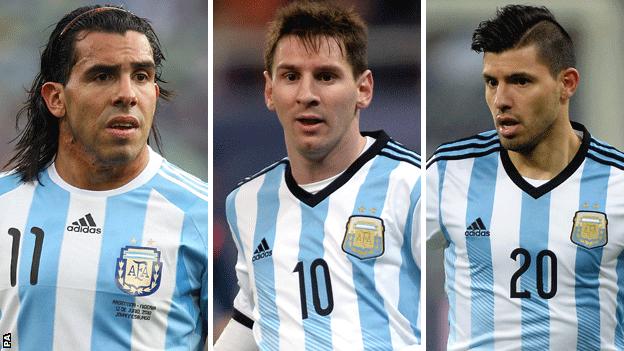 In a last-gasp attempt to get the stocky Juventus striker on the plane to Brazil, an Argentine musician has written a tango for Carlos Tevez.
Daniel Ursini is using the medium of music to send a message to national team coach Alejandro Sabella, once an elegant midfielder for Leeds and Sheffield United.
Entitled 'Sabella, you've forgotten Carlitos' the song's melancholy tones accuse the coach of having taken the wrong path. "You can't be so stupid as to leave out one of Argentina's most popular players," argues Ursini.
A year ago, Ursini wrote a song to mark the birthday of Lionel Messi, and separate songs for the two stars may well have been a wise move because it could boil down to a choice between one or the other in the Argentina national team. And that is not a particularly difficult decision to take.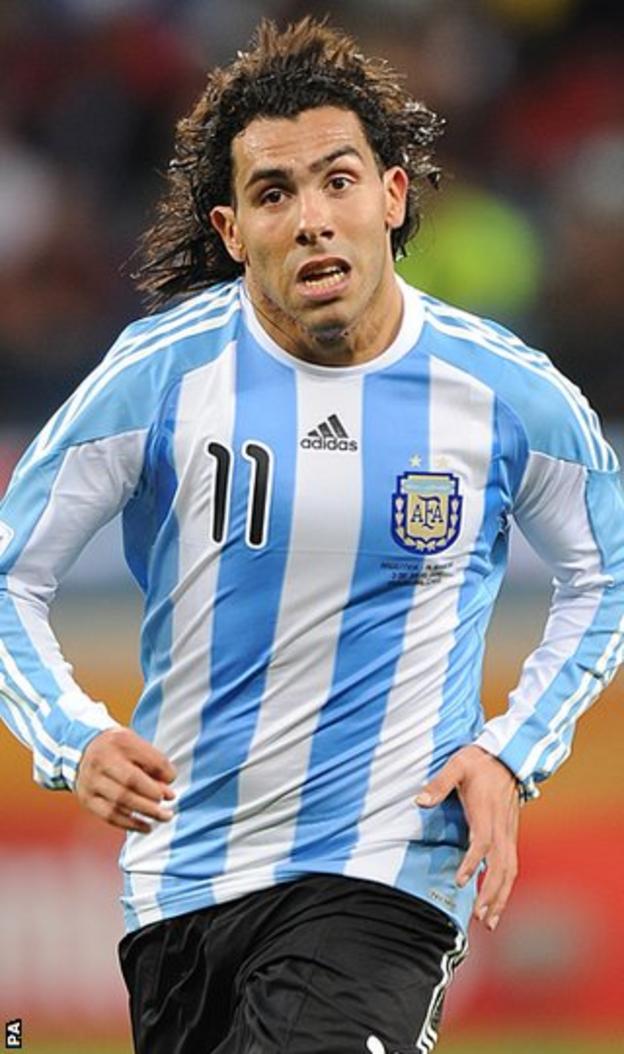 Tevez, though, has something powerful in his favour. It is far easier for the Argentine public to relate to him, with his poor boy past in a rough neighbourhood on the periphery of Buenos Aires, his forthright 'take me as I am' stance and the fact that he was an idol at Boca Juniors, the country's most popular club.
Messi, meanwhile, can seem much more remote. He is a globalised star for a globalised age.
True, much in his play is a product of Argentine street football. But those skills have been honed and his personality has developed on the other side of the Atlantic.
Different characters from different backgrounds, Tevez and Messi would seem to have no natural rapport. It has even been suggested that Tevez is a little jealous that the star of Messi shines much brighter.
Sabella was thrown into the deep end as Argentina coach just before the start of the World Cup qualifiers.
An obvious question dominated his thinking: how could he get the best out of Messi? It took a while, but the recent campaign was the first time that the little wizard consistently showed his best club form for his country.
The key moment came in the fourth game, away to Colombia. Argentina had already lost to Venezuela and been held 1-1 at home to Bolivia. Now they were a goal down to the Colombians.
On came Sergio Aguero at the interval, and 45 minutes later both he and Messi had scored, Argentina had won 2-1 and Sabella's side cruised through the rest of the campaign, their defensive frailties negated by their irresistible attacking.
In such a context, the calls for Tevez seem to make little sense. After all, we are talking about a player whose international record is on the poor side of mediocre - he has 13 goals in 64 games (by way of comparison, Aguero has 21 in 50).
The last time Tevez had an extended run in the side was in the 2010 qualifiers, when his 11 starts and one substitute appearance yielded just one goal and two first-half red cards.
The calls for his inclusion may lack some logic, then, but the idol status he has back home gives him a powerful constituency. In the last World Cup, Diego Maradona destroyed the balance of the side he had created because he felt that he had to find a place for Tevez.
In the humiliating 4-0 quarter-final defeat by Germany, Messi dropped deep to try to serve as a supply line for Tevez - a clear inversion of common sense.
Argentina's next coach, Sergio Batista, did not see Tevez as part of his plans, but he backed down after pressure from the public and from the Argentine FA.
Tevez was included, playing wide left in a copy of Barcelona's 4-3-3 as Batista tried to construct a Buenos Aires Barca to end Argentina's long wait for a senior title with victory on home soil in the 2011 Copa America.
They got off to a poor start, and at the very time that they needed everyone to pull together, Tevez moaned to the press about the position he was playing in - from that point on his long-term presence in the squad became very hard to envisage.
Argentina were knocked out on penalties at the quarter-final stage, with Tevez the man missing the vital spot kick. He has not played since. Batista was sacked, Sabella took over and there has been no looking back.
Julio Grondona, the veteran president of Argentina's FA, has made it very clear that the decision to exclude Tevez is exclusively Sabella's - distancing himself from the political fallout should the national team disappoint in the coming World Cup.
But Sabella has found his attacking blend; Messi and Aguero have a sweet thing going, Gonzalo Higuain offers more penalty-box presence. The back-up strikers, Rodrigo Palacio and Ezequiel Lavezzi, are happy to drop back and help out the marking down the flanks, where Argentina can be so vulnerable.
So why run the risk of disturbing the atmosphere by carrying Tevez around as a reserve?
Tango musician Ursini has also written a song in honour of the Pope - an Argentine and a well-known football fan.
Perhaps this is the route he needs to follow in his campaign in favour of a recall for Tevez. Because at this stage it seems that only divine intervention can get Tevez back into the squad, with some more needed to help him and Messi work well together.
Questions on South American football to vickerycolumn@hotmail.com, and I'll pick out a couple for next week.
From last week's postbag;
Many Liverpool fans believe that their star striker Luis Suarez might do for Uruguay what Diego Maradona did for Argentina in 1986. Do you think party poopers will repeat the history once again? Vasuki Coomaran
It's asking a lot of Uruguay to win the World Cup. Things were very different back in 1950 - Uruguay had never lost a World Cup match, for example - and the small size of the country's population was not the hindrance it has become now the game is such a global success.
But underestimate them at your peril. The worry is that a lot of the team have grown old together - their lack of pace could be exposed, especially if Uruguay have to chase the game.
The plan will be to keep things tight at the back and play on the break - "football is won by goals," says coach Oscar Washington Tabarez, "and not by percentages."
Suarez - and strike partner Edinson Cavani as well - will have to be consistently at his best if Uruguay are to make serious progress. They may not have a lot of possession, but they will have to do a lot with it.