Roger Milla loses 20-year record as Africa's oldest international
Last updated on .From the section Football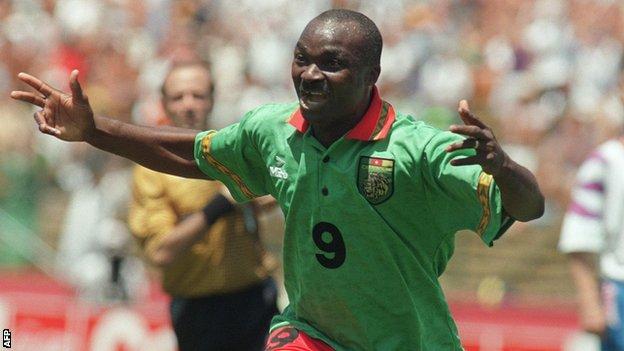 Roger Milla has lost his record as the oldest footballer to represent an African national team to 43-year-old Mauritius striker Kersley Appou.
Cameroon's Milla set the previous mark when scoring in a 6-1 defeat against Russia in the 1994 World Cup at the age of 42 years and 39 days.
He still holds the record as the oldest player and goal scorer at a World Cup.
Appou played in Mauritius's Africa Cup of Nations qualifying defeat against Mauritania on Saturday.
He was 43 years and 354 days old, which is still short of MacDonald Taylor Sr, from the US Virgin Islands, who holds the world record of 46 years and 217 days.
"I plan to continue playing," said Appou, who was a substitute in the 1-0 first-round, first-leg defeat.
Milla played in three World Cups, and was one of the stars of the 1990 finals at the age of 38 after coming out of retirement to lead Cameroon to the quarter-finals.
His goal celebration of dancing around a corner flag has become iconic.