Swansea City need two more wins to stay up - Garry Monk
Last updated on .From the section Football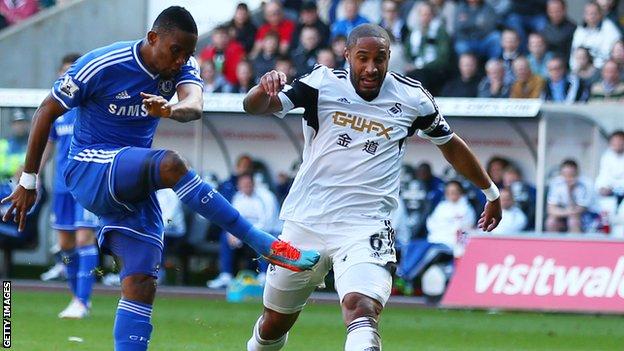 Swansea City head coach Garry Monk says the club need two more wins from their remaining four games to secure Premier League safety.
The Swans are three points above the bottom three in 15th, with four games to go, after losing 1-0 at home to title-chasing Chelsea on Sunday.
Monk will be without defender Chico Flores for two of those matches after the defender's sending off.
"I think realistically two more wins should do it for us," said Monk.
"At the end of the day we can't worry about that. We have to try to win the next game against Newcastle, that's all we need to worry about."
Flores was sent off in the 16th minute against the Blues after being booked twice inside 120 seconds.
However, it took Chelsea until midway through the second half to take advantage with Demba Ba's goal.
Flores, who had been booked for bringing down Willian just a minute earlier, fouled Andre Schurrle and, after a long delay, referee Phil Dowd showed the Spaniard the red card.
That provoked a furious response from Monk on the touchline.
After the game the Swansea boss said he felt that unfair pressure had been put on the officials.
"I guess if you go by the letter of the law it is two yellows but if you go by the letter of the law every game then you'd have six or seven players sent off every game," said Monk.
"The real disappointment for me was the time it took for him to be sent off.
"Initially he [Dowd] signalled the no sign as if it wasn't a serious enough foul for a yellow. Then their bench and manager surround the fourth official, their players surround the ref, then all of a sudden it's a red card.
"It does make you think a little bit but I know Phil and I'm sure he's got a legitimate reason for it.
"I'm concerned about the pressure that's put on him [Dowd].
"But Phil is an honest guy. I know him and hopefully he was just taking time to make the decision."