Steven Gerrard inspires as Liverpool reaffirm title credentials

By Phil McNulty
Chief football writer
Last updated on .From the section Football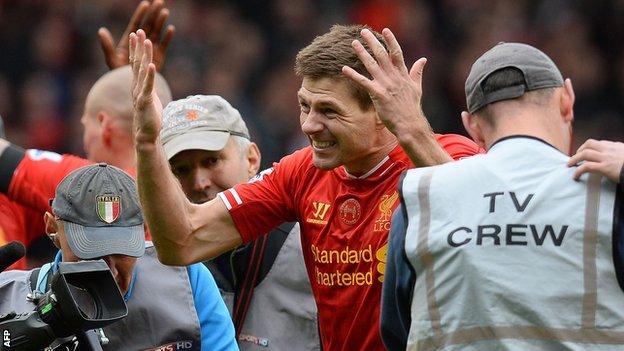 As time stood still on the clock in the corner of the Kop, Steven Gerrard made his way around the Liverpool team to remind them of their responsibilities.
The Reds were only seconds away from the victory over Manchester City that would fulfil the promise demanded on the banner stretched out behind Simon Mignolet's goal, urging: "Make Us Dream."
Gerrard's emotions were on the edge as he waited for referee Mark Clattenburg to blow the final whistle on a 3-2 win that puts the men from Anfield four games away from their first title since 1990.
Soon it was all over and Gerrard, stretching his forearm across his face to hide tears, had gathered his team-mates around him once more.
To the soundtrack of the Kop proclaiming their heroes as champions-elect, Gerrard delivered the words of inspiration to match his peerless performance in midfield.
"This is gone. We go to Norwich. Exactly the same. We go together."
It was a guard against complacency, but also a reminder that Liverpool, their manager Brendan Rodgers and the captain who has only one club medal missing from his collection, stand on the edge of history.
Gerrard's reaction demonstrated what that first title in 24 years would mean to the club, himself and as a fitting memory on the 25th anniversary of the Hillsborough tragedy.
From hours before the game, this had the look and feel of a special occasion.
Supporters gathered long before kick-off to lay tributes at the eternal flame, adjacent to the Shankly Gates on Anfield Road, in memory of the 96 fans who died at the FA Cup semi-final against Nottingham Forest in 1989.
And when Liverpool's team bus rolled up to the old stadium, it was met by a throng of thousands in a guard of honour, providing the sort of inspiration Rodgers said "money can't buy".
After Manchester City legends Mike Summerbee, Joe Corrigan and Tony Book handed over a floral tribute to Liverpool icons Kenny Dalglish and Ian Rush, a minute's silence was perfectly observed before the tumult of a Premier League classic.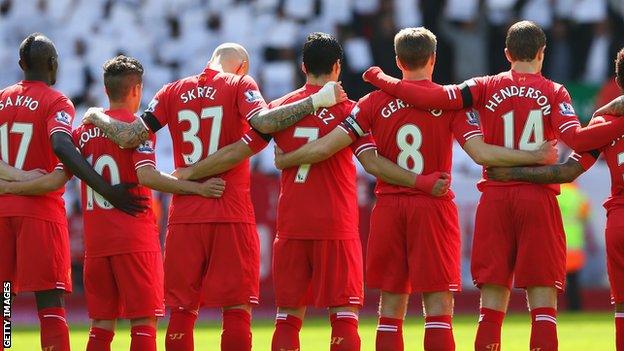 Liverpool's pursuit of the title has been nerveless - nine successive league wins before kick-off evidence of that. And so it was again, in a blur of pace, movement and passing that tore City apart and brought goals from Raheem Sterling and Martin Skrtel, Manuel Pellegrini's side further impaired by an injury to Yaya Toure.
It looked a formality, but City have the character to go with the expensive price tags, and launched a comeback laced with the highest quality. David Silva pulled one back and Glen Johnson's own goal restored parity.
The force was with the visitors, but such were the tight margins that a moment of quality, or a mistake, could swing the Premier League pendulum one way or the other. Philippe Coutinho's winner, 12 minutes from time, had both.
City captain Vincent Kompany's fitness provided the intrigue and sub-plot before kick-off. He left training early on Saturday with a knee injury, and raised further questions by initially warming up on his own after being named on the team-sheet.
In the end, Kompany's error was routine, and could hardly be attributed to a lack of fitness; the Belgian uncharacteristically slicing a clearance into the path of Coutinho, who finished with the excellence that marked his performance.
It is hard not to feel that Liverpool have now gathered unstoppable momentum, but the old mischief-maker Jose Mourinho will relish the idea of putting a stop to that, while City's play suggests they should not be dismissed.
Mourinho's Chelsea could claim the title if they win all of their remaining games, including the one at Anfield, if Manchester City fail to pick up maximum points in their remaining games.
For Liverpool, though, the title is now tantalisingly within reach and they are playing with a freedom of expression that suggests they are not treating the prospect as a burden.
Their defence still carries vulnerability, and there can be no doubt they were grateful for a couple of decisions from referee Clattenburg that were greeted with commendable good grace by City manager Manuel Pellegrini.
He had every right to question why Luis Suarez, who showed one or two signs of reverting to bad old habits, was not shown a second yellow card early in the second half for a dreadful dive in close proximity to Martin Demichelis, having been booked for a late challenge on the same player.
As Suarez lay seemingly stricken, Clattenburg waved play on - so what did he think had happened to the Uruguayan? If he felt he was simulating then that was surely another yellow card?
Skrtel's late handball also escaped Clattenburg's attention, but Rodgers may feel it balanced out a shocking offside decision against Sterling at Etihad Stadium over Christmas.
Such was the quality of this game, it did not deserve to be overshadowed by controversy.
The first task of any team at Anfield is to survive the home side's early burst. Few do. City did not, but their response showed guts and quality. For Liverpool to hit back and win the game suggests they also have what it takes to be champions.
It is an unlikely story given their goals before the season, when a place in the top four would have been greeted as a triumph. Their position is an accurate measure of remarkable progress.
Now, as Gerrard says, they go to Norwich City.
They will miss Jordan Henderson, facing a three-match ban after his red card for a tackle on Samir Nasri, and may be without Daniel Sturridge, whose afternoon of struggle was ended by a hamstring injury.
But they were sent on their way to Carrow Road by a tidal wave of fervour and emotion on and off the pitch - led by the tears of their captain.
| Liverpool | Chelsea | Man City |
| --- | --- | --- |
| | | Wed 16 Apr: Sunderland (h) |
| Sun 20 Apr: Norwich (a) | Sat 19 Apr: Sunderland (h) | Mon 21 Apr: West Brom (h) |
| Sun 27 Apr: Chelsea (h) | Sun 27 Apr: Liverpool (a) | Sun 27 Apr: Crystal Palace (a) |
| Mon 5 May: Crystal Palace (a) | Sun 4 May: Norwich (h) | Sat 3 May: Everton (a) |
| | | d 7 May: Aston Villa (h) |
| Sun 11 May: Newcastle (h) | Sun 11 May: Cardiff (a) | Sun 11 May: West Ham (h) |