Bruce Grobbelaar: Hillsborough disaster still makes me angry

Last updated on .From the section Football
Bruce Grobbelaar closes his eyes as I ask him to recall the day he will never forget.
"I can remember it as if it was yesterday," he says. "It was a beautiful day. I remember the sunshine."
He puffs out his cheeks and sighs as he begins to talk through the events of 15 April, 1989. Liverpool v Nottingham Forest, the FA Cup semi-final. The most infamous day in the history of English football. He speaks quietly, his voice heavy with emotion.
"It haunts me," says the former Liverpool keeper. "It all happened right behind my goal. I can see those images today, if I think about it. They will never leave. It doesn't get removed from your mind. I will never forget."
He talks me through his memories of a day when 96 Liverpool fans lost their lives at Hillsborough. Grobbelaar was the closest player to the Leppings Lane end.
"We went out to look at the pitch before the match. The middle pen of the Leppings Lane end was getting filled up. At the time we thought nothing of it. We went back into the dressing room to get ourselves ready," he says.
"The game kicked off. After 90 seconds we hit the crossbar. Then the ball went into the Leppings Lane End behind me. I went to get the ball back."
Grobbelaar describes what he saw and heard, images that have lived with him for 25 years. (With new inquests into the tragedy under way, we cannot describe what Grobbelaar saw for legal reasons.)
The match was stopped. The players were taken off the field. The 56-year-old recalls the scene in the dressing room. "Kenny [Dalglish, the manager] said: 'Keep yourself warm we might be going back out.' We didn't know the extent of what had happened," he says.
"Then one of our fans burst into our dressing room. We knew him. He broke down in front of us. He said he had seen 10 bodies carted off already. He said it was like a warzone. Kenny ushered him out because he didn't want to upset the players.
"Then the referee told us the game had been abandoned. From there it was just a sombre mood."
The Liverpool players showered and boarded the coach from Sheffield to Anfield. "Nobody said anything," Grobbelaar says.
"For two hours on the journey back home we just listened to the radio. Every 10, 15 minutes we would hear an update - 20 deaths, 25 deaths. When it got to 30 deaths we switched off the radio - we couldn't listen to any more."
These days Grobbelaar, who made more than 600 appearances for Liverpool over 13 years, winning six league titles, three FA Cups, three League Cups and a European Cup, lives in Newfoundland, Canada, but we meet in a hotel on the outskirts of Liverpool.
His heavy southern African accent - born in South Africa, he represented Zimbabwe in internationals - is a distinctive as ever, as is the trademark moustache, though it bears more grey hairs than it once did.
He recalls the advice to the players in the aftermath of the tragedy.
"I am not too sure when the call was made, but Kenny, his wife Marina and the management said: 'The best thing for you to do is go to see the families.' It was for us to counsel ourselves and the bereaved."
One particular visit stands out in Grobbelaar's mind.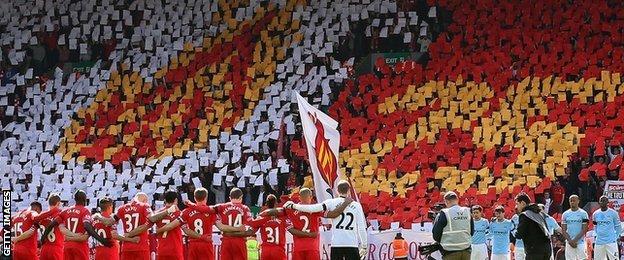 "I went to see a family in Birkenhead," he says. "I knocked on the door, it opened and they told me I was the guy who killed their son. And they closed the door. Their son went to watch me play, watch us play - they blamed me."
He touches an ear-ring hooked in his left ear as he remembers what happened next.
"I stood there for a moment. Then I knocked on the door again," he says. "And they said 'no, go away'. And I got sworn at and everything.
"But I didn't go anywhere. I knocked on the door again. And then we started talking.
"I realised they held me responsible, in some way. I explained that their son only wanted to watch me play for the team that he loved. And I told them I had no part to play in what happened and that their son only wanted to watch us be triumphant on the day, to play the game. That is what he loved.
"When I explained that to them, they came out. They embraced me and I embraced them. And that was counselling for both of us. I know from the other players that they went through very similar experiences."
For three weeks, football was an afterthought. "There were a few of us who thought about never playing again," Grobbelaar says. "But the families we went to counsel asked us to carry on playing. They gave us the confidence to go back and play again."
Did the tragedy change him? "Everybody changed from that day onwards," he says. "It didn't shatter just Liverpool fans. It shattered a city. I don't think any other city could have handled it the way Liverpool has, or could have done as much."
On Tuesday, the city and the wider world will pay tribute to those whose lives were irrevocably changed at Hillsborough. After 25 years, the families of "the 96" are getting closer to a resolution.
"I still get angry because the answers have not been forthcoming," Grobbelaar says.
"Twenty-five years - for the families not to have had answers. That is totally wrong. Twenty-five years is a long time. Families have gone now. They never saw justice for the sons and daughters. None of us will find peace until there is an answer.
"That is what we are fighting for - we have to stand with them. They have asked the same questions but have never got the answers. They have had part-answers. They need the answers.
"Thankfully and hopefully they will get that answer. It has taken this long because they thought this would go away. But it hasn't. It never will."
The inquests continue and the families, along with those traumatised at Hillsborough, believe the time for answers has finally arrived.