Real Madrid: Gareth Bale must fill Cristiano Ronaldo void in final
By Andy West
Spanish football writer
Last updated on .From the section European Football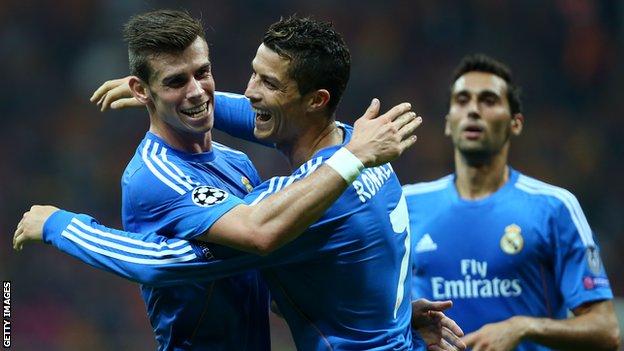 As he prepares for Wednesday night's Copa del Rey final against Barcelona, Gareth Bale can draw confidence from the knowledge that he has enjoyed a good first season with Real Madrid.
The Welshman's goal in his team's 4-0 thrashing of Almeria on Saturday night was his 14th in La Liga, taking his overall tally to 19 in all competitions.
When you also take into account a more than respectable total of 15 assists, it is clear that Bale is enjoying a productive campaign, at least partially justifying the world record £85.3m fee that took him from White Hart Lane to the Bernabeu in early September.
However, one thing that Bale has not yet done is deliver the goods when it has really mattered.
In the five games that could be described as Real's most important and most difficult of the season - home and away league encounters with both Atletico Madrid and Barcelona, and last week's Champions League second leg against Borussia Dortmund - the Welshman's end product has been conspicuous by its absence.
Those matches have yielded no goals and just one assist - and even that was a generous assessment after he mis-controlled a cross and Cristiano Ronaldo pounced to sweep home a late equaliser against Atletico - to leave Bale open to justifiable criticism that he has not been able to contribute when his team has needed him the most.
The suggestion that Bale has been a flat-track bully, to borrow cricketing parlance, is backed up by the fact that his 14 goals in La Liga have come against weak opposition such as Rayo Vallecano,Real Valladolid and Elche in games that resulted in a total goal difference of 43-7 in his team's favour. Indeed, in eight of the 10 league fixtures in which he has scored, Real ended up winning by at least three goals.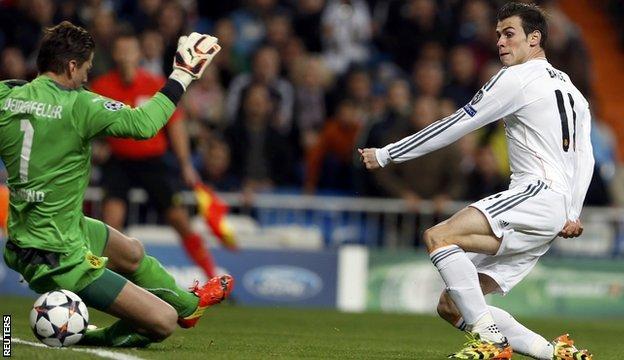 Bale has not yet scored a winner for his new team or been credited with a goal or assist in any of their four league defeats. The only two occasions he has exerted a meaningful impact in anything resembling a close contest were on his debut, when he netted his team's first goal in a 2-2 draw against Villarreal, and last month's win at Malaga, when his crossfield pass teed up Ronaldo for the only goal.
In his defence, though, Bale did score in the first leg against Dortmund and is hardly the only Real player to have underperformed on the big stage this season.
Indeed, the biggest obstacle to Real's quest to claim silverware between now and the end of the campaign is their worrying tendency to reserve their worst team and individual displays for their most important games, as evidenced by their meagre haul of one point from four La Liga meetings with fellow title contenders Atletico and Barca.
One compelling theory behind that trait is psychological. It has been argued that spending the last few years in the shadow of Barcelona, as well as suffering three consecutive Champions League semi-finals exits, has left Los Blancos mentally scarred and unable to muster the belief they can triumph when their backs are against the wall.
That theory would help to explain, for example, the sudden loss of composure experienced by the usually cool-headed Xabi Alonso when big games have come around - the former Liverpool midfielder conceded the match-winning penalty with a rash challenge on Andres Iniesta in the most recent Clasico, and was lucky to stay on the pitch after hauling down Henrikh Mkhitaryan in Dortmund last week having already been booked.
Considering the enormous pressure his team are subjected to, it would be very difficult for Bale, even as a newcomer, to insulate himself from the weight of expectation that threatens to suffocate Real Madrid whenever a glimpse of silverware comes into view.
In that context, then, it should be helpful to Real's cause that they are heading into the cup final with the focus fixed firmly on Barcelona and their travails in the wake of the Champions League exit against Atletico and Saturday's subsequent shock La Liga loss at Granada.
The general consensus is that Barcelona are there for the taking and, with this game representing their best remaining realistic chance of silverware this season, the Nou Camp club are the team under the most pressure as the game approaches.
Simply put, Bale's first final in Spain appears to provide the ideal opportunity for the Welshman to prove he can shine when a trophy is up for grabs, putting to rest the major remaining doubt over the wisdom of last summer's mega-money transfer.
And with Cristiano Ronaldo absent because of a hamstring injury, there will be even more onus upon Bale to act as his team's catalyst and shoulder the burden of responsibility.
But if he does deliver a decisive performance this week, it will come at the perfect time to boost his status within the squad ahead of another massive occasion for Los Blancos: the upcoming Champions League semi-final with Bayern Munich.
Ultimately, these are the games which will seal Bale's fate as a success or failure at the Bernabeu. As spectacular as his long-range thunderbolt against Elche or his 50-yard run-and-finish against Rayo Vallecano might have been, the Spanish giants did not break the bank to sign him for games like that.
They bought him to win trophies and now is his chance to do exactly that.