Nigel Adkins says Reading are playing 'chess' with injuries
Last updated on .From the section Football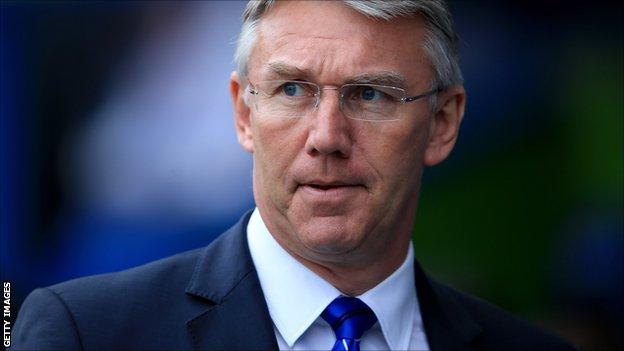 Reading boss Nigel Adkins says he is playing 'chess' with his squad in an attempt to manage the injury crisis which threatens to derail their season.
But Adkins has injury and fitness concerns to several key players and their problems worsened on Monday.
"We went into the game playing chess, knowing we'll get an hour out of this person or half an hour out of some," Adkins told BBC Radio Berkshire.
"Then in the game we had to make three subs because of injuries."
Jordan Obita, Garath McCleary and Danny Williams were all withdrawn during Monday's game against the Championship leaders, while Danny Guthrie and Hope Akpan are among those already out.
"Jordan was injured, you could see him limping," said Adkins.
"I was going to make a different change, we left it five minutes and asked him if he was okay but he said he couldn't stay on.
"It looks like a calf injury, so will he be okay for the other games? We'll have to wait and see. He's been outstanding this season."
Adkins added: "With Garath, we're playing him and not playing him, then he's training and not training, we're doing everything we can - and so is he - to make him available and be effective.
"The easy thing would be to say 'There you go, have a few weeks off' but we just can't afford that. We've got to keep pushing as much as we can, with all the players.
"On his day, Garath is so, so effective and can make a massive contribution."
Williams returned from injury and played an hour, but Adkins fears that may have done the player more harm than good.
Adkins said: "He'd get forward but couldn't stay with his man in the other direction. He'd blown up, and I don't know how his knee will react now.
"That's the problem with Wayne Bridge too - several players. It's a case of seeing how much we can get from them, knowing there's a risk they can break down.
"Hope Akpan did a bit of training after the game on Monday night. We're rushing people back.
"The next two weeks, if someone picks up an injury, that potentially runs it really, really tight. Danny Guthrie for example with his calf injury.
"We've got several players, and when they cross the white line everyone is expecting them to be 100% fit, I can assure you that's not been the case.
"Everyone just has to keep going and be there for the cause."