Manchester City await fate as Uefa's financial rules kick in

By Richard Conway
BBC Radio 5 live sports news correspondent
Last updated on .From the section Football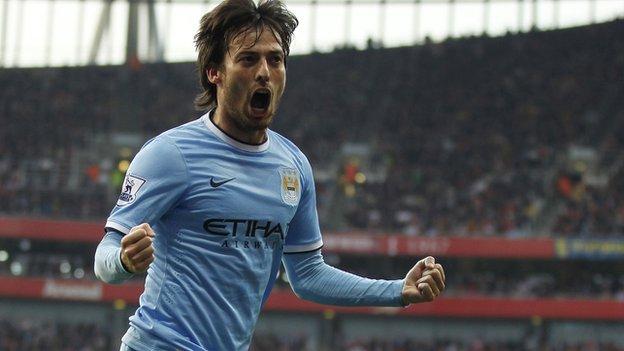 Manchester City will discover this week if they have breached Uefa's Financial Fair Play (FFP) regulations.
One of 76 clubs under scrutiny, they could face a number of sanctions if found guilty, from a fine to being banned from European competition.
So what exactly is FFP and what could it mean for City and other clubs?
Why did Uefa introduce FFP?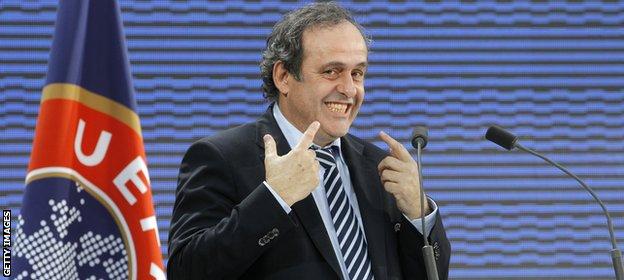 Uefa fears many clubs are risking their futures by spending beyond their means and wants to give the game more stability.
Uefa president Michel Platini also wants to stamp out "financial doping", claiming the big spending of some clubs is ruining the game.
To help police the regulations, Uefa set up the Club Financial Control Panel (CFCP), which is due to announce any sanctions around 5 May.
Why are City under scrutiny?
Because they have spent phenomenal amounts in recent seasons in order to compete with Europe's elite.
Backed by the personal fortune of Sheikh Mansour bin Zayed al-Nahyan, whose wealth is estimated at £17bn, they have enjoyed plenty of success in recent seasons, too.
Manuel Pellegrini's side made it to the knockout stages of the Champions League for the first time this season, won the League Cup and are vying for the Premier League title, which they won in 2012.
What losses are permissible?
Uefa is making its first FFP ruling based on club accounts from the past two seasons - 2011-12 and 2012-13.
Under this monitoring period, total losses of £37m (€45m) are permitted as long as clubs have owners who can cover such amounts.
For 2014-15, the monitoring period will be extended to cover the previous three seasons, but losses will still be limited to £37m (€45m).
For 2015-16, the monitoring period will again cover the previous three seasons, but the limit will drop to (£25m) €30m.
The pattern is repeated in 2016-17 and 2017-18.
So how do City shape up?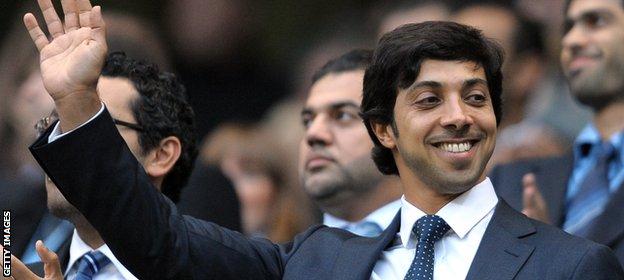 Well, they posted combined losses of £149m for the last two seasons - £97m in 2012 and £51.6m in 2013.
Sounds bad, but they may be able to write off a large chunk of that debt after spending considerable sums on an innovative training complex and by investing in youth development.
However, the CFCP is also scrutinising how clubs generate their income.
City's 10-year £350m sponsorship deal with the airline Etihad raised eyebrows in some quarters.
That is because Etihad is ultimately owned by the Abu Dhabi government and is headed by Sheikh Mansour's half-brother, Sheikh Khalifa bin Zayed bin Sultan Al Nahyan.
The CFCP wants to determine if the deal represents fair value and is not an attempt by the owners to circumvent FFP rules.
Anything else?
In their 2012-13 accounts, City registered £47m of income but gave little clue to where it came from.
There are reports that £24m of it was generated by the sale of player image rights to an external company.
The remainder apparently came from the sale of commercial services and scouting information to Manchester City Ladies FC, Australian side Melbourne Heart and MLS team New York City FC, which City also own.
Are there any extenuating circumstances?
City have reduced their losses over the past few seasons, prompting chief executive Ferran Soriano to claim recently the club will break-even "in the immediate future".
That might impress the CFCP and convince it to rein back on any punishment it may think City deserves.
Asked on Tuesday if he was worried about the possibility of sanctions, City manager Pellegrini responded with an emphatic: "No."
Which other clubs are in danger?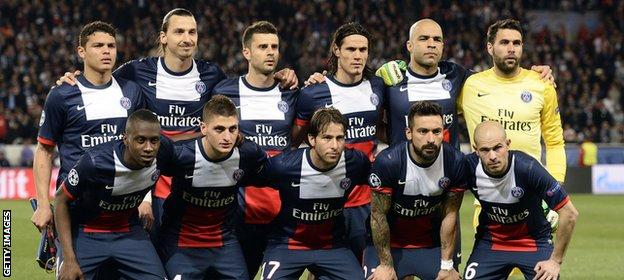 Several, but the other big one is Paris St-Germain, owned by a Qatari state investment firm.
Their case will likely revolve around a back-dated deal with the Qatar Tourism Authority (QTA), worth a reported £165m per year (200m euros).
As with City, the CFCP must determine if the QTA deal offers fair value and is not a way of getting round the rules.
Speaking in January, PSG president Nasser al-Khelaifi insisted the contract with QTA was "not some accounting trick" and "legal".
What about other English clubs?
Arsenal and Manchester United were in the black for the last two seasons, so they have nothing to fear.
Chelsea made a £49.4m loss last year but registered a £1.4m profit in 2012 so will comply with the new regulations.
Liverpool, who have lost £90m over the last two years, and clubs like Ligue 1 side Monaco, are not playing in Europe this season and will not have to pass the FFP rules until next autumn.
What happens to clubs who fail FFP?
Clubs could be offered the chance to make a "settlement", agreeing a punishment and thus avoiding protracted and messy wrangling.
Alternatively, they could receive a warning, fine, or have prize money withheld. They may even be restricted in the number of players they are allowed to field in European competition.
Disqualification from either the Champions League or Europa League is a possibility, too, while a club could even lose a title if their transgressions are deemed serious enough.
Will clubs accept Uefa's ruling?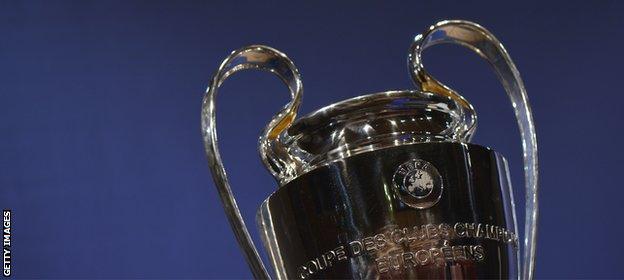 Clubs that fail FFP and are handed a severe sanction are unlikely to accept their punishment without a fight.
They could test any Uefa ruling at the Court of Arbitration for Sport, hoping to overturn any punishment.
What is at stake for Uefa?
Its credibility - and that of president Platini - is firmly on the line.
Fans and clubs will want to know if FFP has teeth and if action will be taken against some of the biggest clubs in world football.
Will Uefa really come down hard on clubs that give its Champions League and Europa League competitions such massive global appeal and generate huge profits as a result?
If not, then FFP's reputation could take a hammering.